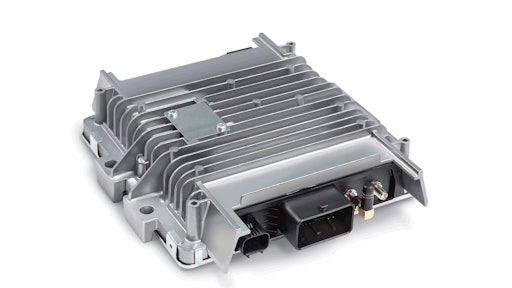 John Deere Electronic Solutions (JDES) introduces the latest update to its telematics family of products, the Modular Telematics Gateway 4G (MTG 4G LTE). The MTG 4G LTE is a mobile communications and processing platform ideally suited for advanced telematics applications such as machine health monitoring, advanced logistics, machine control, over the air programming, and remote diagnostics.
The MTG 4G LTE features an integrated 4G LTE modem, supporting extended coverage areas and high capacity data rates on cellular networks certified for use in over 60 countries. The onboard dual-band wireless connects from one machine to another, any wireless access point, or any user's portable device or tablet. Connectivity with handheld devices using Bluetooth wireless technology is also available.
A dual core 1.33GHz Intel Atom processor paired with 1GB of RAM and 8GB of onboard flash provides the processing and performance to run the most demanding of applications. JDES uses a Yocto Project operating system and provides a board support package, documentation, and example software to enable rapid integration of applications.
The MTG 4G LTE is ruggedly designed and rigorously tested to ensure long life and superior performance in the most demanding environmental conditions. To support integration within your connected system, the MTG 4G LTE provides multiple CAN channels, RS232 ports, discrete I/O lines, and a Gigabit Ethernet port. The integrated accelerometer and GPS functionality make position and motion information available providing situational awareness for your application.
This extensive collection of features in the MTG 4G LTE provides the capability needed to add telematics to any mobile or remote application. A JDES team of experienced engineers provide integration support to deliver high-value telematics solutions for OEMs, fleets, and specialty applications.
JDES develops and manufactures rugged, reliable electronic components and systems that thrive in the most extreme environments. To enhance innovation, expertise, and competitiveness, JDES provides custom and off-the-shelf electronics and power electronics for original equipment manufacturers worldwide.
* Intel and Intel Atom are trademarks of Intel Corporation or its subsidiaries in the U.S. and/or other countries.