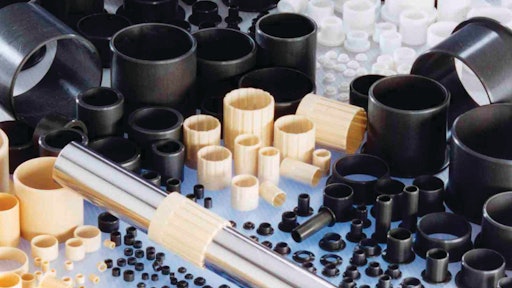 Composites are nothing new to the mobile equipment industries. Companies have been utilizing this plastic hybrid for years in order to meet weight requirements and rust-resistance. A unique twist on the composite component is molding it out of pre-dyed material.
The CE Model school bus, manufactured by IC Corp., Warrenville, IL, features two composite panels that transition the lines of the body from the smaller engine enclosure to the larger passenger compartment. The initial specification called for the composites to be molded and then painted to a customer's required color, but since 2006, the company has been molding the parts in color while saving hundreds of thousands of dollars in production costs. "Eliminating the painting process is saving more than $350,000 annually on this part alone," says Troy Campbell, senior product development engineer, International Truck & Engine.
Not your average plastic
According to the American Composites Manufacturers Assn., Arlington, VA, not all plastics are composites. A majority of plastics are pure plastic, like toys and soda bottles, but when additional properties like strength are needed, reinforcing fibers are combined with the plastic to form some of the strongest materials for their weight.
Composites, or fiber-reinforced polymer (FRP) composites, are a combination of thermoplastic or thermoset resin with a fiber reinforcing material such as glass, carbon or aramid. FRP composite may also contain filler, additives or core materials for added benefits. "FRP has a higher strength-to-weight ratio than many alternative materials," says Tom Pennington, technical sales representative, Wausaukee Composites Inc., Wausaukee, WI.
Mitsui Chemicals America Inc., Rye Brook, NY, the U.S. subsidiary of Mitsui Chemicals Inc., Tokyo, Japan, focuses on the development of specialty polymers and engineering plastics, functional materials and adhesive resins.
NOTIO is a flexible, low density, transparent elastomer offered by Mitsui. Adding NOTIO to a compound, particularly polypropylene (PP), achieves impact, scratch and heat resistance, elasticity, and no whitening when bent.
Combining different elements does not create an entirely new material, however. Instead, each element retains its identity which allows the material's strengths to remain intact. The benefits that can be achieved by using composites on machines include, but are not limited to:
Light weight
High strength
Corrosion resistance
Flexibility with strength
High electric strength (insulator)
Ease of formation
Low maintenance
Long-term durability
Parts consolidation
Positive reinforcements
Jerry Wamboldt, technical sales representative, Wausaukee Composites, explains certain benefits that can be reaped from composite components. "Fiberglass and composite plastics are strong, durable, aesthetically attractive and an economic material solution for both structural and non-structural components."
One of the biggest benefit with composites is the weight reduction. Kirk Martin, vice president of sales, Polygon Co., Walkerton, IN, says, "almost all industries are demanding light-weight, corrosion-resistant materials. The on-highway truck market has been interested in fiberglass composites for such applications as pneumatic cylinders, structural elements and air tanks. Every pound saved can be used in a more productive manner, especially as we approach the next emission standards requirement in 2010. Skyrocketing fuel prices are making composites more and more the material of choice by maximizing strength-to-weight ratios."
Jim Schwarz, president and CEO of Able Mfg. & Assembly LLC, Joplin, MO, says "composite parts can be designed to carry the same loads as steel. Parts are generally molded at minimum thickness to reduce weight and minimize molding cycle time."
The resistance to damage achieved by composites can be superior to that of steel, aluminum or pure thermoplastic panels. "They do not embrittle when exposed to cold temperatures, nor will they melt in the presence of extreme heat as do thermoplastics, and are typically 30-40% lighter than steel parts of equal strength," says Schwarz.

Composite assemblies often can lower manufacturing complexity — and more importantly, cost — by consolidating parts which often leads to accelerated design completion and model introduction."
A single composite molding can take the place of up to 15-20 individual steel components and fasteners," says Schwarz. "Along those same lines, tooling for composite parts can be as much as 80% less than comparable metal parts. Steel parts often require a series of stamping dies to produce a desired shape in addition to multiple components that must be subsequently assembled. In most cases, one or two molds and presses take the place of entire multi-station stamping lines.
"The bottom line," Schwarz says, composites offer "lower cost, tighter tolerances and less assembly required, especially in lower volume products."
Consider too that composite parts do not rust or corrode when exposed to moisture or salt. Without oxidation problems, composites will outlast most steel components on a vehicle. Their inherent chemical resistance and dimensional stability make them well suited for engine components, such as valve covers and oil pans.
Another attribute of composite components is their ability to reduce noise, vibration and harshness (NVH). With increasing demands for better fuel efficiency, not only do parts and equipment need to get lighter, but companies are turning more and more to hybrid options. Composites help make the machine quieter for more use and acceptance in public works. The quieter the machine, the easier hybrid systems will be accepted and utilized to further environmental efficiency in the mobile equipment industry (see Hybrid Technology article on page 40).
Schwarz states another benefit of composites being that "unlike metals, composites offer a limitless 'depth-of-draw' range. Stamped metals get thinner as they are drawn to form vertical walls, whereas composites are able to maintain a constant cross-sectional thickness over the entire part. Shapes that are impossible or not economically feasible to form in metal can be produced with relative ease in composites."
Constructive criticisms
While composites seem to be the answer to manufacturing and efficiency prayers, there are potential downfalls to the material's use. There have been worries that composites are more prone to degradation when exposed to weather conditions such as UV light — like the faded plastic playground slide in my backyard as a child that went from bright yellow to a dull beige — or heat and water for prolonged periods of time, as well as chemical and solvent corrosion.
Pennington says, "Most construction and agricultural companies demand high quality finishes. Gel coats are developed to meet the increasing demands of the end user by having a cosmetic finish that can withstand harsh environmental factors and require less maintenance. They offer remarkable gloss retention, reduction in chalking, and resistance to the deteriorating forces of UV light, water and pollutants better than previously available gel coats.
"These gel coats also offer superior resistance to cracking, which was a downfall with earlier generations. Composite parts have weathered extremes for more than 30 years in the construction field. Unlike metals, composite materials do not suffer from corrosion. Materials made from glass fiber reinforced polymer (GFRP) are proven to have a longer service life in corrosive environments.
"Stiffness can be obtained by having thin skins reinforced by lightweight cores, offering stiff parts without substantially increasing weight," says Pennington.
Silicone-based hardcoats enable a durable, high-gloss finish for lasting protection for exterior plastic part surfaces. Due to high performance expectations, a two-component silicone hardcoat system consisting of a hardcoat topcoat and a basecoat has been developed by Momentive Performance Materials, Wilton, CT. The coating can provide protection from the elements and appears to have potential to last two to three times longer than other hardcoat systems.
Schwarz denounces composite criticisms altogether saying, "The composites industry does not share this viewpoint seeing as composites are used for many exterior parts. Composites are inherently corrosion resistant, and therefore, resistance to chemicals and solvents are not an issue."
Martin of Polygon says, "In the case of our fiberglass composite components, we offer a tough material that provides superior performance in regards to weather degradation and resistance to chemicals and solvents, as compared to metal. They are softer than metal components, but will perform well in tough applications."
While the concerns have been subsequently resolved or refuted, one problem remains: softness of the material. While composite material can compete relatively well with metal's durability, scratches in the surface can ruin the look of the vehicle, as well as remove any protective elements provided by a coating.
IC Corp.'s solution to impregnate the material with color prior to molding it allows scratches remain better hidden while providing built in protection that paint cannot provide.
The material is INDURE X-210A polyolefin alloy developed by Solvay Engineered Polymers Inc., Mansfield, TX. The required surface durability is built into the material itself. "The technology of the entire INDURE family of polyolefin alloys is designed to provide scratch and mar resistance in unpainted parts," says Mitesh Shah, technical manager of automotive operations at Solvay. "Paint provides inferior protection to stone and gravel damage, since weatherability is diminished once the paint chips off."
Compare and contrast
As composites become more wide-spread, Kevin Hughes, vice president, Nero Plastics Div., Wausaukee Composites, Owosso, MI, says most of its composite applications develop as conversions from steel. Initially the discussion centers around weight reduction goals (an equivalent composite part can typically achieve 30–50% weight savings from steel or up to 40% from aluminum) and evolves from there.
"Molded components offer greater design flexibility and styling options for complex shapes and sweeping, curved panels. This wouldn't be possible with steel or aluminum because of draw limitations, and also because there's no equivalent low-cost forming option, especially in the low volume segment, and certainly not with the same repeatability of molded parts," says Hughes. Also, he continues, molded parts allow significant component consolidation.
"Composites won't rust," continues Hughes, "which is important when the customers' products have 30-plus-year service lives, and the material has superior dent and ding resistance to steel or aluminum."
Able Mfg. produces products from metal, thermoform plastics and composites, choosing the proper material based on many factors. "We build most of our truck cabs from metal (mild steel, aluminum, stainless steel) and most of our truck hoods from composites," says Schwarz. "The interior of most cabs are fabricated from plastics. A truck cab is large with multiple components such as a roof, sides and floor, as well as windows and doors." Combining the multiple parts into a single cab makes metal the go-to material for Able. Aluminum is used if corrosion or weight is a primary factor, otherwise mild painted steel is used.
"A truck hood has two sides and a top allowing ease in building a single composite tool. Composites have gained in this area reducing costs and providing a reliable part. As a general rule, the higher the volume the more metal is used due to cost. Metal stampings are more expensive but produce the highest volume per hour, reducing costs at higher volumes."
The fiberglass composite options from Polygon are stronger and tougher than the thermoplastic material, explains Martin. "Both offer similar performance in regards to corrosion resistance and density. Versus steel components, fiberglass composites offer a slightly lower strength rating. Versus other metals, such as aluminum and bronze, fiberglass composite have equivalent or higher strength capabilities."
Though there is no perfect material for all applications, plastic composites do offer benefits for problems that are arising right now, namely emissions regulations which are directly related to fuel efficiency that is reliant on the weight of the vehicle.
Companies in this article