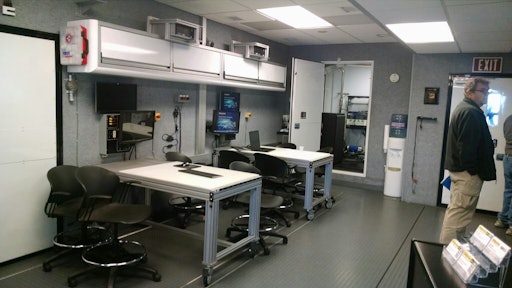 Rethinking the current state of professional development training was the goal Jeremy Worm, Director of Mobile Lab Operations, Advanced Power Systems Research Center at Michigan Technological University (Michigan Tech) and his colleagues had in mind when developing the Michigan Tech Mobile Lab.
While many professional development training courses involve long hours spent in a classroom setting listening to lectures and viewing presentations, Worm and his team's vision was to combine hands-on training with classroom learning in order to provide a more engaging learning experience.
A grant from the U.S. Department of Energy (DOE) enabled Michigan Tech to build the lab, which is housed in a double-wide trailer. The lab features two fully functional powertrain test cells and a classroom area with computer stations and laboratory equipment. According to Worm, the on-board engine test cell is like any other a manufacturer might have, just slightly more compact. The test cell at the rear of the trailer was made to be modular, he says, so that components can be added and removed to easily switch what's being tested.
By including the test cells and other equipment in the mobile lab, Worm and his colleagues can conduct training courses which provide classroom learning in conjunction with training on the equipment that teaches participants how to utilize the information learned in the classroom portion of the course. They can then take these newly gained skills back to their daily jobs and immediately apply what they've learned to real-world situations.
This transition from the classroom to the real world is aided by including many of the same industry tools in the lab that an engineer would have at his or her workplace, such as testing software and hardware products from companies like National Instruments (NI) and MathWorks. Utilizing tools an engineer may already be familiar with ensures he or she will more easily be able to apply the skills learned during the training courses.
The also includes a fleet of 20 vehicles, hauled by a second trailer, equipped with various pieces of test equipment. With these vehicles, actual vehicle testing can be conducted, providing even further hands-on training opportunities for course participants.
During the lab's two years of operation thus far, Worm says he has received good feedback from those who have participated in its educational courses, many of which have noted the combination of classroom and hands-on training has made the learning experience not only more applicable to their jobs but also more fun.
Why go mobile?
By making the laboratory mobile, Michigan Tech can bring the classroom to its students. Companies can hire the lab to come to their facilities and have a course taught to employees, helping save on costly travel expenses.
Taught by Worm or other Michigan Tech staff, the courses can be tailored specifically to a company's staff training needs. Worm says he and the other technical staff will work with a company to determine specifically what topics to cover and what's most important to that customer in order to develop the course. Systems level, subsystems and broad engineering courses for everything from light automotive to heavy-duty diesel applications, including hybrid and electric vehicles, are among those available. College credit can also be given upon completion of courses taken at the mobile lab.
In addition to professional development training, the mobile lab can also be used for engineering services—such as providing testing services to a company—as well as contract and research work. The lab will partner with government, industry and nonprofit organizations across the country to provide outreach, education and research services.
Visit apslabs.me.mtu.edu to learn more about the mobile laboratory or schedule a session for your company.
Companies in this article