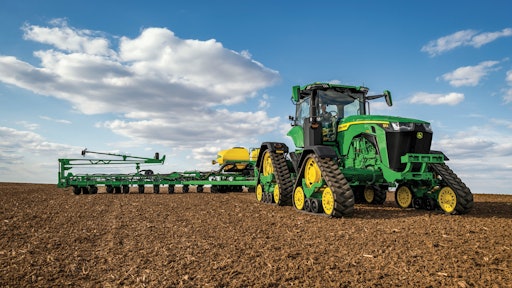 John Deere
The Red Dot Design Awards honor top innovations in a range of industries each year, including those in or related to the heavy equipment industry. Red Dot recently announced winners in the Product Design category which aims to spotlight the best products of the year.
Several pieces of construction, agricultural and other off-road equipment received the award again this year, including new machine designs from John Deere, Volvo Construction Equipment and Dressta.
New this year was the opportunity to receive a second award focusing on Smart Products and Innovative Products. For the Innovative Products category, Red Dot says aspects including level of innovation, technical refinements, and changes in language of form were evaluated by the jury. Entries for Smart Products had the chance to a receive an award based on their interactive design, connectivity, and overall system design.
MK-42 Dump Truck
GHH's MK-42 dump truck is designed for use in underground mining and tunneling applications. The 42 tonne truck was developed in coordination with operators and miners to ensure optimal safety and efficiency, as well as a high level of comfort. It features a rugged design, comfortable handling and a high level of productivity while helping lower operating costs for customers. The lighter color of the vehicle ensures visibility in dark underground operations.
Statement by the Jury
Straight lines and a distinctive surface design give the MK-42 dump truck its modern appearance. It also convinces with respect to safety and operating convenience.
Credits
Manufacturer: GHH Fahrzeuge GmbH, Gelsenkirchen, Germany
In-house design
Design: Studio Heikki Naulapää Oy, Helsinki, Finland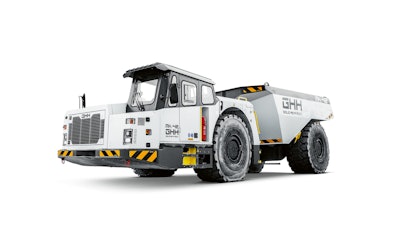 BT Levio W-Series Electric Pallet Trucks
Toyota Material Handling has developed the BT Levio electric pallet truck to provide ease of use, maneuverability and safety. It features a compact chassis, ergonomic positioning of the control arm and good visibility of the fork. A modular, integrated lithium-ion battery system powers the vehicle and helps make it small, light, fast and energy efficient. Telematics are included as standard to aid with fleet management.
Statement by the Jury
The BT Levio has no sharp edges, making it look friendly and uncomplicated. It does justice to this impression through simple and safe handling.
Credits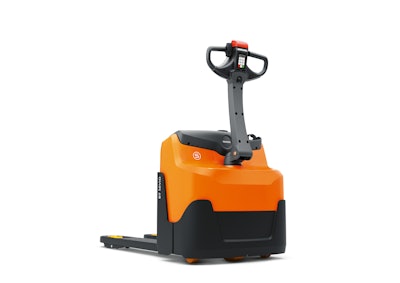 DX17Z-5 Crawler Excavator
Dynamic lines are one of the features which characterize Doosan's DX17Z-5 mini-excavator. While compact in size, the machine offers a high level of functionality. The roof can be removed when necessary, such as if working in environments with low hanging objects. Safe operation is assured as the excavator body does not exceed the width of the crawler track when turning.
Statement by the Jury
The DX17Z-5 mini-excavator impresses with its functionally optimized design, which makes it easy to adapt to conditions at construction sites.
Credits
Manufacturer:

Doosan

Infracore, Incheon, South Korea
In-house design:

Doosan

Infracore Design Team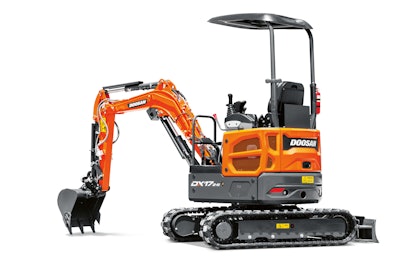 TD-16N Bulldozer
The TD-16N bulldozer developed by Liugong Dressta features a large blade and rear-mounted ripper which enable it to move large amounts of material. According to the company, it designed this new machine to improve visibility of the blade, ripper, tracks and overall job site for operators. When first developing the bulldozer, Liugong Dressta placed the operator cab at the center of the machine and designed the other components, such as the windshield and chassis, around it as a means of optimizing visibility. The view has been increased to 309 degrees; ergonomics, safety and efficiency improvements were made to the machine, as well.
Statement by the Jury
The TD-16N bulldozer offers the operator a high level of comfort and safety with a detailed design that optimizes visibility.
Credits
Read more about the new TD-16N crawler dozer.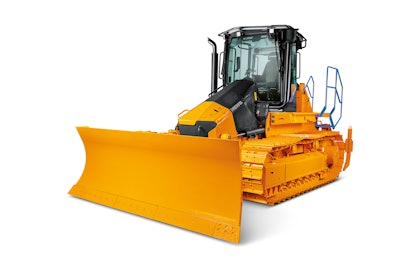 ECR58 Generation F Crawler Excavator
Volvo Construction Equipment has developed a new generation 5 tonne crawler excavator, the ECR58, which is designed to deliver reliable performance and low operating costs. The machine combines intelligent features and easy operation, as well as a balanced and innovative design. User feedback played a large part in the design process, especially in terms of improving ergonomic layout of the operator cab and overall machine functionality. This included optimizing the position of the seat and joystick to ensure a high level of comfort for operators.
Statement by the Jury
This generation of compact excavators impresses with a balanced construction that incorporates not only the cabin but also the exterior and the user experience.
Credits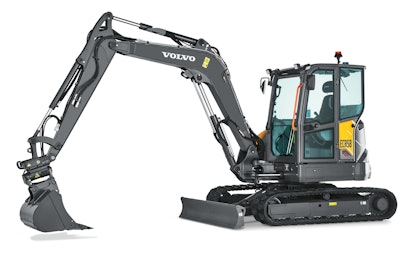 8R-Series Tractors
John Deere's 8R tractor range—including the 8R, 8RT and 8RX—consists of wheeled and tracked tractor models. A newly designed bonnet and operator cab feature a chiseled, modern look. The spacious cab provides good visibility and offers an automotive feel due to the inclusion of intuitive controls and a climate-controlled seat. The operator seat also features a massage function, further enhancing operator comfort for long days in the field. Artificial intelligence features enhance connectivity and automated driving capabilities.
Statement by the Jury
The 8R tractors have a striking external appearance that is an expression of their performance and efficiency. The interior is well thought out in terms of ergonomics.
Credits
Manufacturer: John Deere, Moline, IL, USA
Design: Designworks, a BMW Group Company, Newbury Park, CA,

USA
READ MORE: John Deere Introduces Fixed-Frame Four-Track Tractor
XGC-11000 Crawler Crane Cab
XCMG's XGC-11000 crawler crane cab design is based on a user-centered approach. It combines many ergonomic features, including an all-around cockpit to ease use and comfort, as well as a pleasing aesthetic. The see-through A-pillar with hexagonal structure improves operators' view out the front of the machine. The cab is room-high and includes a protected glass roof, further improving visibility as well as comfort by making the cab feel more open.
Statement by the Jury
This crawler crane cabin conveys a pleasant sense of space. The extraordinary hexagonal structure of the A-pillar ensures a good view and offers high recognition value.
Credits
Manufacturer:

XCMG

Construction Machinery Co., Ltd., Building Machinery, Xuzhou, China
In-house design: Li Sun, Qinwei Yu, Min Liu
Design: Jiangsu

XCMG

Construction Machinery Research Institute Co., Ltd., Xuemei Zong, Liwei Xiao, Taras Czornyj, Yilin Lu, Qiang Liu, Xuzhou, China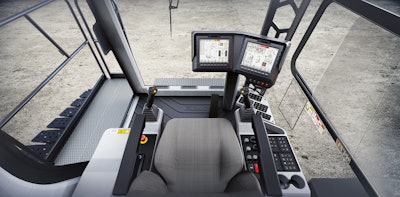 XMR275S Tandem Roller
XCMG developed its XMR275S small tandem roller for Western markets. It features a high level of functionality, ergonomics and user-friendly operation. Harmonious proportions and balance of design and color distribution provide an aesthetically pleasing look to the machine. Highly visible rollers ensure safety and ease of use, while the two-tone hood prevents operators from experiencing any visibility issues while working in bright conditions. Ergonomically designed controls and use of visual elements offer a clear and easy-to-use operator experience.
Statement by the Jury
The tidy, well-proportioned appearance of this tandem roller is underlined by the two-colour design. In addition, the well-thought-out operating elements are appealing.
Credits
Manufacturer:

XCMG

Construction Machinery Co., Ltd., Road Machinery, Xuzhou, China
In-house design: Jisheng Cui, Liang Gao, Zhendong Zhu, Mavrudis Thomas, Cuiyan Wang
Design: Jiangsu

XCMG

Construction Machinery Research Institute Co., Ltd., Xuemei Zong, Mingjiang Wang, Zhiyao Zan, Taras Czornyj, Xiaofeng Chu, Xuzhou, China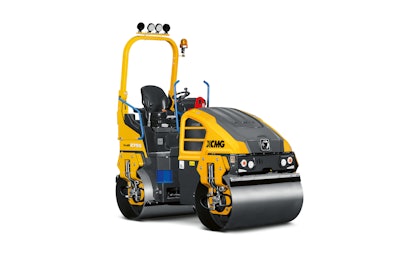 Torsus Praetorian 4x4 Off-Road Bus
The Torsus Praetorian is designed to transport personal and equipment over rough terrain. Durability, on-road aerodynamics and off-road efficiency, as well as variable configurations are among the key design features of the vehicle. An unusual arrangement of the headlights provides not only a striking appearance but also improves performance of the full beam. The design and robust construction of the off-road bus help ensure reliable performance in harsh environments and a comfortable ride and operating experience.
Statement by the Jury
The entire design of the Torsus Praetorian is geared towards robustness and longevity, which is successfully conveyed by its expressive, powerful appearance.
Credits
Manufacturer: Pulsar Expo s.r.o., Prague, Czech Republic
Design: WERKEMOTION s.r.o., Bratislava, Slovakia
Read more about the design of the Torsus Praetorian off-road bus.
C1 Control Console Multifunction Armrest
The C1 Control Console combines convex outer surfaces with a robust design. Various modules can be integrated into the multifunction armrest, as well as further customization of colors and materials. Interior and exterior components are durably designed to ensure a long operating life.
Statement by the Jury
The C1 Control Console can be personalised to a high degree, enabling it to be tailored to the user in terms aesthetics and functionality.
Red Dot Design Award
Credits
Manufacturer: W. Gessmann GmbH, Leingarten, Germany
In-house design: Andrew Herzig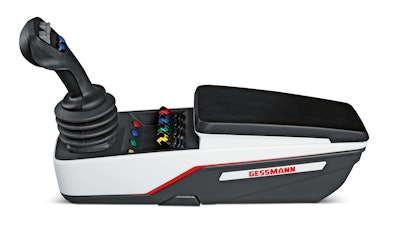 ENERGYA MK28E Hybrid Truck Mixer Pump
CIFA's ENERGYA MK28E hybrid truck mixer pump features technologies which help reduce fuel consumption, pollution and noise. Components within the system are arranged in a way to make the system highly efficient. An electrical drive replaces the hydraulic system, further aiding with the overall efficiency improvements of the mixer pump. The drums, mast, supports and pump unit can be used when the truck's diesel engine is turned off, reducing noise and emissions.
Statement by the Jury
Dynamic line management and the colours white and green give the ENERGYA MK28E a professional, high-tech look, which reflects its use of new technologies.
Credits
Manufacturer: CIFA S.p.A., Senago (Milan), Italy
In-house design: Samuele Montorfano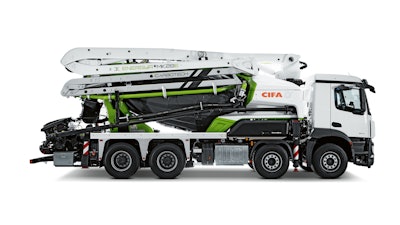 Worx Landroid L1000 Robotic Lawnmower
The L1000 robotic lawnmower is designed to cut areas of lawn up to 1,000 sq. m and is capable of cutting up to the edge of the lawn to eliminate the need to manually trim. Advanced AIA technology enables the mower to navigate through narrow, tangled passages while its floating blade disk enables the machine to easily pass over bumps and obstacles. Its battery can be removed by hand and used on other Worx products when needed, keeping the amount of parts needed for lawn care to a minimum. An ultrasonic module is utilized to help users easily find the robot.
Statement by the Jury
The most prominent characteristics of the L1000 robotic lawnmower are its compact design, powerful performance and its agility, which make it suitable for various lawn areas.
Credits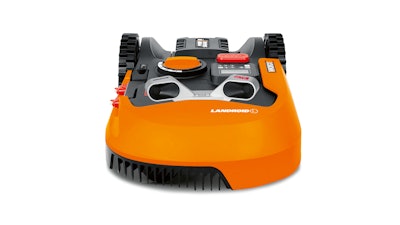 Combi-CBE 4000kg Forklift Truck
Combilift's Combi-CBE 4000kg forklift is a multidirectional counterbalanced truck with all-wheel and electric drive, and a recipient of the new Innovative Product award. It offers a load capacity of 4 tons. Its design enables the forklift truck to be used for both frontal transport of pallets and lateral transport of long loads. The front and rear wheels are independently controlled and include 100% traction control. Entering the wheelbase parameters allows traction commands to be calculated by an onboard control system.
Statement by the Jury
This compact, multidirectional forklift truck is characterised by its extraordinary manoeuvrability and high traction as well as emission-free operation.
Credits
Manufacturer: Combilift, Monaghan, Ireland
In-house design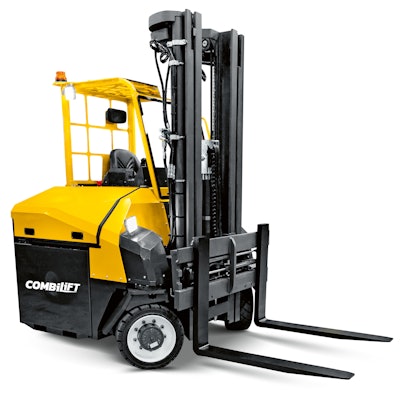 TA15 Autonomous Electric Hauler
Volvo's TA15 autonomous electric hauler is a recipient of the Smart Product award in the Product Design category. The machine's electric drivetrain and battery are based on technologies developed within the Volvo Group. Its automation system uses various sensors, including LIDAR and Radar, as well as GPS to enable fully autonomous operation around a construction or mine site. The electric drivetrain enables quieter operation and reduced emissions to benefit workers on the job site and the environment. Safety is assured through the use of a light signal which indicates the machine mode.
Statement by the Jury
The TA15 reflects an important step towards automation in the construction industry. The electric hauler increases productivity, efficiency and safety on construction sites.
Credits
Manufacturer:

Volvo Construction Equipment,

Eskilstuna, Sweden
In-house design: Nina Augustsson
Read more about the TA15 autonomous hauler.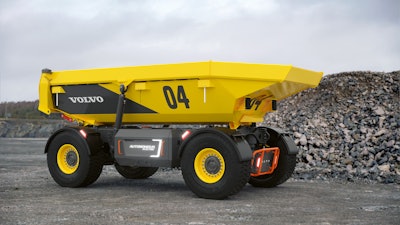 Companies in this article