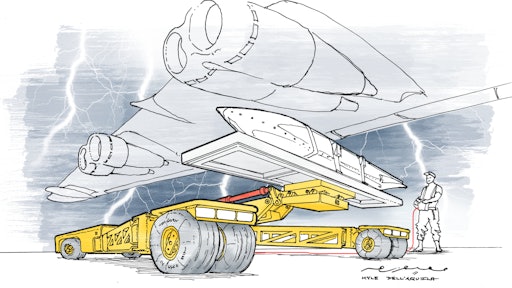 RISE Robotics has announced it has been selected by AFWERX for a Small Business Innovation and Research (SBIR) contract in the amount of $1.25 million focused on development of highly efficient and precise electric munitions handlers to address the most pressing challenges in the Department of the Air Force (DAF).
The Air Force Research Laboratory (AFRL) and AFWERX have partnered to streamline the SBIR process by accelerating the small business experience through faster proposal to award timelines, changing the pool of potential applicants by expanding opportunities to small business and eliminating bureaucratic overhead by continually implementing process improvement changes in contract execution.
The DAF began offering the Open Topic SBIR program in 2018 which expanded the range of innovations the DAF funded. Beginning in early 2020, RISE Robotics started working on a series of projects aimed at improving operational efficiency with innovative and energy efficient products. With this latest contract award having been awarded on July 14, 2023, RISE Robotics has been provided the opportunity to continue its journey to create and provide innovative capabilities that will strengthen the national defense of the United States of America in a reliable, safe and energy efficient manner.
Machines incorporating RISE Robotics reduce energy consumption and emissions using the patented RISE Cylinder. This technology is a fluid-free, electromechanical alternative to hydraulic cylinders. Internal testing at RISE Robotics demonstrated the ability to deliver hydraulic-like forces at unprecedented efficiency, precision, speed and weight. In this testing RISE Cylinder have used up to 90% less energy than hydraulic cylinders in similar applications.