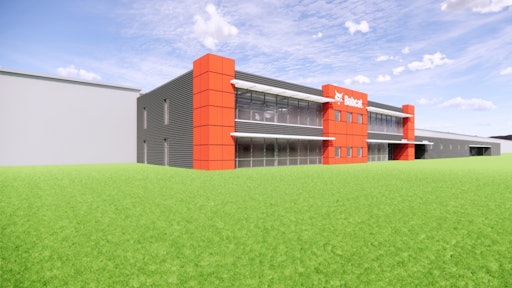 Doosan Bobcat
Bobcat recently revealed that it had selected a new location to build a manufacturing facility. This addition will help Bobcat expand its reach and provide more jobs.
According to the press release:
Bobcat announced intentions to expand its footprint with a new manufacturing facility in Monterrey, Mexico, anticipated to begin production in early 2026.
The investment, planned for approximately $300 million, will expand Bobcat's existing global footprint to create additional production capacity and manufacturing capabilities for select compact track and skid-steer loader models. The new facility is expected to create an additional 600-800 jobs in the region.
"As a global company with manufacturing facilities, offices, dealerships, and customers across the globe, we have seen tremendous growth and increased demand for our products," said Scott Park, Doosan Bobcat CEO and vice chairman. "We are excited to continue growing our footprint to meet demand for Bobcat solutions worldwide."  
The 700,000-sq.-ft. manufacturing facility is expected to increase Bobcat's North American compact loader production capacity by 20%. The facility will feature areas for welding, painting, and assembly, as well as an on-site warehouse and office space. Bobcat will implement state-of-the-art technology with an emphasis on quality, precision, and energy efficiency.
The Monterrey location will manufacture Bobcat M-Series compact loaders for North American distribution. This strategic manufacturing capacity alignment will allow Bobcat to focus its R-Series compact loader production at its Gwinner, N.D. facility, and its Dobris, Czech Republic facility will continue to manufacture M-Series loaders for the Europe, Middle East, and Africa regions. Bobcat will continue to focus on talent retention and hiring at all locations in support of continued expansion and growth.
"This new facility allows us to design a manufacturing space for maximum efficiency, quality, and production output," said Mike Ballweber, Doosan Bobcat North America president. "By growing our manufacturing footprint, we can also further optimize our other global facilities to improve our operational efficiency and enhance employees' workspaces."
This new location was selected after extensive review and consideration of expansions at existing Bobcat locations, along with the potential for new developments at locations across the globe. Monterrey was selected for its well-established industrial sector, skilled workforce, proximity to the U.S., cost competitiveness, and strong business environment, among other factors.