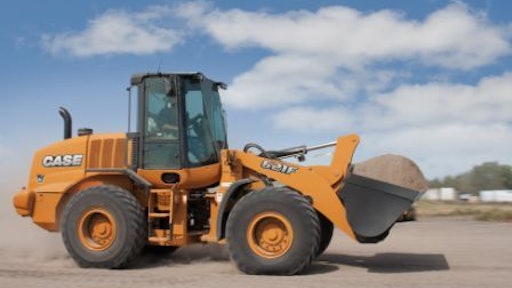 Case Construction Equipment has introduced the new 621F wheel loader model at the 2012 World of Concrete show. The new machine provides up to a 10% increase in fuel economy over the previous model, while delivering faster acceleration, quicker cycle times and higher travel speeds.
The new Case 621F wheel loader, like other models in the product line, evolved from the company's E Series machines. To meet Tier 4 Interim emissions standards, the Case F Series wheel loaders use selective catalytic reduction (SCR) technology, which results in lower temperatures in the exhaust system while optimizing combustion.
"Case wheel loaders already led the industry in fuel economy, but the addition of SCR technology in our Case F Series wheel loaders expands that leadership position," says Tim O'Brien, brand marketing manager, Case Construction Equipment. "At the same time, we've added more power and responsiveness to provide contractors with the combination of performance and economy they need to compete successfully."
The Case 621F wheel loader features a 6.7-liter Tier 4 Interim-certified engine that delivers up to 162 hp (121 kW). Classified as a 2.75 yd3 (2.1 m3) wheel loader, the Case 621F has an operating weight of 26,641 lb (12 084 kg).
Significant fuel savings
"The Case 621F wheel loader delivers the best fuel economy and performance in its class size," O'Brien says. "Like other F Series models, the 621F offers four programmable power modes to save fuel and increase available power. These easy-to-program power modes – Economy, Standard, Max and Auto – give operators flexibility in matching engine power to their jobs."
A new dual-mode shutdown feature maximizes fuel economy and monitors vital engine components. Using the fuel-saver mode, the operator can limit the time the machine will idle. The desired shutdown time can be set in five-minute increments.
"The automatic engine shutdown feature can provide up to another 30% in fuel savings," O'Brien says.
Breakthrough productivity
The new Case wheel loaders include standard limited-slip front and rear axles that provide outstanding traction in all conditions, especially in non-compacted surfaces, such as gravel. Optional heavy-duty axles with locking front and conventional rear differentials help reduce tire wear when working on hard surfaces. The standard four-speed transmission with manual kick-down capability provides maximum traction and increased bucket penetration.
"The Case 621F wheel loader can perform in a wide range of applications, from construction sites to aggregate operations," O'Brien says. "We also offer a Commodity King option package that takes advantage of our unique mid-mounted cooling module." The Commodity King package provides special cooling and air filtration components for working in cement plants, agriculture and other applications where the machine operates in extremely dusty or particulate-laden environments.
The award-winning Case joystick steering enables operators to seamlessly move between the joystick and steering wheel for high-production operations. An optional two-lever hydraulic control system is available. The Case PowerInch feature lets the operator quickly and precisely approach targets in tight areas, regardless of engine speed. PowerInch maintains high RPMs to maximize hydraulic power and control.
Comfort in the Cab
The Case 621F is the latest F Series wheel loader model to provide enhanced comfort and safety features that help boost operator productivity. The cab offers an unobstructed view to both edges of the bucket or attachment, while a wide window and sloping hood provide clear vision to the rear.
A new rearview, wide-angle camera with an adjustable color monitor is available in the Case F Series. The camera option nearly eliminates blind spots and is ideal for jobs that require operating around other machines or workers.
"A machine with excellent visibility to all corners of the vehicle improves everyone's safety on a busy jobsite," O'Brien says. "The Case F Series wheel loaders offer best-in-class rear visibility and a panoramic view to the front and sides for enhanced operator confidence and productivity."
The Case 621F wheel loader includes an advanced instrument cluster that monitors fuel consumption and enables the operator to adjust various functions without relying on a service technician. All Case F Series models also offer ergonomically placed controls and a new heated cloth seat with seven adjustment modes.
Attachments add value
Case offers a range of attachments for the 621F wheel loader, including pallet forks, brooms, jib booms, buckets and weigh-load systems. It is also available with JRB- and ACS-compatible couplers.
Case F Series buckets are available with standard Case SmartFit bucket teeth or bolt-on edges. The SmartFit system provides stronger, more durable teeth and adapters, and hammerless, reusable locking pins. The SmartFit lineup includes general purpose, rock chisel, heavy penetrator, tiger, twin tiger and flare teeth.