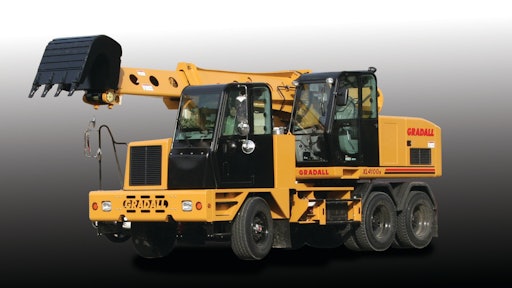 The new Gradall XL 4100 IV hydraulic excavator is easier than ever to drive to job sites and back to equipment yards, thanks to its new AutoDrive system featuring an automatic transmission.
The six-speed Allison transmission uses push-button controls in the undercarriage truck cab, a big advantage for new and even veteran Gradall operators who also appreciate an in-cab switch to select either the Gradall, Deere or SAE joystick pattern.
"For years, Gradall has been the leader in combining excavator mobility, versatility and productivity advantages," says Bill Thomas, vice president of Gradall excavator products. "Governments and contractors appreciate the advantages of an excavator that can travel at speeds up to 60 mph, eliminating the need for a lowboy trailer and enabling them to get to jobsites faster. The addition of an automatic transmission has received a very positive reaction."
In addition to the undercarriage transmission, Gradall's AutoDrive system integrates a new transfer case – the heart of a new remote drive design that enables operators in the upper cab to reposition the machine around jobsites or over the length of a roadside ditch. Models are available with either a 6 x 4 or 6 x 6 drive train.
The XL 4100 IV weighs about 49,684 lbs. (22,536 kg.). The AutoDrive system also is standard on the XL 3100 IV models weighing 40.930 lbs. (18.566 kg.) and XL 5100 IV models weighing 57,670 lbs. (26,159 kg.).
XL 4100 IV models introduce a new, high-visibility, yellow paint scheme with red and black accents, replacing the grey scheme with red and black accents on Gradall machines since around 2000.
For exceptional power, XL 4100 IV excavators also unveil a new 245 hp Tier 4i Mercedes engine that meets the latest EPA standards. The single engine is designed to efficiently and cost-effectively power the excavator up to 60 mph on highways, or 5 mph for repositioning around job sites from the upperstructure cab.
The same engine also powers the upperstructure boom, including swing motions as well as the famous Gradall telescoping, tiling boom movements. The advanced hydraulic system has pressure-compensated, load-sensing valves with reliefs on all circuits. This system delivers the right amount of hydraulic power to the boom, increasing cost-efficiency while performing conventional excavator digging, demolition and barrier placement as well as sloping, finishing, storm and canal cleanup, tree trimming and many other jobs using a host of attachments.
Maximum boom reach is 30 ft., 3 in. (9.2 m) at grade, while maximum dig depth is 20 ft., 3 in. (6.2 m). Loading height maximum is 17 ft., 2 in. (5.2 m).
Rated bucket force is an impressive 24,900 lbs. (111 kN) while the telescoping boom crowd force is 21,940 lbs. (97.6 kN). Unlike conventional excavators, the telescoping boom forces are constant through the entire dig cycle.
XL 4100 IV models also have high-performance, high-reliability 24V electrical system and new high-visibllity LED lighting and a compact tail swing that allows the machine to be more productive than ever on roadside jobs without obstructing traffic.
Over 80% of the service parts on each Gradall machine are interchangeable, simplifying inventory processes to assure normal service parts are available.