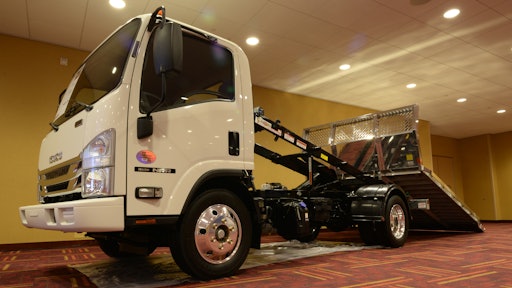 The Green Truck Association (GTA), an NTEA affiliate division, and its Lightweight Materials Technology Council facilitated donation of the Lightweight and Advanced Technology Demo Truck to Habitat for Humanity and ReStore. The demo truck, displayed at The Work Truck Show 2016, showcases fuel-saving components and technology. While at the show, attendees can see firsthand how current product and equipment offerings can help reduce fuel utilization and improve vehicle productivity.
"We are pleased to feature the demo truck as a tangible example of GTA and Lightweight Materials Technology Council objectives and welcome the opportunity to facilitate this donation to Habitat for Humanity and ReStore," says Doyle Sumrall, GTA Managing Director. "This generous contribution provides an opportunity to support a worthy cause and highlight advanced technologies in the process."
The Lightweight and Advanced Technology Demo Truck display consists of an Isuzu NRR diesel Class 5 truck upfitted with lightweight components. The truck itself weighs 760 lbs. less than a conventional cab and is equipped with a driver feedback reporting system, speed limiting and idle shutdown to maximize fuel efficiency. It provides 23% improvement in fuel usage and a 33.3 ton reduction in greenhouse gas emissions.
The truck is upfitted with:
Alcoa one-piece forged aluminum wheels with corrosion-resistant Dura-Bright finish
A Switch-N-Go hoist system from Deist Industries Inc.
Voth Truck Bodies lightweight aluminum detachable dump body
WALTCO Lift Corp. MDR liftgate with aluminum deck
GTA teamed up with its Lightweight Materials Technology Council to build the concept truck. To analyze vehicle life cycle costs, GTA worked with the National Renewable Energy Labs, which is part of the Department of Energy and associated with the Clean Cities program that seeks to cut petroleum use in transportation. Results of this in-depth analysis are at the display.
The Work Truck Show is North America's largest work truck event. Produced annually by NTEA, the 2016 event is being held March 1–4 at the Indiana Convention Center in Indianapolis, IN.