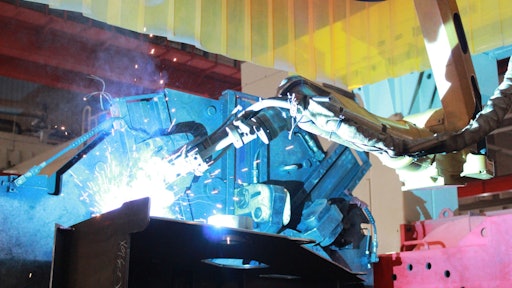 XCMG, the world's leading construction machinery manufacturer, is now building up the industry's first intelligent production line for crane turntables with a daily production capacity of 40, the largest in the world. The move keeps the company at the forefront of construction machinery development and firmly establishes it as a leader in intelligent manufacturing (IM). 
The first intelligent production line for large-scale structural components in the industry, it can produce over 20 types of products. At 100-m long, the line has 168 anchor points on a flexible pallet that can lock every single workpiece accurately in place to smoothly complete the 18 assembly steps necessary to assemble a crane turntable. An intelligent rail-guided vehicle (RGV) carrying the pallet can automatically dock with a welding workstation to complete the production process with an accuracy of 0.01 degree. Each technician on the line can manage 10 machines, with annual operation mileage of 1,933 km (1,201 mi.).
"The completion of our new intelligent production line affirms XCMG's position as a world leader in construction machinery manufacturing," says Wang Min, Chairman and President of XCMG. "In order to lead in the era of IM, making strategic investments now is key. Any companies that ignore this manufacturing revolution will not have a future."
XCMG's new production line marks a milestone in the multi-variety, limited quantity and discrete manufacturing industry's exploration of IM. In 2017, China was the world's largest industrial robot application market with annual sales exceeding 120,000, which were about one-third of global production. At the same time, China has been the world's largest consumer of numerical control machine tools for nine years in a row, and 50% of the world's production volume is installed in Chinese factories. In the past two years, the average production efficiency of Chinese factories has improved by 30% and energy efficiency has increased by 10%.