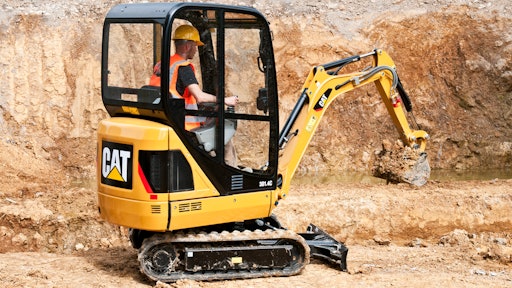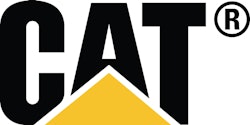 Caterpillar is extending its market leading range of mini excavators, with the addition of three models with operating weights of 2,061 lbs. (935 kg), 3,340 lbs. (1,515 kg ) and 5,886 lbs. (2,670 kg). These additional models broaden the appeal of the Cat compact crawler excavator line-up, extending machine choices for customers in a variety of industry sectors.
Cat 300.9D Takes Cat Into The Micro Market
The 300.9D weighs in at just 2,061 lbs. (935 kg), making it the smallest machine in the Cat range. With an overall width of just 28.7 in. (730 mm), this machine is capable of driving through a standard doorway, providing easy access to the most confined job sites. This will prove popular with homebuilders, rental companies and demolition contractors.
A powerful water-cooled three-cylinder diesel engine produces 18.4 hp (13.7 kW); along with a twin gear pump hydraulic system creates a maximum stick breakout force of 1,011 lbs.-ft. (4.5 kN) and a maximum bucket breakout force of 2,000 lbs.-ft. (8.9 kN). The machine comes equipped with an extending undercarriage and fold-out dozer blade, ensuring maximum stability and allowing a digging depth of up to 69.4 in. (1,731 mm) and a maximum excavation radius of 121.7 in. (3,074 mm).
A foldable overhead protective structure is mounted on the front of the machine, allowing the fitting of an additional guard to protect the operator when the machine is used with a hydraulic breaker. Caterpillar's work tool division will be introducing a new H25 compact breaker specifically to work with this smaller machine. Auxiliary hydraulic lines with quick disconnect fittings are supplied as standard.
A spacious operator area with easy to use controls ensures the 300.9D will be a popular choice with operators of all abilities. The folding structure and operating weight well below 1 tonne, makes the 300.9D easy to transport on a trailer behind a van or truck, while a simple single steel engine cover provides easy access to all service and maintenance points.
301.4C Boosts Key Rental Sector
With an operating weight of 2,921 to 3,340 lbs. (1,325 to 1,515 kg), depending on specification, the Cat 301.4C fits into the line-up below the current 301.8C, extending choice in the popular 1.5 ton market. The machine is available with a choice of cab or FOPS/TOPS canopy, and with standard or extending width undercarriage.
Power comes from a 24 hp (17.9 kW) engine and the machine boasts a maximum bucket breakout force of 3,597 lbs.-ft. (16.0 kN) and a stick force of 1,596 lbs.-ft. (7 kN). The machine has good working range with a maximum digging depth of 88.2 in. (2,240 mm) and reach at ground level extends to 145.7 in. (3,640 mm). The maximum lift capacity to the front of the machine is 1,576 lbs. (715 kg). Lift capacity over the side of the machine is 739 lbs. (335 kg) with the retracted 39 in (990 mm) width tracks, rising to 1,091 lbs. (495 kg) with the standard 51.2 in. (1,300 mm) extendable tracks.
Standard equipment includes extendable undercarriage, single and two-way auxiliary hydraulic lines, a sturdy dozer blade, a suspension seat and a hydraulic oil cooler. The machine will have a bucket linkage that allows the use of a wide range of existing Cat buckets, quick couplers and powered work tools.
302.7D CR Joins Growing Compact Radius Line
Tipping the scales at 5,681 lbs. (2,577 kg) with a canopy and 5,886 lbs. (2,670 kg) with full cab, the 302.7D CR is the lightest Cat compact radius model, making it easy to transport for a rental company or contractor. Powered by the same proven 24 hp (17.9 kW) engine as the 301.4C, the machine boasts a load sensing hydraulic system, providing a maximum bucket force of 5,058 lbs.-ft. (22.5 kN) and a maximum stick force of 3,462 lbs.-ft. (21.76 kN).
The Cat 302.7D CR combines a compact radius design (zero tailswing without counterweight) with a spacious operator environment and easy access to regular service points. Two-way auxiliary lines are standard, equipped with quick disconnects for rapid work tool changeover. A joystick-mounted proportional auxiliary control allows for fine control of a range of powered attachments. The sturdy dozer blade offers added stability when digging, and a float function on the dozer control allows operators to grade and push with confidence.
Maximum lift capacity is an impressive 2,105 lbs. (955 kg) with the standard long arm and counterweight combination. When lifting over the side the extra counterweight allows a maximum lift capacity of 1,373 lbs. (623 kg) at a reach of 98 in. (2.5 m) and ground level.