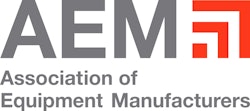 The Association of Equipment Manufacturers' (AEM) annual product safety event - May 7 to 10, 2013 - will help equipment manufacturers analyze and enhance their corporate safety programs to ensure each component remains effective and useful.
The Product Safety & Compliance Seminar runs May 7 to 9 with the theme "Juice Up Your Product Safety Program" playing off the event location of Orlando, FL (Orlando Hilton). The co-located AEM Product Liability Seminar follows on May 10 to provide attendees with guidelines for more effective participation in product litigation.
This AEM product safety event is the only one of its kind designed by and specifically for manufacturers of agricultural, construction, forestry, mining and utility equipment as an industry-wide discussion of safety issues involved in design, manufacture and use of their products.
Special Prerequisite Program: The Cornerstone of Product Safety
AEM is also offering a pre-event webinar series, The Cornerstone of Product Safety, on April 23 with a focus on product safety and compliance fundamentals. The three-part webinar series is designed to develop new corporate safety leaders as well as refine the skills of more experienced personnel.
The program will examine best practices and behaviors for key elements and milestones of the product life cycle, from concept to the scrap pile. While all seminar attendees are encouraged to participate, the webinar series is open to others who also want to take advantage of this cost-effective way to educate their team. 
Education Sessions Benefit Both New and Experienced Personnel
The Product Safety & Compliance Seminar offers 20 expert-led sessions on a wide range of topics including engineering documentation and incident investigation, advanced CE marking and other global regulatory/standards issues, social responsibility and using technology for effective safety communication, and developing safety signs and compliant manuals.
Mattel/Fisher-Price's Senior Director for Product Safety will draw some interesting parallels between the toy industry and off-road equipment industry when she delivers the opening keynote presentation.
The Product Liability Seminar has assembled a team of highly experienced trial and corporate attorneys to help attendees answer the question, "Am I really prepared to defend my product in litigation?" Planned topics include a mock deposition, mock jury and panel discussion, and mock deliberations and debriefing.
The Product Safety & Compliance Seminar targets company management, product safety and quality managers, design engineers, technical writers, and research and development personnel, as well as training, service and communications professionals involved in product support. The Product Liability Seminar is of particular value to manufacturers without dedicated corporate counsel.
The seminars are open to off-road equipment manufacturer personnel and company-designated service providers. They are beneficial for beginner as well as experienced industry professionals and are especially valuable for small and medium-sized manufacturers with more limited internal resources.