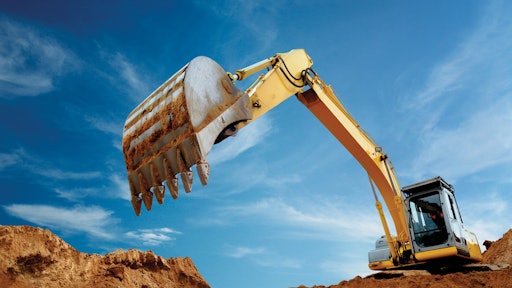 Tata Steel, Europe's second largest steel producer, is aiming to double its worldwide steel sales by 2017 in the lifting and excavating sector from 500,000 tonnes at present. One of the key growth areas is the European market, particularly Germany. To achieve this demanding target the company has recently invested €40million to improve its product portfolio, by developing its quenched and tempered and advanced downstream processing facilities in the UK.
At bauma 2013, Tata Steel showcased the benefits of its improved abrasion-resistant and high-strength steels. It demonstrated how these, in combination with its new customer approach, are increasing product performance and adding value for European and German customers.
Tata Steel delivers a wider range of differentiated steel products to the lifting and excavating industry than any other steel producer in the world, and provides one of the most comprehensive product portfolios for this sector.
Chief Commercial Officer of Tata Steel Europe, Dr. Henrik Adam, says, "We offer a very wide range of products to manufacturers of machinery used in the movement or extraction of material and goods. These products are optimised to provide improved strength-to-weight ratio, to tackle fatigue levels, and to substitute components in the processing facilities to increase efficiency, to name a few benefits."
At bauma, Tata Steel highlighted two product families of improved steels. Abrazo is a family of highly abrasion-resistant steels, which provide guaranteed toughness grades in even the coldest climates. Abrazo is perfect for buckets and cutting edges, truck body linings, mining armoured face conveyors, chutes, hoppers and conveyor parts.
The RQT product portfolio is specifically designed for applications where high strength and toughness are essential, for instance in mining powered roof supports, boom arms, chassis components, scrap fragmentation equipment or offshore structures.
Klaus-Peter Galla, Managing Director of Tata Steel International Germany GmbH says, "Apart from our different products, customers in Germany will now also benefit from our Early Vendor Involvement program (EVI). Through this newly offered programme we get involved with manufacturers at the earliest design stage and can therefore achieve huge improvements in material development or fabrication. EVI can reduce the total production cost for OEMs and our ultimate aim is to offer end-users increased value during the use phase of the equipment."
The EVI program falls in line with the overall customer approach encapsulated in the new motto "Together we make the difference." The new motto highlights Tata Steel's commitment to work closely with customers, helping them to create a mutual understanding of solutions to current challenges and future requirements.
Galla adds, "Clearly Germany remains the largest market for construction equipment in Europe so it is very much on our radar. We have a good footprint here, but we are looking to strengthen this further over the next three years by partnering with major equipment makers. This personal partnership approach has been very well received by customers." 
The extensive product range of Tata Steel for the lifting and excavating sector includes:
Hot-rolled sheet and steel plate designed for automated processing, including laser cutting and welding. This includes high-strength and wear-resistant grade steel; 
The most extensive range of track-shoe sections available anywhere in the world;
Tailor-made sections to customer designs, such as forklift mast sections, eliminating the need for welding or fabrication; 
A wide range of hot-finished and cold-formed steel tubes available in circular, square and rectangular hollow sections; 
Speciality bar products for engine, transmission and other demanding applications
Cutting-edge profiles for wear-part applications including buckets.