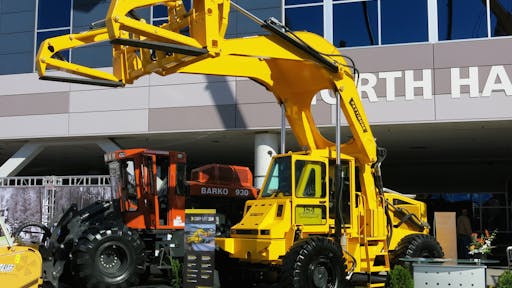 The new Pettibone Cary-Lift 154 delivers the traditional load handling benefits of the Cary-Lift product line, while introducing new performance benchmarks to meet the evolving needs of end users. Featuring a cost reduced, streamlined redesign and enhanced operator comfort, the 154 offers simplified maintenance and more productivity in a variety of material handling applications.
The new 154 retains Pettibone's unique overhead lift arm design, giving the operator full front visibility when lifting, placing or transporting loads. A sloped engine compartment improves line of sight to the rear as well. The addition of wider lift arms and front balers provides greater load stability, while hydraulic frame sway control continues the Cary-Lift's heritage of exceptional load manipulation. A quick attach system increases the machine's versatility, with fork frames, pipe and pole balers, log balers and scrap balers all available as attachments.
Powered by a 160 hp Cummins QSB 6.7L Tier 3 diesel engine, the Cary-Lift 154 provides a maximum load capacity of 15,000 pounds and a maximum lift height of 14 feet. Featuring 4-wheel drive with 2-wheel, 4-wheel and crab hydraulic power steering modes – and with the wheelbase limited to just 10 feet – the 154 can achieve a turning radius of 16 feet, 7 inches. Unlike other forward reaching loaders, the Cary-Lift's heavy-duty, solid steel frame design allows it to take full loads into sharp turns without sacrificing load capacity or stability.
The IQAN controlled electrohydraulic system offers infinite variable control, individual operator settings and onboard diagnostics for consistent, productive operation. Additionally, a multi-function joystick provides intuitive fingertip controls to efficiently shift gears and control the hydraulics, allowing for non-stop work without having to change hand positions or let go of the steering wheel.
Routine maintenance is simple thanks to a centralized lubrication system that provides one access point for most greasing needs. The 154 also includes balanced dual fuel tanks with 79-gallon total capacity for longer operating intervals, along with a single refueling port at ground level for quick, easy re-filling.
A sliding door offers quick access to the comfortable operator cab, which includes a tilt/telescopic steering column and a swiveling, adjustable suspension seat with seat belt, padded armrests and lumbar support. Improved door seals provide a cleaner and quieter environment, while higher-output air conditioning and heating keep the cab climate controlled in all weather conditions.
Other standard features include high-output LED lighting and tinted safety glass windows that are larger for enhanced visibility. Available options include a back-up camera, attachment camera, and autoshift transmission.