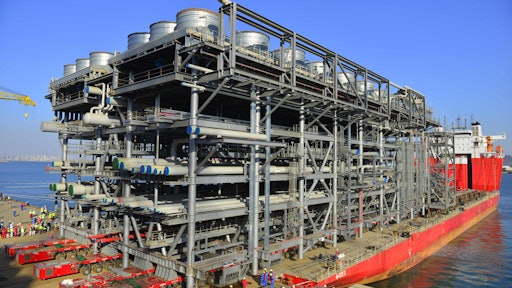 It was the heaviest load ever transported in China on Self-Propelled Modular Transporters (SPMTs): the first of a total of eight liquid natural gas (LNG) production modules was moved by SCHEUERLE SPMTs from Zhejiang Lida, COSCO and Sinotrans in COOEC Qingdao yard, China, to the ocean-going barge "Finesse" on 300 SPMT axle lines - under the operational direction of Mammoet. The heavy shipment will reach the Darwin Island in Australia.
LNG is a business of the future and it is estimated that production will increase by more than 200% by 2020. Accordingly, companies are investing in production facilities worldwide. Following the discovery of huge reserves off the coast of Australia, INPEX is currently expanding its production facilities on the Australian coastline. The so-called Ichthys Project is regarded as one of the world's major oil and gas projects. Offshore Oil Engineering (Qingdao) Co., Ltd is building a total of eight LNG production modules which are to be installed there with each weighing in the region of 5,000 tonnes. All these modules are being transported on SPMTs from SCHEUERLE. The first module measured 90 m x 48 m x 33.5 m and weighed 5,200 tons. For this particular assignment, Zheijang Lida, COSCO and Sinotrans joined forces using 160, 80 and 60 axles lines respectively.
"Our customers appreciate not only the unmatched reliability of our SPMTs but also having the possibility to rent vehicles at anytime and anywhere in the world when required," says Ralf Grützmacher, Area Manager Sales at TII Sales, the sales and distribution arm of the TII Group which is comprised of SCHEUERLE, NICOLAS and KAMAG. "This assignment, whereby the three companies were able to easily couple their vehicles, clearly shows the advantage our customers have when compared to the customers of our competitors."
SPMTs from the TII Group
In 1983, SCHEUERLE - now part of the TII Group - developed a vehicle that would fundamentally revolutionize the heavy haulage industry by introducing the SPMT which changed more than just the manner in which loads are transported. The entire system of modular construction of industrial plant, conveyor systems or infrastructure projects was radically turned upside down. Today, modules reach weights of up to 15,000 tonnes with the door left open for even more potential.