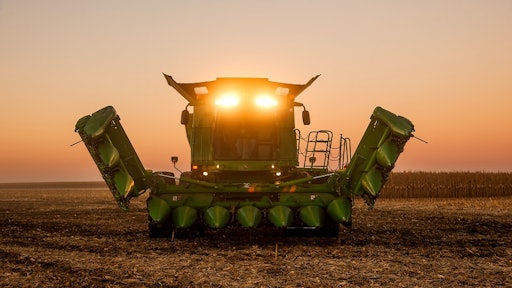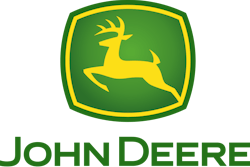 John Deere is helping customers improve productivity and profitability during harvest with enhancements to its grain harvesting equipment lineup. For model year 2016, the company is adding performance boosting features to its S-Series Combines, 600C Series Corn Heads and 600F HydraFlex Draper Platforms, as well as introducing a new 12-row folding corn head.
Jon Gilbeck, Division Marketing Manager for John Deere Harvester Works, says these are some of the most extensive updates to John Deere harvesting products since the introduction of the S-Series Combines years ago.
"We are constantly listening to our customers and looking for ways to boost their grain harvesting productivity by improving the performance, quality, and technology of the Deere equipment they are using. This includes enhancements to the combines as well as improvements to the different headers and platforms in the lineup."
S-Series Combine Updates
John Deere is making some significant improvements starting with the workhorse of its grain harvesting equipment – the S-Series Combine. Internally, customers will notice a 12% larger cleaning sieve and a new shoe drive system with a beefed up, wider belt with double the tensile strength and durability.
In shoe-limited conditions this new Dyna-Flow Plus cleaning system increases combine capacity up to 10% in corn and 13% in wheat and canola, and reduces tailings as much as 28%. The combines are designed with stronger internal bearings, pulleys and support structure for increased durability and uptime.
In addition, John Deere is making Active Terrain Adjustment available as a factory-installed option for all 2016 models of S-Series Combines. Active Terrain Adjustment automatically controls the fan speed and sieve/chaffer openings as the combine travels up and down hilly terrain. This optimizes the harvesting performance of the combine and minimizes grain loss on slopes. On uphill slopes of 12 to 16 degrees the results can be a $32 to 64 savings per acre while reducing tailings by as much as 35%. And when harvesting on declining slopes, the greater the slope and greater reduction in foreign material.
To improve accuracy and reliability of yield data collected during harvest, John Deere introduces Active Yield with automated calibration. This feature greatly reduces the time operators spend calibrating the yield monitor and provides more accurate yield data from field to field. Active Yield is available as a field-installed attachment for 2016 S-Series Combines and is compatible with earlier model S-Series machines.
Lastly, John Deere has added an onboard air compressor to new 2016 combines. This addition makes routine combine cleaning and maintenance more convenient, especially when operators are in the field or remote locations.
"These enhanced features make the S-Series Combines even more productive when harvesting all types of grain crops, provide more accurate yield information, and allow operators to spend more time harvesting and less time with calibration and maintenance," Gilbeck says.
New in Headers and Platforms
Along with the updates to the S-Series combines, John Deere is expanding its lineup of 600C Series Corn Heads and updating the 600F HyraFlex Draper Platforms. For the first time, the company is offering a folding 12-row corn head (612FC  model). The 612FC can provide productivity of up to 30 acres more per day versus harvesting with a traditional eight-row corn head and six more acres per day versus a traditional 12-row while reducing operating costs by 15%.  And John Deere is equipping all 600C corn heads with an improved row unit slip clutch and drive shaft interface for longer life when harvesting today's more robust hybrids.
For soybean and small grain producers, the company has taken many of the features unique to the recently introduced 645FD and built them into other models of HydraFlex Drapers, including the 630FD, 635FD and 640FD. These features include new streamlined end dividers that reduce grain loss and crop knock down; a wider center-feed section that increases material feeding by 15% to better match combine capacity; and 30% stronger reel fingers for greater durability and improved crop pickup.
"These improvements, along with doubling the life of the reel finger support tube bearings on all HydraFlex Drapers, help producers harvest more acres per day with less downtime and lower cost of operation," Gilbeck adds. "Collectively, the changes we made to the combines, corn heads and HydraFlex Drapers provide customers with the most advanced harvesting equipment available."