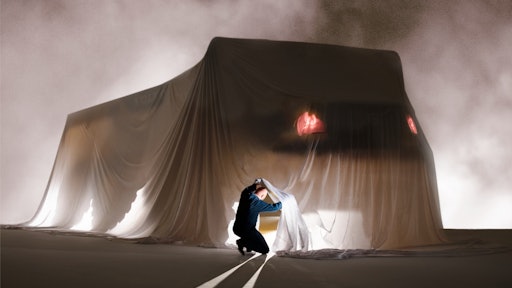 Responding to a growing demand among customers for articulated haulers with larger payloads, the 55-tonne capacity Volvo A60H is the largest articulated hauler of any brand to hit the market.
More than half of the articulated haulers sold globally by all manufacturers today are within the Volvo A40 size class. The Volvo A60H's higher payload – a 40% increase on Volvo's A40 models – significantly lowers the cost-per-tonne ratio for hauler customers. The new size also offers a viable alternative to rigid dump trucks and construction trucks operating on soft, uneven or steep roads, allowing a similar amount of material to be hauled in a shorter cycle time. Using articulated haulers also reduces the level of maintenance required for haul roads on the jobsite, further improving profitability. Good stability, comfort and high hauling speeds are ensured by the matched drivetrain, automatic drive combinations (including 100% differential locks), all-terrain bogie, hydro-mechanical steering and active suspension.
Optimizing production: minimizing costs
Volvo builds on the high capacity and hauling speeds of the A60H with intelligent monitoring systems, such as MATRIS, CareTrack, and the Volvo On Board Weighing System, further optimizing production and minimizing operational costs. Meanwhile, the Volvo Care Cab limits fatigue and promotes a productive work shift from each operator. With a centrally-positioned seat, superior steering, excellent suspension, low noise levels, climate control, and ample space and visibility, Volvo articulated haulers are renowned for providing some of the most comfortable and productive operator environments in the industry.
Volvo articulated haulers also owe their low total cost of ownership to their high degree of uptime. These durable machines are built to work hard over a long service life, with heavy-duty front and rear frames, hitch and wet disc brakes. When it comes to servicing and routine maintenance checks, access is quick and simple, helping the haulers get back to work as quickly as possible. The A60H has many features that will be familiar to technicians who regularly service other Volvo haulers, such as a front grill that swings down, opening up a service platform with anti-slip steps, and an electric hood that opens to 90 degrees, allowing full and safe access to the engine compartment. In addition to long service intervals and minimal maintenance requirements, Volvo's popular Customer Service Agreements help customers stay in control of costs.
The Volvo articulated haulers' low total cost of ownership and high profitability are also supported by their industry-leading fuel efficiency. Powered by a highly-efficient engine and drive train, the Volvo A60H is designed to keep fuel consumption to a minimum for the sake of the environment and the customer's bottom line.
50 years of Volvo articulated haulers
The articulated hauler concept was originally launched by Volvo in 1966 and celebrates its 50th birthday this year. The first model – the DR631 – was essentially a Volvo BM350 agricultural tractor with its front axle removed, permanently joined to a trailer via an articulating hitch. 'Gravel Charlie' (Grus Kalle), as it was nicknamed, had a 10-tonne payload.
In 1967 Volvo introduced the DR860 with a bogie, which enabled the body to remain level while the tires went over rough terrain, reducing material spillage. The first hauler with a turbo-charged engine – the DR860T – arrived in 1970, and in 1979 the 5350 reached record-breaking speeds of up to 50 km per hour, thanks to a suspended front axle and automatic transmission. Traction was further increased with the addition of a six-wheel drive system.
The A20 was launched in 1986 with a 200 hp engine and a 20-ton payload, and in 1987 Volvo achieved a payload of 35 tons with the A35. This model also featured a retarder built into the transmission that reduced wear on the service brakes. The articulated hauler product range was given a major overhaul in 1993 with the introduction of the C-Series, which featured a low-emission engine, fully automatic transmission and 100% differential locks. The 40-ton class was introduced in 1995 with the A40, powered by a 400 hp engine and stopped by externally cooled wet disc brakes.
In 2016 Volvo reaches major milestones of both time and capacity, which will be celebrated by the company throughout the year. At bauma 2016, for example, visitors to the Volvo stand will be able see both the new A60H, as well as Gravel Charlie – where it all began half a century ago.