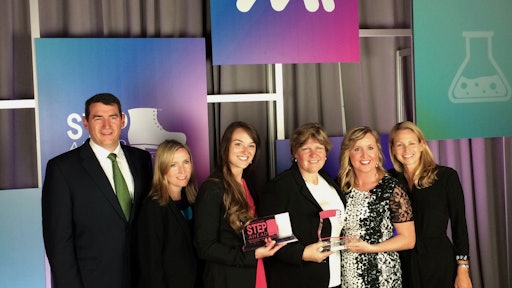 AGCO, a worldwide manufacturer and distributor of agricultural equipment and solutions, announces that three AGCO employees have received 2016 STEP (Science, Technology, Engineering, and Production) Ahead Awards. Miranda Aarons, Line Design Manager, Hesston, KS; and Beth Tucker, Director, Quality Assurance, Hesston, KS, were both presented the 2016 Women in Manufacturing STEP Ahead Award. Additionally, Jaclyn Clark, Manufacturing Engineer, Jackson, MN, was presented the 2016 STEP Ahead Emerging Leader Award.
"It is a pleasure to see that Miranda, Beth and Jaclyn were nominated by AGCO colleagues for their leadership and significant achievements," says Lucinda Smith, Senior Vice President, Global Business Services at AGCO. "The STEP Ahead program supports the same diversity and inclusion approach as the AGCO Global Women's Network (AGWN)."   
AGWN is a business advisory group set to develop, promote and advocate women as leaders and growers of profitability, collaboration and a diverse culture across AGCO. Celebrating its fifth anniversary in 2016, AGWN was established to provide a platform to proactively cultivate the leadership skills of women and men, thus driving excellence in innovation, customer service and ultimately to do better business in the markets in which AGCO serves.
The STEP Ahead Awards honor women who have demonstrated excellence and leadership in their careers and represent all levels of the manufacturing institute, from the factory-floor to the C Suite. The 2016 STEP Ahead Awards leadership programs and additional activities took place from April 20-22 in Washington, D.C., with the Awards Dinner Gala on the night of April 21 at the Ronald Reagan Building and International Trade Center. The Manufacturing Institute honored 100 women and 30 Emerging Leaders, a category introduced last year to honor women under the age of 30 who have achieved unique accomplishments at the start of their careers.
 
"These 130 women are the faces of exciting careers in manufacturing," says Jennifer McNelly, Executive Director, The Manufacturing Institute. "We chose to honor these women because they each made significant achievements in manufacturing through positive impact on their company and the industry as a whole."
 
The STEP Ahead Awards are part of the larger STEP Ahead initiative which was founded in 2012 to promote the role of women in Science, Technology, Engineering, and Production through recognition, research and best practices for attracting, advancing and retaining strong female talent.