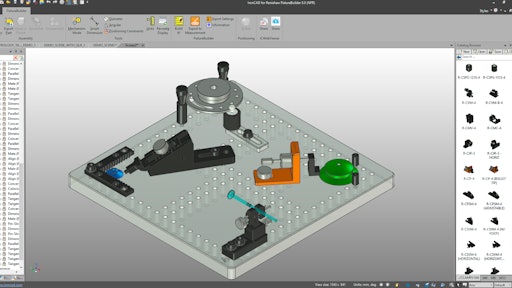 Renishaw announces the release of FixtureBuilder 8.0, the latest version of its 3D fixture modelling software. FixtureBuilder offers a wide range of customer benefits, derived from Renishaw's deep understanding of metrology best practices and part inspection.
The software allows users to design metrology fixturing set-ups without having to use co-ordinate measuring machines (CMM) and other inspection devices. This reduces the amount of set-up time and increases productivity. It can be used with a CAD model of the part, which is imported into FixtureBuilder. The entire fixturing set-up, along with the part, can then be exported into inspection programming software.
In FixtureBuilder 8.0, users can now model fixtures that use the innovative Renishaw QuickLoad rail system, which is used on CMMs and provides a secure workholding position when used in conjunction with QuickLoad base plates. These are attached to the rail on either side using quick release magnets and location pins. The interchangeable design of the rail and plates maximizes the machine operator's ability to inspect and release parts swiftly.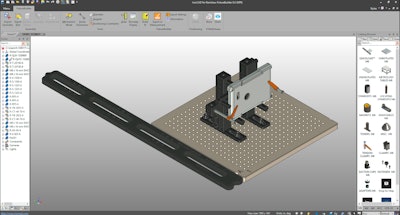 Metrology tables, M12 fixtures, ¼-20 fixtures and many other new fixturing components have also been added to FixtureBuilder v8.0, providing users with access to an even wider range of fixturing components in the software's library.
An improved mechanism mode provides real life movement and collision detection with increased precision, resulting in faster fixture set-ups. Exporting the fixture model into inspection software has become faster and easier in the new version as well, making the inspection programming process more streamlined. 
In addition to supporting Parasolid, STEP, ACIS, STL, IGES and many other file formats, FixtureBuilder 8.0 has been upgraded to allow users to import and export the latest versions of these 3D CAD file formats.
The software is available to all existing and future Renishaw customers to complement and further improve the productivity of their Renishaw fixtures and other inspection equipment. It is available for purchase through the Renishaw distribution network. A 30-day free demo version of the software is also available from the Renishaw website.