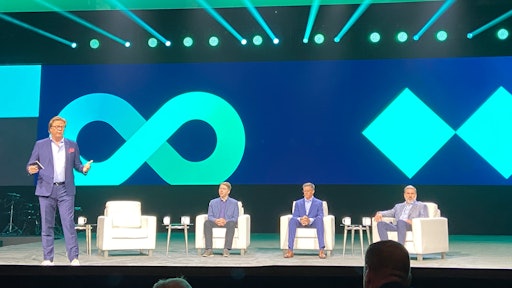 Siemens Senior Vice President of Marketing and Communications Brenda Discher set the tone for Realize Live (June 13 to June 15, 2023) as she opened the event. Industries worldwide are experiencing four challenges that are driving their digital transformation. These include:
Climate
COVID
Conflict
Competition
The transformation for Siemens includes automation, software (and a move to the cloud), and being a cloud provider to its customers. These trends affect many aspects of the industry. Siemens software and partnerships help strengthen collaboration between engineering teams and simplify product life cycle management (PLM).
Siemens' integrated solutions create digital threads in the product life cycle and are visualized and functional in a digital twin. A digital twin is a comprehensive virtual model that defines a product or plant. A digital thread is the sequence of virtual activities across business processes that enhance and expand the digital twin and support automation, traceability, and standardization efforts. Both are critical for optimally working on new systems or products, integrating all aspects of production.
Another major theme during the event was sustainability and the importance of sustainability being incorporated into every phase of the product life cycle. According to the presenters, with Siemens solutions, sustainability is no longer separate. It is integrated into everything.
The Keynotes
During the first two sessions of Realize LIVE, several informative keynotes were presented. Among them was a talk from Brian Carbrey, digital engineer chief architect, Boeing Defense, Space & Security. He detailed the digital transformation history of Boeing. For Carbrey, digital threads are critical. He suggested that engineers and designers:
Start now
Perform iterations
Explore technology
Invest in people
Develop partnerships
Brad Keselowski, NASCAR driver and founder of RFL Racing, discussed how a finite element analysis of a new bracket improved the safety of a new version of an RFK car. The team used TeamCenter because they had 30 engineers on the project. This team took about three months to fix the bracket, and the new bracket saved the life of an RFK driver Chris Pusher.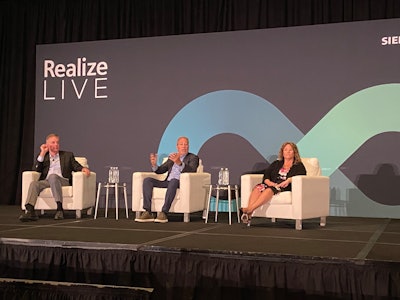 Battery Manufacturing
Investments in battery manufacturing are growing with a growth of 10 times by 2030 according to Nand Kochhar, VP, automotive and transportation industries, Siemens. The key challenges to battery production are:
Their energy density needs to be doubled
Production needs to be shortened and scaled up
The scrap rate is too high, currently at 40%
Sustainability must improve; the recycling rate is low and battery production is a high-energy activity
Siemens solutions can help in battery production because they help combine all the aspects of the process: electronics, software, mechanical, chemical and thermal management. The solutions give insight into the full system not just individual components. They provide closed-loop connections between the digital and real world. These connections can help speed up production and scale capacity. In addition, recycling may benefit from the AI dismantling of batteries, which can be simplified by digital twins and threads.
Digital Transformation
As manufacturing moves further into the digital transformation, software that can help product managers, engineers and designers collaborate and track the components and systems they are producing and include any changes in the digital twin is important. Having that one source of truth helps the whole team and provides traceability and visibility into the whole project.