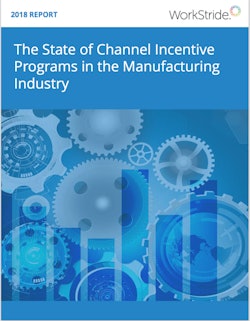 Executive Summary
A channel incentive program is used to foster specific behaviors within the channel—specifically, motivating, engaging, and incentivizing indirect sales representatives (including contractors, dealers, distributors, retailers, resellers, etc.) who are not directly employed by the organization running the program. These programs usually involve various promotions that are focused on a specific product, region, or time period.
In the fall of 2017, WorkStride partnered with Wakefield Research to survey 250 mid- to large-sized North American manufacturing organizations that go to market via indirect channels. The results of the survey exposed a number of trends among manufacturing organizations with regard to channel incentive programs, including:
the prevalence of running programs in-house versus outsourcing to a professional channel incentive provider;
challenges in program administration;
the impact of channel incentive programs on positive sales
results; and
issues arising from a lack of customization within programs.