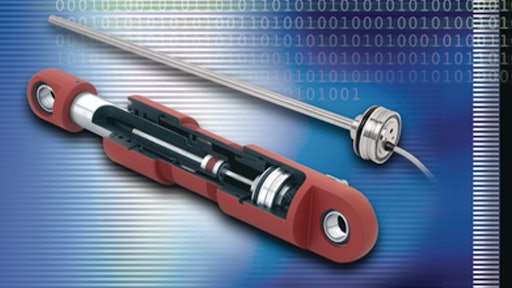 Consider a wheel loader or an excavator. Pascal's Law, which declares that pressure exerted on an enclosed liquid is transmitted undiminished in all directions at once, has been put to the test performing different functions throughout those machines.
Regardless of whether hydraulic fluid is being used to operate a cooling fan, articulated steering, or to propel the machine around the jobsite, the equipment doesn't start earning its keep until the bucket takes a bite out of a rock pile or a construction site. When that happens, an actuator converts the hydraulic pressure into mechanical force and motion.
It's with the actuator that the design of a circuit typically begins. With a good idea of what kind of force will be required to lift a work platform or a loaded scoop, designers specify the appropriate size cylinder and work back through the system.
There are many types of linear actuators to choose from, but the double-acting cylinder is the most commonly used in mobile equipment applications. In it, force is developed in either direction of the cylinder for extending and retracting the work.
Important as they are in the circuit, cylinders have traditionally been among the simplest component in the system. Lately, however, cylinders have started to increase in sophistication.
In the ongoing quest for longer-lived and more environmentally conscious equipment, hydraulic cylinders have been getting some special attention. New materials are being used in cylinder construction, and sensors have been installed to help the operator, as well as the machine, make appropriate decisions.
Steel tubing for the outer wall is popular, but composites that can withstand the high pressures of mobile equipment have shown promise for saving weight and fighting corrosion. New rod coatings provide wear and corrosion resistance in severe environments. Traditional chrome rod plating is one option, but many advanced coatings are also available.
Plus, as machine systems become more sophisticated, hydraulic actuators must be able to communicate with the machine.
A closer look
One of the largest waste hauling companies in the world is implementing two major programs. First is the company's goal to reduce its fleet's total cost of ownership (TCO) and customer service interruptions (CSI). Second, in October the company announced a major environmental initiative that includes spending up to $500 million over the next 10 years to increase fuel efficiency.
A significant component of the TCO program is to reduce maintenance costs on its fleet of garbage trucks. One of its largest maintenance expenses is the repair and/or replacement of hydraulic cylinders. The company's goal for new vehicle equipment is a life of at least 10 years without unscheduled hydraulic failures. Presently, after five years, garbage trucks are pulled from service for a complete rebuild, including replacement of hydraulic cylinders. The current goal is to achieve a five-year cylinder life without failure.
The company has found that once a truck body comes out of warranty and a cylinder needs to be repaired or replaced, these cylinders often failed within three months. It also found that there were no standards for the repairs being done, or for the replacement cylinders which were being purchased.
Parker-Hannifin's Mobile Cylinder Div. has been working with the company to help it meet its goals. With improvements in seals and cylinder design, Parker has been able to improve the life of replacement cylinders, which has significantly reduced equipment life cycle costs. Parker's involvement with the company's environmental goals includes helping it reduce vehicle component weight by the use of composites or structural polymers in cylinder manufacture, which can lead to vehicle weight reductions of more than 1,000 lbs. Reducing vehicle weight can help improve a vehicle's fuel economy.
While suppliers work with large fleets to help the companies meet their fuel efficiency and environmental goals, manufacturers are also depending more on the component supplier.
"A trend we're seeing is OEMs are counting on us to be their hydraulic cylinder experts," says Shane Vos, head of design engineering for Aggressive Hydraulics, Minneapolis, MN. "In the not-so-distant past, many OEMs generated their own cylinder prints and had staff in place to dictate to the cylinder manufacturers how to do their job. Today, the OEMs do not consider cylinder design and manufacturing a core competency. They look for their suppliers to be an extension of their own technical staff."
Customers of Barcelona, Spain's Pedro Roquet, S.A. are asking for the company's engineers to design hydraulic cylinders with a specific life requirement for their applications.
"The reason for this is that many different technologies exist for cylinder manufacture," says Richard Hall Hall, sales director, "each with a different cost, so the idea is to establish the required life for a component and to design and produce it to meet this requirement, only adding additional costs where necessary."
In order to meet this goal, Pedro Roquet has conducted a large number of tests with different designs, wall thicknesses of cylinder tubes, etc. so it can optimize the design of each individual part of a cylinder to suit a specific requirement.
"Historically, customers have requested specific working pressures, peak pressures and test pressures for cylinders," says Hall Hall. "Now they start to specify such things as 200,000 cycles to W pressure without failure, 150 miles of rod stroke at X pressure with a maximum of two drops leakage, external force of Y tons applied to rod end 80,000 times, Z pressure without seal extrusion, etc. These life test specifications have generally developed in a fairly intuitive manner — the basic premise being that 'if a cylinder has passed these tests, then it doesn't break on our machine.'"
Pedro Roquet has gone a step beyond that approach. It takes real-life pressure data from working machines to establish a simplified histogram and then equates this to an equivalent number of accelerated cycles at a specific life-test pressure. The end result is that, for machine types that its engineers have studied, Pedro Roquet can design cylinders for specific life requirements without having to run extensive tests.
"If we need to conduct tests," says Hall Hall, "we can establish suitable criteria to predict real life results accurately."
As the vehicle ages, wear of the structural components cause misalignment of the cylinder and side loads on the rods. This stresses the seals and causes premature wear and failure. Maximizing the bearing support of the rod on the piston and gland ends offsets the stresses due to misalignment and extends service life.
Parker Mobile Cylinder Div.'s WHD Series rod line provides rod support and seal protection. In conjunction with the additional bearing support, advances in seal technology, configuration and compounds has also extended the cylinders service life. Parker's system-engineered "Zero Leak" sealing package incorporates the use of a high pressure buffer seal that acts as a primary seal and spike suppressor for Parker's BTU rod seal.
Ten years and counting
The past decade has seen an emphasis on addressing rod damage and corrosion. Cylinder manufacturers working with leading mobile industry OEMs have learned that corrosion of the rod surface and damage due to external impact have been the leading causes of cylinder failure on refuse collection vehicles, for example. This has lead to the use of higher yield, induction hardened rods that are nitrided or plated with heavy chrome.
"The main changes we have seen," says Hall Hall, "are related to optimizing the design of all parts of a cylinder to give similar life; an example is a chain with some strong links and others weak. It should either be re-designed to have all links strong or, conversely — if the weak links are good for the application — some cost could be removed by reducing the strength of the strong links."
Pedro Roquet's most popular cylinder line is small welded cylinders for construction machinery. In the interest of reducing cylinder corrosion, for many years customers have specified induction-hardened rods.
"More recently they specify much greater corrosion resistance — now typically 500 hours NSS (neutral salt spray), whereas 72 hours NSS was normal only a few years ago," says Hall Hall.
Aggressive Hydraulics specializes in cylinders that are custom-designed for the application. "Our challenge is to be more responsive to react with shorter lead times," says Vos. "Typically we get a call for a requirement with a window of less than six weeks, which includes design, prototyping and production."
Parker's most popular single-stage rod cylinder is the WHD Series. When considering telescopic models, the single-acting telescopic dump cylinder, with the new bleederless design, is gaining popularity. The double-acting telescopic IPE packer/eject cylinder for front loader refuse vehicles is the cylinder of choice for the OEM Parker is working with. The IPE incorporates internal head nuts that also increase bearing support, as well as a metallic scraper, heavy chrome plating, thick walled plunger and "H" style wiper.
Technology has driven an increase in popularity for electronics in mobile hydraulic cylinders. "Although electrohydraulics has been around for some time," says Vos, "its presence had been more pronounced in the industrial markets, until now."
The need to be able to monitor the exact position of operating components, especially devices such as actuator pistons, has led to the development of a variety of sensing mechanisms.
These include non-contact, electro-magnetic position switches that can be connected directly to higher-level control equipment (such as Parker's IQAN, to be addressed in a later article in this series) and which are triggered by permanent magnets mounted within each piston.
"The latest actuators of this type are manufactured from high tensile, non-magnetic stainless steel, with non-magnetic pistons and polyurethane seals," says Woodie Francis, product marketing manager, hydraulic actuators, Parker Hannifin Corp., "this construction is capable of operating at high speeds and at pressures of over 200 bar, and allows sensors to function without interference and to be mounted anywhere along the actuator."
Additionally, feedback actuators can be produced using magneto-strictive or inductive displacement transducers to provide digital information for use by CAN networks. These transducers allow precise control over position, acceleration and velocity as part of sophisticated closed loop feedback systems, or as continuous monitoring devices in open loop systems.
Rotary actuator
Rotary actuators are used in the mobile off-highway equipment industry to perform operations in construction equipment such as bucket swing, lifting and steering. Because they do not require the long stroke lengths required of cylinders, rotary actuators can do the work directly from the joint. Rotary actuators are comprised of a housing that remains stationary while two moving parts, the central shaft and piston, do the work.
On a helical-spline rotary actuator — such as the T20 Series introduced earlier this year by Helac Corp. Enumclaw, WA — splined teeth on the output shaft, which is supported by tapered roller bearings, engage teeth on the piston.
Rotary actuators offer modular design with reduced system complexity. Within the product, higher operational loads, higher speeds and higher cycle rates are driving more sophisticated product materials, composites and special bearings and seals.
Available in three sizes with torque output ratings from 25,000 to 60,000 in.-lbs., the T20-25 and T20-45 feature 200 degrees of rotation, the sliding spline distributes loads equally over all of the teeth, reducing the effects of shock loads.
Parker rotary actuators offer mobile equipment designers unique solutions for developing high torque from a compact, self-contained, precision machined, drop-in package.
Parker has a team of system integrators with familiarity with industry specs and a broad product offering. The company's Mobile Technology Centers (MTCs) are trained distributors that carry large inventories of Parker hydraulic products. They can help the OEM choose between the products offered.
Rack and pinion rotary actuators (Parker's HTR Series, LTR Series, and M Series) satisfy high product loads and high production cycles. Durability and ease of customization allow fast and easy conversion to specific customer application needs.
The HRN Series provides an additional range of vane actuator technology, allowing more options in optimum torque and pressure. Unibody — the next generation of HR rotary actuator — offers high reliability, modularity and rugged proven design features while reducing cost and improving reliability of the customer product system.
Up next
One of the first jobs for which hydraulic pumps were installed on early construction or agricultural machines was powering a cylinder. Hydraulic actuators have evolved like the machines themselves and still play important roles. That will increase in the years ahead, thanks in part to advanced sensor technology.
Click here to view PDF version of the Suppliers chart.
Next month, we'll look at pumps and motors.
Companies in this article