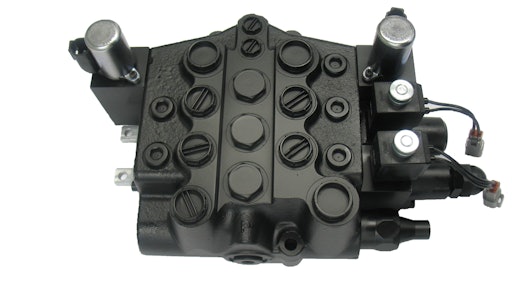 About eight years ago, Pedro Roquet, (company information, 10055923) Barcelona, Spain, had a very good idea as to where its cylinder business was heading. Now, production for its new cylinder factory in Romania starts in February of 2015. More recently, it has taken the same inquisitive eye to the direction it would like to take its control valves, pumps and motor products.
Historically the company has focused on products for general applications that were handled primarily through distribution. "Our product range was a standard catalog range with foreign manufacturing and a network distributing to less critical applications," says Richard Hall-Hall, Commercial Director, Roquet. "Few OEMs were using our products because we were not meeting their requirements."
In the past two years, the company began to reevaluate where it wanted its business to go, and since has begun to develop custom products for specific OEM applications. That meant Roquet had to invest in tripling its design and development department. "We're now starting supplying different OEMs with specialist products and are working on more," Hall-Hall says. While the company is still getting up to speed with larger volumes, its foundry—Fundaciones de Roda in Barcelona, Spain—allows Roquet to look at smaller volumes that other companies would not find economically beneficial to pursue.
Apart from making customized components for customers, Roquet is also introducing electronically proportional control systems into its product lineup. "A lot of the new products we are launching are completely new product lines. Everything is centered around what the end user is asking for," says Hall-Hall. "They have a wish list, and we're starting with a clean sheet of paper to try and incorporate as much from the wish list as we can."
While Roquet does not have electronic capabilities in house, it has seen that most large OEM customers have a clear idea of what electronics they want to use. "In some cases the customer is interested in handling the electronics exclusively because the control side of the machine is seen as a core competence that should be handled internally," Hall-Hall says. "For the medium and small OEMs, we do have the support of Berendson Fluid Power who has the electronic controls division," explains Xavier Hernandez Soto, Area Manager, Roquet.
Roquet's current control valves are mainly used in truck, road building and agricultural applications. The new valves have been developed with specialized spools to provide the machine functionality the customer request. In parallel with that, the company is launching a second type of low noise pump to complement its existing low noise pump they've supplied for over 10 years.
While at IFPE 2014, Roquet demonstrated that it is more than a cylinder manufacturer; it is a flexible manufacturer able to develop and produce cylinders, pumps, motors and valves for specific OEM applications. "We're not unique in that, other companies do it, but we have more flexibility than many because we have our own foundry," says Hall-Hall. With products being supplied already to major OEMs such as JCB in the UK, Kubota in Germany and Yanmar in France, Roquet has other major client projects in the work and has plans to open more factories in the upcoming years.
Companies in this article