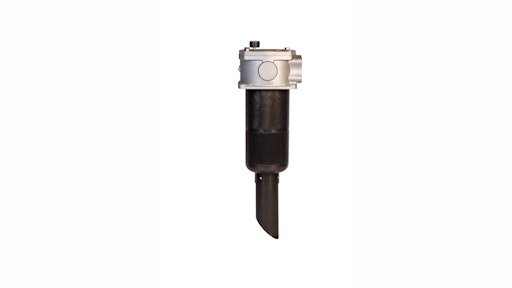 The higher operating pressures of today's hydraulic systems have greatly increased the importance of filtration within these systems. Higher pressures—anywhere from 4,000 psi and up—make it easier for contaminants within hydraulic fluid to cause damage, while the tighter tolerances of components now being used in mobile equipment make them much more susceptible to damage or failure from contamination.
While just a decade ago a single filter could keep a hydraulic system clean, Joël Daub, Division Manager of Hydraulic and Lube Filtration at HYDAC International (company information, 10055563), says now most equipment has multiple hydraulic filters. He says an OEM may even choose to put a high pressure filter directly in front of a single valve to ensure it stays protected from potential contaminants.
Due to the increased system pressures and component sensitivity, providing finer filtration has become a key goal for hydraulic filter manufacturers. Many are achieving this through developments in new filtration media and improvements to overall filter design. However, Daub says finer filtration may not be the solution in all situations, such as in colder climates where cold starts can cause dirty oil to get into the system. During a cold start, the hydraulic oil's viscosity is high which in turn causes a high pressure drop within the filter element. The high pressure drop opens the hydraulic system's bypass valve, letting unfiltered oil pass through the system. To avoid this, Daub says it's sometimes necessary to use a coarser filter element if the size of the fine filter cannot be increased to reduce the pressure drop. He says knowing how a system works and in what application it will be used is vital to selecting the appropriate type of filter.
Marty Barris, Director of the Hydraulic Products Group at Donaldson Company Inc. (company information, 10055305), adds that filter manufacturers have begun to pay more attention to reducing pressure loss because of the potential cold start issues. He says many OEMs have found the premature wear on their equipment can be attributed to unfiltered oil flowing through their systems during bypass events, such as pressure loss during cold starts. To help combat this, Donaldson developed its Synteq XP hydraulic filter media (product information, 10058343) which was specifically designed to reduce pressure loss, as well as improve filtration performance. "It's thermally bonded together rather than with a resin or glue," he explains. "We can provide the efficiency protection but at a much reduced pressure loss because we don't have the glue or resin blocking off many of the pores. We get a much better flow through the media." Barris says Synteq XP reduces pressure loss by up to 30%.
Cartridge filtration
The move towards cartridge filters has been one of the ways manufacturers have started going about meeting the needs for finer filtration and reduced pressure loss. According to Justin Bitner, Product Specialist with Eaton's Filtration Division (company information, 10055335), cartridge filters provide high dirt-holding capacity and low pressure drop characteristics. Eaton's Internormen line of cartridge filters, introduced at CONEXPO 2014, feature six layers of filtration media to help capture harmful particulates (learn more, 11337335). Bitner explains that the two center layers of filter media, made of absolute rated fiberglass, are what provide the filter with its high dirt-holding capacity. "It's industrial technology," he says. "But you find the products that were developed primarily for the industrial market are starting to find their way into the mobile markets as system performance and demands increase." (See sidebar, pg. xx to learn more about the Internormen filters.)
Daub says the increased use of cartridge filters has also been due to the environmental benefits they can offer over spin-on filters. "When you recycle a spin-on element, you throw away a lot of steel," he says. Cartridge filters, however, are typically composed of materials which can be recycled or disposed of in ways that eliminate steel or other metals entering the landfill. Daub says HYDAC uses polyamide materials to help reduce the metal content of its filters, and has developed filter elements which can be incinerated.
Donaldson's FLK medium pressure filter is a cartridge style filter featuring a reusable bowl, requiring only the filter cartridge inside the filter to be replaced (product information, 10782456). The filter cartridge is composed of nylon plastic components which enable it to be incinerated instead of being put in a landfill.
Barris notes that developing more environmentally-friendly products is becoming another important design aspect for filter manufacturers. He says Donaldson continues to look into the use of alternative components, such as using injection molded nylon or plastic construction instead of steel. Customers have also been asking the company to use plastic filter media support screens in place of epoxy coated steel screens. The other big area where Donaldson is looking to use alternative materials is the end caps to which the filter media is bonded. Here again Barris says the company has switched from steel to injection molded nylon with many new filter designs.
A matter of space
As with many components and systems, hydraulic filters have been affected by the space constraints of today's machines, partially due to the implementation of Tier 4 engines and aftertreatment systems. Eaton's Bitner says OEMs want higher performing filters in smaller packages, which has led many filter manufacturers to develop tank-top filters that integrate the filter right onto the hydraulic reservoir. "We're even starting to see manufacturers build the filter elements into the reservoirs themselves, which makes an even more compact [package]," he says. "You can't get any more compact than that."
According to Daub, many OEMs are looking to reduce the size of the hydraulic reservoir to save on space needed for Tier 4 engines and aftertreatment systems. This leaves less room within the reservoir for the hydraulic filter. Daub says working closely with OEMs to develop a filter which will fit into their space-constrained designs is key to ensuring a filter will not only fit within a system design, but will also be able to provide the necessary amount of filtration.
In addition to hydraulic filters, HYDAC also manufactures manifolds and valves which have enabled the company to provide fully integrated systems to help OEMs save on space. "We can integrate the filter element directly into the manifold [and provide] a compact design," says Daub. He adds that integrating the filter element with the manifold reduces any potential leakage that might otherwise occur because there is less piping between parts. Cost is also reduced because there are fewer components and less assembly time needed to attach the filter to a system.
Static standards
One of the many challenges filter manufacturers contend with is the lack of hydraulic filtration standards which are aligned with real-world conditions. Donaldson's Barris says that most of the standards are based on ideal steady-state controlled environmental conditions. "The reality is our filters are used in very dynamic environments where there's engine equipment vibration, surging flow, and stopping and starting," explains Barris. "Being able to understand how our filters perform under that dynamic environment is a real challenge."
There is a push from both the standards committees as well as filter manufacturers to change the existing standards and move to a cyclic flow multi-pass test to better reflect real-world conditions. Barris says the multi-pass test is one of the key measures of filter performance because it estimates filter capacity and particle separation efficiency as a function of size. "We get a very detailed look at filter performance over its life." He says that adopting a cyclic flow standard which incorporates dynamic environments into the test standard, and more closely resembles real-world conditions, is a step in the right direction.
In the meantime, many filter manufacturers have taken it upon themselves to invest in test equipment that enables them to validate their designs under real-world conditions. Barris says Donaldson has invested in a cyclic flow multi-pass test bench that allows the company to test its filters in dynamic applications.
Daub say HYDAC has developed test benches which test filter elements under differing flow conditions. Customers send HYDAC the exact flow cycles they are experiencing on their machines so the company can enter that information into its test benches and determine how its filters will perform in that application. Daub says varying flow can have a major impact on filter elements, and it's important for the company to be able to develop and test its filters for real-world conditions to minimize degradation. "A lot of applications in mobile industries have varying flow, so we need to be prepared for that," he says.
In addition, the company has invested in simulation tools to help it see how oil is flowing through a reservoir as well as how air is flowing through the oil, all of which can have an impact on how filter elements need to be designed. Daub says HYDAC will first run various flow simulations on the customer's existing system to see how things move through the system at different rates. "We look at when the machine is tilted, for example…and try to find where the worst condition is," Daub explains. "From there, we look at sizing a filter inside the reservoir so we not only filter the particulates, but also make it easier for the oil to get rid of air bubbles." After simulations and prototyping, the company works together with the OEM to place a physical prototype of the filter into the machine and test it either at HYDAC's facility or in the field.
Working closely together with OEMs is vital to ensuring the correct filtration products are chosen for a given application. Bitner says educating them about the importance of filtration to ensure the longevity of a piece of equipment is key, as well. "Many OEM customers don't necessarily understand the benefits of using high performance or finer filtration," he says. "That's why Eaton focuses on education through training seminars, webinars, publications−anything we can do to get the message out about the benefits of finer filtration."
He says cost is frequently a determining factor for customers when it comes to filtration, but that they often question how much it costs to improve the cleanliness of oil; instead, Bitner says customers should be asking 'What is the cost to me by not adding fine filtration, or additional filtration to my machine?' He says keeping oil clean reduces warranty costs, extends the life of equipment and also extends the life of the oil, providing longer service intervals for end users. Working together with the OEMs to educate them about filtration and determine the best filter for their application will ensure they are getting filtration products that meet their cost and filtration needs.
Companies in this article