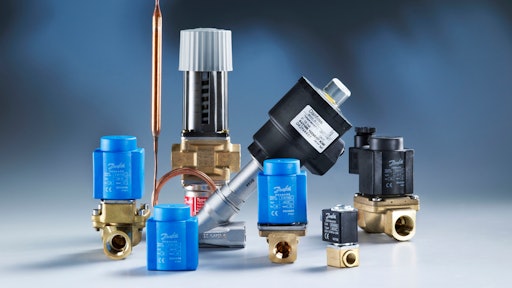 Danfoss, a leading manufacturer of high efficiency electronic and mechanical components for air-conditioning, heating, refrigeration and motion systems, has announced the launch of DanfossDirect (www.danfossdirect.com), a new website where customers can easily configure and purchase industrial valves, coils and accessories.
Featuring an online configurator tool, DanfossDirect enables users and installers of components for industrial applications, such as industrial water, hot water, steam and air compressors, as well as OEMs, to custom design a complete valve package and order direct for fast delivery throughout the United States. The configurator also will make suggestions for proper coils and accessories based on the user's valve selection.
The new website is easy-to-use, allowing users to search for fluid controls by application, industry or type. Danfoss products available through DanfossDirect include solenoid, thermostatic and pneumatic valves, and some specialty products, such as steam valves. Also available are coils, repair kits and accessories. Customers will be able to pay by credit card for easy, simplified ordering.
Born from a Distributor Partnership
To develop DanfossDirect, Danfoss partnered with Peerless Electronics Inc., a national distributor in Long Island, NY, serving component user and small OEM businesses throughout the United States. Peerless Electronics will not only process and fulfill the online orders, but will also be able to handle most specification and technical questions that DanfossDirect users may encounter.
Joe Krisher, Danfoss project manager for DanfossDirect, commented on yet another of the website's benefits, saying, "Peerless Electronics keeps the most popular parts in stock and can ship immediately. This means customers can get their parts as soon as the day after they place their order." He adds that customers of the site will be able to view stock levels so they know in advance how much product is available to ship and when.
Peerless Electronics' Chief Marketing Officer, Dave Rome, is excited about the possibilities DanfossDirect brings to both companies. "The entire Peerless team is pleased to be part of this exciting new partnership with Danfoss. It is our goal that customers in the United States have instant access to this product line of the highest quality thermostatic and solenoid valves, coils and accessories that, together, Danfoss and Peerless will strive to provide on time, every time."
"We're excited that this new website, with the help of Peerless Electronics, will serve as yet another channel through which we can provide quality service to our customers," says Krisher. "We want it to be as easy to do business with us as possible. And, perhaps more so, we want DanfossDirect to make it easier for our customers to conduct their own businesses."
Companies in this article