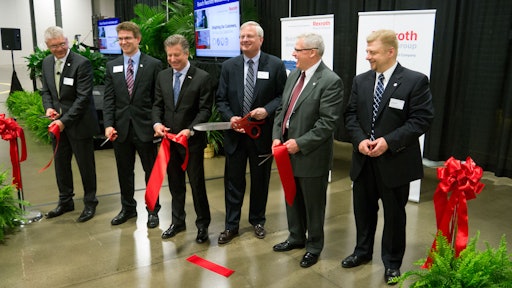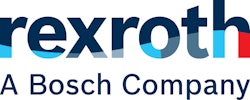 Bosch Rexroth marked the opening of its new hydraulics manufacturing and distribution center in Bethlehem, PA, with a ribbon-cutting ceremony and facility tour for customers, distributors and local officials. The new manufacturing facility houses the company's valve and manifold manufacturing center for mobile and industrial hydraulics, while the new logistics and distribution facility handles shipments to over 500 customers, including its nationwide network of Drive & Control distributors.
This $2.2 million Brodhead Road expansion adds about 150,000 square feet, giving the company approximately 200,000 square feet over two buildings for the distribution and manufacturing operation.
With the expansion, Bethlehem is now home to seven Bosch Rexroth facilities across two campuses with approximately 450,000 total square feet for manufacturing, distribution, logistics, administration, service and storage – making it the company's second-largest hydraulics operation in the U.S. behind its Fountain Inn, SC, facility which expanded last year.
In addition to valves and manifolds, the new manufacturing facility produces industrial, mobile and compact controls and provides testing and service support. The new distribution and logistics facility supports customers with functions such as shipping, receiving, logistics, quality control, traffic management and accounting. The company's overall Bethlehem operations also include production for large hydraulic systems and power units, which are produced in its City Line Road facilities.
Customers served out of the new Bethlehem facility include those in the construction and agricultural mobile equipment industries, machine tools, presses, plastics machinery, die casting, marine and offshore, pulp and paper, specialty and test machinery, as well as its U.S. distributor network.
With a history in the Bethlehem region dating back to 1967, the company was honored last year with Pennsylvania's 2013 "Jobs First" Governor's ImPAct award in recognition of job growth, commitment to sustainable business practices, and for collaborative efforts within the community. In addition, earlier this year Bosch Rexroth was named one of the top places to work in the Lehigh Valley. The company's overall Bethlehem operations employ approximately 700 people.
Bosch Rexroth Americas President and CEO, Berend Bracht, says the opening of the new center is the latest step in the company's "local for local" strategy to expand manufacturing, service and support in the regions most appropriate for our customer base. "Not only is Bethlehem a convenient location from which to serve our hydraulics customers in North America, but this region has also played a major role in Bosch Rexroth's history. As our business has grown here over the years, we've been able to add good manufacturing jobs for the region's very capable employee base. Our expansion here is a reflection of our commitment to support sustainable business operations in the Lehigh Valley," says Bracht.