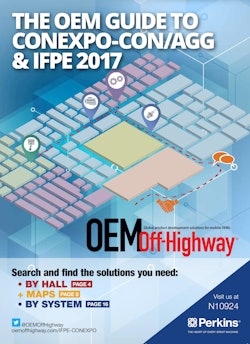 CONEXPO-CON/AGG and IFPE 2017 is the largest international show in the U.S. for the construction industry, and for OEM product development team members, it can be particularly challenging to traverse in search of technology solution providers.
That's why OEM Off-Highway created "The OEM Guide to CONEXPO-CON/AGG & IFPE 2017" — a customized collection of the essential solution providers listed by Hall and by Vehicle System.
Need to find a hydraulic pump for your next project? Just head to the Fluid Power: Pump section and find the key providers at the show!
A special thanks to all of our sponsors and supporters of the guide, including:
Perkins Engines Co. Ltd., Booth N-10924
Polygon Co., Booth B-91825
Linde Hydraulics, Booth S-81129
ABL Lights, Booth B-93313
**
BKT USA, Inc., Booth C-22020

Bucher Hydraulics, Booth S-81916
** 
CALDARO Inc., Booth S-61201

Caterpillar Inc., Booth G-4490 & N-10924 ** 
Continental / ContiTech, Booth S-82816

CrossControl AB, Booth B-91913 ** Cummins Inc., Booth S-84406
**
CVT Corp., S-81049

Deutz Corp., S-85230 ** Doering Co., S-82805
**
Enovation Controls, S-83856
**
Grayhill, S-84905
HAWE Hydraulik, S-80529 
**
 HED, Inc., S-84219 
**
 Hella Inc., S-65317 ** Kawasaki Hydraulics, S-80506 

MTU, S-84529 
**
 Oerlikon Fairfield, S-81015 ** Otto Engineering Inc., Booth G-71703
 
Shaw Development, Booth B-93320 ** SIKO Products, S-83815 
**
 Sun Hydraulics Corp., S-81029 

TE Connectivity, S-85430