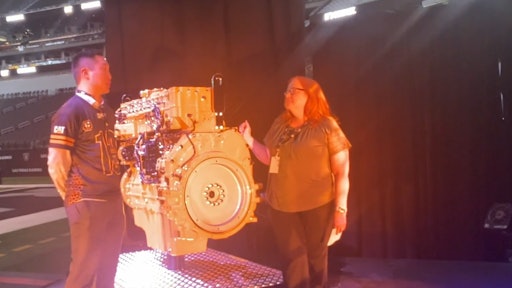 Caterpillar Inc.

The future looks green. Electric power is being sprinted into fully operational equipment, primarily smaller, compact machines. Hydrogen trended as one of the hottest topics during CONEXPO-CON/AGG (CONEXPO). The off-highway industry is looking toward zero-emission power. However, the near future continues to include traditional and alternative fossil fuels.
While fossil fuels are slowly phased out, millions of engines that operate on traditional fuels continue to be manufactured. Until all power options are converted to zero-emission sources, fossil fuels will continue as the primary driver for off-highway vehicles.
When we talked with Cummins President and CEO Jennifer Rumsey, she discussed this move to zero. While she and most in the industry agree that transitioning away from fossil fuels is the right direction, we aren't there yet.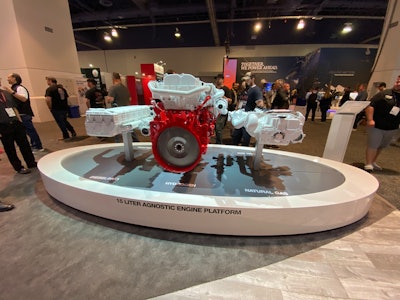 "Cummins built 1.2 million engines last year," Rumsey said. "So, there's a lot of engines going out into the field, ours and others, that will operate for many years."
As the industry moves into this power change, what can engine original equipment manufacturers (OEMs) do to supply the required diesel engines while helping decrease emissions?
Alternative Fuels
Most newly released engines can operate on different fuels. These include:
Biodiesel
Ethanol
Propane
Liquified natural gas
Hydrotreated vegetable oil (HVO)

Hydrogen
During CONEXPO, engine OEMs like Caterpillar, Cummins and FTP featured engines with the flexibility to operate on any fuel, from diesel to hydrogen.
Caterpillar unveiled the C13D, a new 13-liter diesel engine platform, designed to achieve improved power density, torque and fuel efficiency for optimizing the performance of heavy-duty off-highway applications. Like other engines exhibited, this new one from Caterpillar operates on different fuels, including diesel, HVO and biodiesel.
Cummins' 15-liter diesel platform highlighted a practical route to emissions reduction and decarbonization for off-highway applications. It showed a common architecture optimized for low- and no-carbon fuels including biodiesel and HVO, renewable natural gas and hydrogen. All engines derive from the same base, providing parts commonality.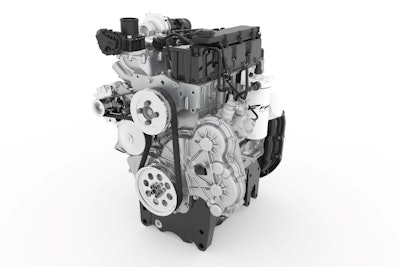 FPT displayed its range of engines, including the technology that operates on alternative fuels. The team is also working on a move to hydrogen and produced a 13-liter engine prototype last year.
Smaller Footprint
New engines may be able to have a smaller footprint because the power required of past components may not be required. For example, many fluid power manufacturers are producing equipment that operates on electric power. Instead of pulling power from the diesel engine, these components operate implements and other equipment systems using electric batteries, allowing for a smaller engine. A smaller footprint will allow more room for the motors and/or batteries needed to operate electric-powered hydraulic equipment.
An engine with a smaller footprint may also produce less noise and vibration than a larger component. With noise reduction another goal for engines that operate on fossil fuels, this is a great benefit.
The Caterpillar C13D engine has a smaller footprint that can replace larger engines, including those in Caterpillar's portfolio.
Better Efficiency & Lower Emissions
Efficiency involves the engine's operation and the maintenance and upkeep required for the engine. The smaller footprint Caterpillar C13D unveiled during CONEXPO provides comparable power and torque when compared to the current 13-, 15- and single-turbo 18-liter engine platforms. It also offers up to a 20% increase in power and up to 25% more low-speed torque over the previous generation of Cat engines in its power class.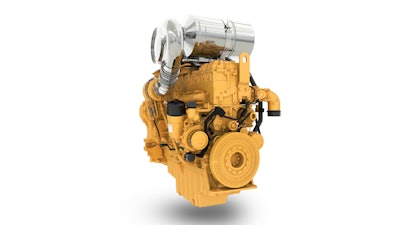 In addition, a simplified design, assembly and supply chain requirements may provide reduced maintenance, fewer parts and less technical training complexity for end users, providing a lower total cost of ownership and operation. In the C13D, integrating the components also reduces the number of leak joints by more than 45% compared to legacy C13B engines. Together, the changes result in lower fluid consumption and extended service intervals as long as 1,000 hours, reducing operating costs and downtime.
Most power source manufacturers will continue to manufacture more efficient and cleaner diesel engines well into the future. The C13D will meet the emissions standards of higher regulated markets, such as EU Stage V, U.S. EPA Tier 4 Final, China Non-road IV, Korea Stage V, and Japan 2014, with models available for lesser regulated markets.
The Future
Diesel isn't dead, but it is slowly being replaced by alternative, lower carbon fuels; electric power; and hydrogen. However, the future in the near term continues to include fossil fuels.