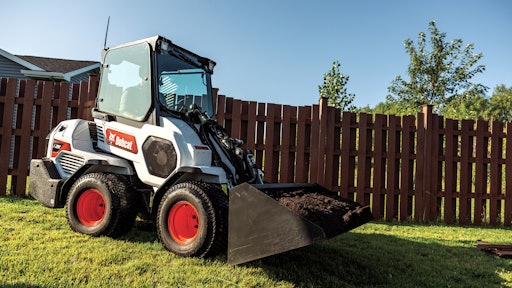 Bobcat Company is widening its product offerings with the introduction of small articulated loaders to provide its customers in landscaping, tree services, light construction, and grounds maintenance a new solution to minimize workload and complete projects quickly and efficiently. These nimble machines have the ability to fit into backyard access and are capable of carrying small pallets of block or landscape materials with low turf disturbance.
The first small articulated loaders to launch will include the L23 and L28 models. Additional small articulated loaders from Bobcat will be introduced at a later date.
Quick Look:
Bobcat L23 small articulated loaders
24.8 hp
Operating Weight: 3,790 lb.
Tip Capacity (straight / articulated): 2,789 lb. / 2,317 lb.
Rated Operating Capacity (straight / articulated): 1,395 lb. / 1,159 lb.
Auxiliary Hydraulic Flow: 12.1 gpm
Length with Bucket: 122.4 in.
Width: 43.2 in.
Height with Cab: 78.1 in.
Lift Height: 85.4 in
Bobcat L28 small articulated loader
24.8 hp
Operating Weight: 3,740 lb.
Tip Capacity (straight / articulated): 3,068 lb. / 2,444 lb.
Rated Operating Capacity (straight / articulated): 1,534 lb. / 1,222 lb.
Auxiliary Hydraulic Flow: 12.1 gpm
Length with Bucket: 122.4 in.
Width: 46.5 in.
Height with Cab: 78.1 in.
Lift Height: 104.3 in.
Nimble, ground-friendly design
Operators looking to get excellent lifting capacity in a compact machine will appreciate Bobcat small articulated loaders. Not only do small articulated loaders lift and handle heavy loads, they deliver precise maneuverability thanks to the articulation joint that enables the rear tires of the loader to match the path of the front tires as they turn. This results in a highly nimble machine that navigates around obstacles with ease and works well in enclosed yards and small work zones.
With its tight-turning articulation and light overall footprint, small articulated loaders limit cuts or tears when turning or hauling a load. This leads to fewer surface repairs after the job is complete.
In addition, small articulated loaders are a highly transportable and relatively lightweight solution that enables customers to quickly get their machine to the jobsite and get to work. It will easily fit on pan trailers, dump trailers – and even some enclosed trailers that are utilized for small-frame skid-steer loaders.
When operating small articulated loaders, the machine automatically enables one of two traction modes, based on operation – high traction and turf safe. When the steering wheel is not turning, high traction mode provides excellent control and mobility over rough or slippery terrain. The turf-safe mode keeps the wheels from scrubbing on the ground while actively steering, causing the least possible ground disturbance.
Performance and reach
Bobcat small articulated loaders are designed to deliver serious performance to small spaces and sensitive surfaces. The dependable 25 hp, 2600 rpm engine provides generous torque at a lower rpm, providing performance that is more forgiving when pushing the machine to its limit under load. These loaders are designed to lift more, work faster and maximize ability on a wide range of jobsites.
Customers can get the reach they need with a lift arm that extends to a lift height of up to 104 inches (L28 model). The telescoping lift arm includes an innovative dual-cylinder design that keeps the load level as operators move the bucket. The telescopic cylinder is synchronized with a hydraulic leveling link, providing leveling assist and preventing spillage over the back of the bucket.
With an efficient cooling system, Bobcat small articulated loaders offer leading performance for improved operation and component protection. Side and front inlets bring cool air into the engine compartment and send it through the screened rear exit. The rear radiator screen is removable for easy cleanout, and its corrugated steel construction provides excellent durability. A separate temperature-controlled hydraulic oil cooler operates as needed to ensure quieter operation as well.
A standard integrated counterweight provides optimal lift capacity and extra protection for the machine's composite covers and cooling package. Plus, an optional add-on rear counterweights further increase lift capacity and productivity.
Comfort design
Compared to other small articulated loaders, the Bobcat interior is engineered with more space for the operator, with special attention paid to cab height, foot room, and room between the seat and the steering wheel. Customers will enjoy more room that enables better productivity during long hours in the cab.
The optional enclosed, heated cab enclosure allows operators to stay comfortable in cold and wet weather. The window panels can be added and removed, giving those operating machines the flexibility to adapt with the weather. Strategically placed, louvered vents quickly defrost windows and direct heat, providing excellent all-season versatility for winter months. The heated seat helps keep operators comfortable while working on frigid days. The side and rear windows open to provide fresh airflow across the operator, providing more comfort.
The steering wheel and joystick are simple to reach and intuitive to use, with fingertip auxiliary or telescopic controls that facilitate quick, simple operation. Bobcat small articulated loaders also provide variable flow control that is similar to Bobcat skid-steer and compact track loaders, unlike the standard mechanical levers found in other machines.
Available on small articulated loaders is the Bob-Tach attachment mounting system, which greatly expands the range of approved attachment possibilities and allows operators to do more work with one powerful machine. Small articulated loaders can be equipped with the optional Power Bob-Tach system, which allows operators to change non-hydraulic attachments without leaving the comfort of their cab; just line up the attachment and press the switch.