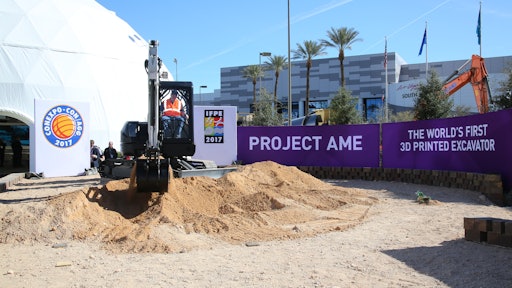 A forward-looking vision for construction and infrastructure took center stage at CONEXPO-CON/AGG and IFPE 2017, from the unveiling of the world's first 3D-printed excavator and the new Tech Experience to the largest show floor in history and a stellar education lineup featuring leading innovators.
The exhibitions held March 7-11, 2017 at the Las Vegas Convention Center in Las Vegas, Nevada, USA, highlighted the newest product innovations and best practices for the construction and construction materials and fluid power/power transmission/motion control industries.
"Our shows are renowned as an industry showcase of 'what's next,' and this year's show did not disappoint. From the new Tech Experience, which highlighted the vital connection between technology and construction to the culmination of AEM's Infrastructure Vision 2050 Challenge, this year's show demonstrated the rapid innovation in our industry," says Rich Goldsbury, 2017 CONEXPO-CON/AGG chair and President and CEO of Doosan Bobcat North America & Oceania.
The technological changes revolutionizing construction and manufacturing were a central feature throughout the show. The first-ever Tech Experience pavilion attracted solid traffic throughout the week, as attendees flocked to see the world's first-ever 3D-printed excavator, hear from industry innovators during a collection of "Tech Talks," and engage with the conclusion of the Infrastructure Vision 2050 Challenge Finale, which awarded $100,000 in prize money to winners over a crowdsourced competition to develop forward-looking infrastructure solutions.
"Keeping pace with technology is critical for our industries' success and the 3D-printed excavator featuring fluid power innovations, is a perfect example of the shows' future-forward commitment to explore innovations that are happening now and the exciting possibilities ahead," says Robert Mortensen, IFPE 2017 chair and President of HUSCO International.
CONEXPO-CON/AGG and IFPE 2017 spanned a record 2.8 million-plus net sq. ft. of exhibits with a record 2,800-plus exhibitors from the leading U.S. and global manufacturers, from multinational giants to small firms with specialized products.
Sneak Peek at the Future: New Tech Experience & Tech Talks Forum
The new Tech Experience at CONEXPO-CON/AGG and IFPE 2017 amplified the technology throughout the show floor, with an emphasis on emerging construction innovations that are driving change and process improvements across the industry.
Three interactive zones gave attendees a firsthand glimpse at the technologies shaping the jobsites of tomorrow, infrastructure development and workforce development.
The world's first fully functional 3D printed excavator anchored the Tech Experience, with a 3D Printworks further exploring additive manufacturing's possibilities for construction applications.
The "Tech Talks" forum at the Tech Experience gave attendees a chance to hear from global innovators and technology leaders to discuss what lies ahead. The forum's content-rich presentations aimed to inspire and inform attendees, with an emphasis on applied and blue-sky innovation to benefit infrastructure projects and construction jobsites. Among the lineup were Bruce Upbin, Vice President for Strategic Communications, Hyperloop One; D'Arcy Salzmann, Senior Director, Strategy, Microsoft HoloLens & Studio Manager, Future Bureau, Microsoft; Captains Mark & Scott Kelly, former NASA astronauts; and Scott Brusaw, Co-Founder, Solar Roadways.
Transportation Reimagined: Infrastructure Vision 2050
The Association of Equipment Manufacturers (AEM) helped to convene a high-level conversation on the future of transportation infrastructure as five finalists squared off in the Infrastructure Vision 2050 Challenge Finale event. The top winner: a proposal from a pair of University of California-Berkeley students to leverage autonomous vehicle technology to develop a surge-priced "Hyperlane" to ease congestion and improve mobility.
AEM launched the incentivized competition to generate crowdsourced solutions to address the future of infrastructure here in America, and throughout the world. The campaign's three phases – Complain, Dream, and Build – drew hundreds of ideas from across the world about how to revolutionize infrastructure.
Over $100,000 Raised to Help Connect Military Veterans with Industry Jobs
Attendees and exhibitors partnered to raise over $100,000 to help military veterans find quality through multiple charitable events throughout the week.
The proceeds, which benefit the show's official charitable partner, the Call of Duty Endowment, were raised through online, silent and live auctions, as well as an after-hours concert on Wednesday by the multi-platinum rock band FOREIGNER. The non-profit organization, founded by Bobby Kotick, CEO of Activision Blizzard, helps military veterans secure high-quality jobs and raises awareness of the value vets bring to the workplace.
"These new benefit events offered the opportunity for CONEXPO-CON/AGG participants to not only network and have fun but also rally together as a construction industry community to raise funds to support military veterans," says Sara Truesdale Mooney, Show Director and AEM Vice President Exhibitions and Business Development.
Education and Exhibits: Industry Best Practices & Product Innovations
Comprehensive education programs at CONEXPO-CON/AGG and IFPE 2017 helped attendees sharpen their professional skills and improve their businesses' efficiency and productivity.
CONEXPO-CON/AGG 2017 offered a record 143 education sessions, grouped into 10 tracks, including a new Technology track. IFPE 2017 hosted the industrywide Energy Efficient Hydraulics and Pneumatics Conference in addition to hands-on "college courses" on effective use of hydraulics in mobile equipment.
On the show floor, IFPE 2017 featured the Power Transmission Distributors Association (PTDA) exhibit pavilion, and CONEXPO-CON/AGG 2017 included the Demolition & Recycling exhibit pavilion from the Construction & Demolition Recycling Association (CDRA) and the Lift Safety Zone from the National Commission for Certification of Crane Operators and International Powered Access Federation.
Eight country-specific international exhibit pavilions reinforced the global scope of the shows and expanded the business contacts between attendees and exhibitors: IFPE with China, Italy, Korea and Taiwan, CONEXPO-CON/AGG with China, Germany, Korea, and United Kingdom.
Global Industry Gathering Place
Hundreds of industry meetings, including annual conventions of eight industry associations, were held in conjunction with the shows in recognition of their reputation as an industry gathering place. More than 200 U.S. and international allied industry and business organizations signed on as official supporting organizations and more than 300 as supporting media.
"Our ability to work with competitors to organize this event provides an added benefit and contributes to the show, exhibitor and attendees success. As we have said before, this is a show put on by the industry – for the industry," says Mike Haberman, President of Gradall Industries and AEM 2017 Chair. "Here we can share ideas and knowledge that will help the construction industry to grow and prosper."
The shows received U.S. Department of Commerce (DOC) International Buyer Program status, signifying their status as a leading worldwide event, and offered a variety of services to facilitate international industry participation, including an International Trade Center onsite.