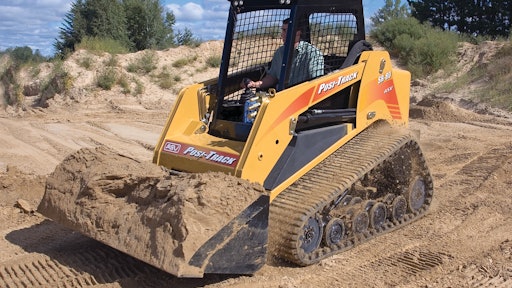 When ASV Inc. introduced its latest rubber-track loader earlier this year, the Grand Rapids, MN-based OEM put teeth into the "next generation" marketing term. The 80.5-hp SR-80 was designed to stand out from the other machines in its class with an automobile-inspired operator's compartment, better traction, more suspension and other innovative features.
"For years, ASV has been known for our rubber-tracked undercarriage technology," says Brad Lemke, director of new product development, ASV. "With this model, we wanted everyone to know our machines aren't just about rubber tracks anymore. We're making a statement that our products are about the nicest cab, best visibility, coolest running hydraulics and unmatched suspension."
Going beyond customer requests
Like many OEMs, ASV stays in touch with dealers and customers. It also operates the equipment itself.
"Customers were asking for a nicer cab, but if we're doing our job well, we know what needs to change on the machine and what features need to be added to the next model before the customer tells us," Lemke explains. "If you wait until you hear a majority of your customers and dealers asking for the same thing, you're too late. A competitor will beat you to market."
Anticipating what customers wanted and needed to do their jobs efficiently, plus observing the trend toward operator comfort and sophistication in larger construction machines and ag equipment, led ASV designers to spend a large portion of the machine's budget on the operator's environment.
"We worked with Form-i, Waverly, IA, on the initial interior concept drawings," he recalls. "Then our engineers and designers expanded on that concept for the final design. The challenging goal for the SR-80's operator environment was an automotive feel, which hasn't been offered in the 70- to 80-hp loader size and price class," Lemke says.
He believes this rubber-tracked loader meets the challenge. "The operator cab has a durable but aesthetically pleasing full wrap-around interior," Lemke points out, "which also greatly reduces noise levels."
Other new features include a split lap bar with full gauges for easy viewing of machine status, an adjustable suspension seat, tactile joysticks (a Rexroth design) with integrated controls for attachments and secondary functions, a rear cargo tray and a rocker foot pedal.
The foot pedal is an ASV design. "It allows the operator exceptional control of engine speed by rocking the pedal forward or back," Lemke notes. "There is also room to operate the machine at a fixed rpm when the operator takes his foot off the pedal. This is an advantage when working next to buildings, on fine detail work or when he wants the machine to operate more quietly — the operator can reduce engine speed without removing his hands from the primary controls."
The split lap bar design was essential because a traditional lap bar would interfere with the machine's optional slide-up front door. "We also needed a good spot for multiple gauges. The lap bar seemed the logical solution," he explains. "It allows the gauges to be in the operator's line of sight when viewing an attachment and makes monitoring rpm, temperatures and other data more convenient. The SR-80's operator environment also features the best visibility in its class."
The tilt-up cab is also unique, according to Lemke. "When it tips up to allow easy access to the hydraulic system components, everything in the cab tilts as well," he says. "That allows for a more sealed cab. This contributes to what we believe is the coldest optional air conditioning and warmest optional heater in its size."
He adds, "Amazingly enough, the loader's new cab with more standard features is priced less than most machines in its class."
Performance and comfort, too
Realizing that operator comfort depends on the loader's ride, ASV's engineers paid attention to the SR-80's undercarriage. "The ISR-4 is a completely new undercarriage that we've been developing for about two and a half years," Lemke says.
Most rubber-track loader OEMs use rigid steel track technology on an existing skid-steer chassis. ASV took a different approach.
The patent-pending design starts with the widest rubber tracks in the industry at 20 inches. This allows 55% of the machine's width to ride on the rubber tracks and provide good traction and flotation, plus low ground pressure.
The independent, multi-level suspension has four bogie wheel carriages on each side to flex independently. "This maximizes ground contact on uneven terrain," he points out. "Also, the entire undercarriage is mounted to the chassis with four independent torsion springs. So when the operator drives over a rock or other obstacle, the undercarriage flexes and absorbs the impact. The operator hardly feels the bump."
Besides operator comfort, the new track system gives the machine more traction. "The design also contributes to longer track and machine life, due to less vibration and jarring impacts," Lemke notes.
Two-speed motors drive the tracks, so the machine is capable of travels speeds as high as 12.5 mph in the high speed range; up to 7 mph in the low speed range. "We think this makes it the fastest machine in its class," Lemke says.
To optimize size, balance and performance of the undercarriage, ASV engineered the SR-80 with a purpose-built chassis. It provides high ground clearance while minimizing overall machine length and bulk.
Another performance feature that operators appreciate is the standard hydraulic system that provides 30 gpm to its high-flow circuit and includes a new Rexroth variable low-flow control The system's low-flow circuit delivers from 0 to 20 gpm and is controlled by a new thumb switch on the machine's joystick controls. "Variable flow allows better control of grapples, multipurpose buckets and other attachments," Lemke says. "With its hydraulic quick attach, the SR-80 can be fitted with virtually any industry-standard attachment, including our full line of Posi-Tool attachments."

Specificatons for the

ASV

SR-80

Operating weight
8,972 lbs.
Engine
Perkins 804C-33T 80.5-hp turbocharged diesel
Ground pressure
2.84 psi at shipping weight
3.15 psi operating weight
Overall width
72 in.
Track width
20 in.
Track length on ground
71 in.
Tipping load
6,200 lbs.
Operating capacity
3,100 lbs. (50% tipping load)
Maximum speed
7 mph in low range; 12.5 mph in high