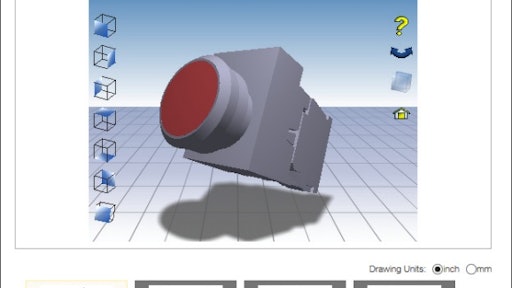 EAO, the expert partner for innovative, intuitive and reliable Human Machine Interfaces (HMIs), offers extensive 2D and 3D imaging as part of its new, comprehensive Series 45 Complete Product Selector.
An integrated viewer enables instant access to 3D models of all Series 45 components without requiring the installation of supplementary software.
3D component images are easily located and downloaded in industry standard formats such as DXF, SAT and STEP by using the Single Part Numbers for complete devices feature within EAO's new Complete Product Selector for Series 45 22.5 mm and 30.5 mm switches. Files can be emailed or introduced directly into a project blueprint via the "insert" feature which is compatible across an eclectic range of CAD programs.  
In addition to 3D viewing capability, the seamless and coordinated approach of the Series 45 Complete Product Selector effectively presents options to parametrically search completely configured devices with single part numbers, view product images and dimensional drawings, and ultimately provide guidance to available inventory and outlets for purchase – all within a single, comprehensive, and intuitively designed tool.
A streamlined, all-inclusive "Omni-channel" approach allows for an interface that is both mobile and desktop friendly, offering customers immediate and efficient access to a complete digital library and supporting technical resources anywhere, anytime.
The 3D viewer in the Series 45 Complete Product Selector enhances the customer experience within a variety of machinery sections such as factory automation, food packaging, and lifting and moving equipment.
Key advantages of Series 45 Complete Product Selector Include:
New globally recognized "complete part number" system

Guidance toward a dedicated product portfolio

Simple and efficient parametric product selection

New, interactive 3D viewer

Library of online technical resources

Immediate access to available inventory