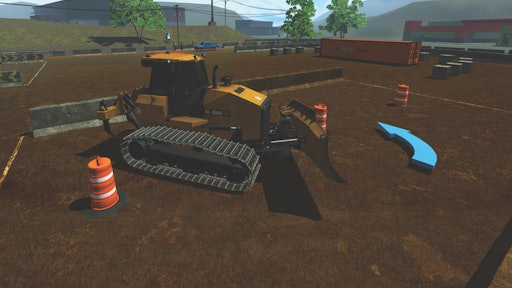 CM Labs Simulations has announced the release of a state-of-the-art Dozer Simulator Training Pack that allows trainees to experience the unique feel of pushing soil and aggregate material from the seat of a virtual dozer.
Trainees can perform both heavy excavation and fine grading with the simulator's six-way blade, and dozer tracks even slip based on operator behavior. This enables trainees to learn precision techniques — and efficiency — in an environment that poses no risk to them or to the equipment.
The realism is based on the training solution's unique ability to engage a simulated transmission and engine the moment the virtual blade touches virtual soil. "The simulator virtual equipment has been engineered from the ground up," explains Drew Carruthers, CM Labs' Construction Line Manager. "The blade, the transmission, the engine, the controls — if it's somewhere between the operator and the dirt, it's been simulated."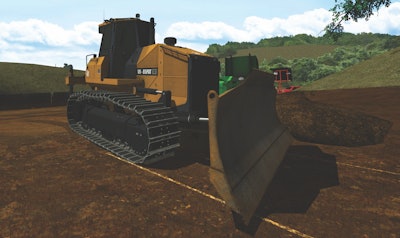 "Many simulators treat machine behaviour as a kind of special effect that's scripted into a training session," Carruthers says. "This results in unrealistic performance and overconfident trainees. But when operators train on a Vortex simulator, they're not experiencing special effects. They're experiencing the laws of physics."
The exercises that are built into the Dozer Training Pack are designed to address common beginner challenges such as setting the blade angle correctly and learning how to maintain material in front of the blade. In addition, the Training Pack includes advanced exercises, such as excavating a drainage inlet and transversal ditch, and trailer loading/unloading.
Training exercises come complete with on-screen tips, best-practice hints, and performance indicators that enable trainees to learn at their own pace, or as part of an instructor-led training curriculum. All exercises have multiple possible solutions, leaving it to the operator to exercise skills, creativity, and good judgement — just as in the real world.
The Dozer Simulator Training Pack is part of CM Labs' extensive product line of earthmoving and lifting crane training packs, all of which can be run from a single Vortex simulator. Solutions range from training packs for crawler crane, flat-top tower crane, luffing tower crane, and mobile crane, to excavator, backhoe, wheel loader, motor grader, and more. 
When the Dozer Training Pack is paired with CM Labs' Instructor Operating Station, trainers can set conditions that include inclement weather and night-time operations. A customisable scoring system delivers an objective score to instructors whenever a trainee completes an exercise.
The Dozer Simulator Training Pack leverages the same innovative soil simulation technology featured in CM Labs' recent release of its Excavator Simulator Training Pack, the world's first commercial application of this advanced new method of soil visualization.