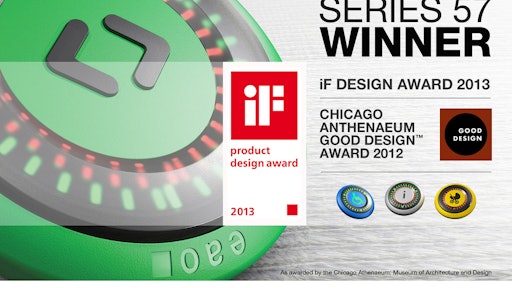 EAO Corporation of Milford,CT USA, a premier global supplier of Human Machine Interface (HMI) Systems and Components, announces the new Series 57 door-opening pushbutton has won two prestigious international design awards and is a nominated for several others.
2013 began impressively with a sought-after iF (International Forum) Product Design award going to the Series 57 in the category 'Transportation Design.' This arrived hot-on-the-heels of last year's GOOD DESIGN award in the category 'Hardware' from the esteemed Chicago Athenaeum.
Kurt Loosli, CEO, says, "Winning two such coveted award in quick succession is not only a great achievement, it's proof of EAO's core values in action. Innovation, reliability and intuitive design perfectly matched to function.
"With the Series 57, we have once again stamped our design leadership on the world of public transport and proved our commitment to improving the passenger experience."
Both awards acknowledge the outstanding design, innovation, choice of materials, functionality, ergonomics and aesthetic appeal of the product.
Additional accolades for this product include being a finalist in both Design News' annual Golden Mousetrap Awards and Control Engineering's 2013 Engineers' Choice Awards.
The new Series 57 pushbutton is the first all-in-one door opener to combine optical, tactile and acoustic features in a single pushbutton. Fully compliant to EN 14752, TSI-PRM and ADA standards, it features an extra-large Ø74 mm operating area, the option of an integrated finding tone, and a tool-less final mounting system.