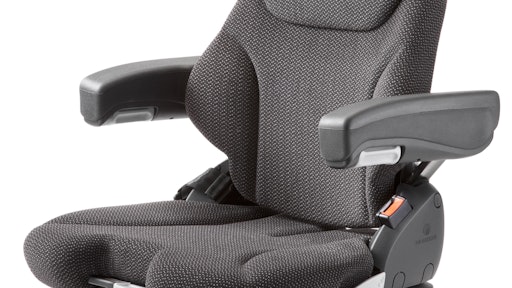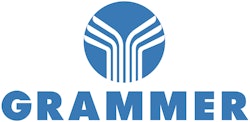 Grammer Inc., a US subsidiary of the leading supplier of automotive interiors and seating systems for commercial vehicles Grammer AG, participates at AG Connect for the first time and presents a large portfolio of new products for the US market. One of the highlights is the  "Innovation Star," a MSG 95 EAC/741 driver seat with electronic active controlled suspension and integrated Grammer EiA multifunctional armrest. Vehicle functions can be operated from the driver workplace with this armrest. The seat features an innovative air suspension with active electronic adjustment of the characteristic curve used to control it, which can slash vibrations by 40% on average compared to conventional pneumatic suspensions. Sensors continuously capture the position and induced vertical acceleration of the suspension's upper section. This data is relayed to a controller that applies a defined algorithm to operate an electropneumatic valve. The characteristic curve used to control the suspension is changed by varying the flow rate, always selecting the one that will cancel out the most vibrations at the measured frequency. The seat also automatically sets itself to the operator's weight, preventing it from being incorrectly adjusted. Its ergonomic shape, intuitive levers and handles, and flexible adjustability also contribute to lastingly easing stresses and strains. An active seat climate system ensures a pleasant temperature in any weather.
Dynamic Damping System (DDS)
The MSG 95 AL/742 with Dynamic Damping System (DDS) is another novelty. The seat features a new system consisting of a low-frequency air suspension and a shock absorber dubbed the "Dynamic Damping System" (DDS) — thus once again setting new standards in terms of vertical suspension comfort. It reduces low-frequency vibrations more effectively. At the same time, it prevents the seat from striking the vertical stops when accelerating rapidly. A progressive characteristic curve is applied to reduce vibrations substantially better than conventional air suspensions. While the DDS shock absorption system significantly reduces vertical vibrations, a fore/aft isolator takes care of decreasing vibrations in the direction of travel.
First compact low-frequency pneumatic suspension seat
At the show, Grammer Inc. will also present the MSG75GL/531, a comfort seat for large landscaping equipment, compact construction machines (e.g. skid steer loaders) and forklifts. This makes Grammer the first seat manufacturer worldwide to offer a very low profile low-frequency pneumatic suspension seat for this market segment. Vertical vibrations have been reduced by a further 20% compared to conventional air suspended seats – a genuine milestone for compact seats. This is in addition to optional longitudinal-horizontal suspension that provides for the greatest possible reduction of vibrations in the direction of travel. Improved driver wellbeing and effective relief of back strain are provided by the backrest, which can be adjusted to angles between -5 and 30 degrees. The lower back is helped into a natural position by a lumbar support. The backrest-extension can be set to fit the size of the driver in any of 13 different positions. Height and tilt adjustable armrests and in-seat heating are available as options.
New seat cushions especially for the US market
Grammer now offers Cut and Sew seat cushions which are specially designed for theUSmarket. These cushions for the S741 seat top can be used on the MSG 85, MSG 95 and MSG 97 suspensions. They are softer and thicker, offer still more sitting comfort and are specially adapted to the requirements of the North American market. The seat cushions allow the use of leather and multiple fabrics, combinations of leather and fabric are also possible.