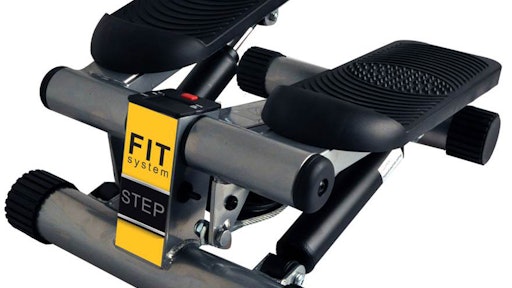 Freightliner Trucks and Rolling Strong have collaborated to offer the FIT Step – an in-cab cardio exercise and endurance enhancement system. The FIT Step is designed to work in conjunction with the Freightliner In-Cab Training (FIT) System, which provides full-body strength and conditioning workouts.
"The FIT Step is yet another effort from Freightliner and Rolling Strong to help bring wellness solutions and a healthier lifestyle to drivers while they're on the road," says Bob Perry, President and founder of Rolling Strong, and also known as The Trucker Trainer. "The FIT Step gives drivers a cardio element to their exercise program anywhere and anytime, from the comfort of their cab."
Developed by Daimler Trucks North American LLC (DTNA) and Rolling Strong, the FIT System is the first-ever OEM designed and integrated in-cab exercise and flexibility system. The new FIT Step enhances the FIT System's training by adding a cardiovascular and endurance workout – in the comfort and safety of the truck's cab. The FIT Step fits conveniently in-between seats, and can easily be combined with FIT System bands, helping drivers maximize their fitness efforts in a short period of time.
"Our collaboration with Rolling Strong in developing and offering products like the FIT Step underscores our overarching commitment to driver wellness," says Mike McHorse, On-Highway Product Marketing Manager for Freightliner Trucks. "We want to be part of the solution to improving drivers' productivity, health and overall quality of life."