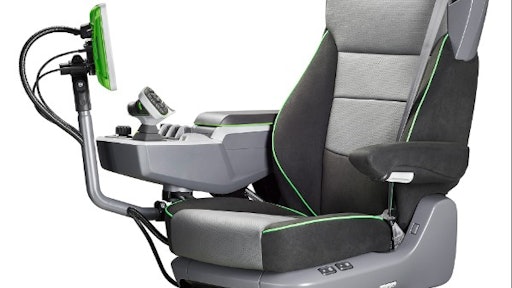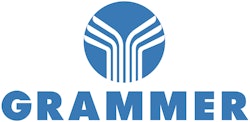 Grammer collaborated with a group called CAB Concept Cluster (CCC) to present a "Genius Cab" model at bauma 2016 in Munich, Germany. Here, this outstanding cab design received the "bauma Innovation Award" in the design category as well as the VDBUM special award. This CCC group consisted of 13 participating partners, including global players, innovative OEM suppliers, prominent scientific institutes, designers, industry associations, rental companies, and vehicle users.
This unique group's development work was themed under "human-centered design" focusing exclusively on meeting the needs of vehicle drivers by enabling them to intuitively and ergonomically control and operate all vehicle and comfort functions using a multi-functional armrest and multi-touch display.
Grammer, specifically, presented a complete system consisting of an innovative, ergonomically optimized driver seat with electrically adjustable features, plus a multi-functional armrest and 12-in. multi-touch display for controlling all vehicle and seat comfort functions. The newly designed driver seat for the Genius Cab boasts a large number of electrically adjustable comfort features with a memory function which remembers those settings. The seat is linked to the vehicle's CANbus system and includes a driver detection system for immediate and completely automatic adjustment to each operator.
Numerous electrically powered functions are present on the seat, including adjustment of the seat's fore/aft position, height, backrest and seat cushion angles, giving the driver optimal comfort for everyday work. All of these features are controlled by the multi-touch display, eliminating the need for conventional, manual seat controls. It also opens new possibilities for customizing the cab's interior design, since the ambient lights of the cabin and seat are coupled to one another. This enables extras such as illuminated logo on the backrest or illuminated piping which is coordinated with the overall cabin design to evoke a special cab atmosphere.
Looking forward, the trend in off-highway vehicles is moving toward efficiently maximizing system integration. This calls for progressively digitizing machines and cabins. In addition, greater safety, ergonomics, efficiency and comfort requirements must all be met, along with greater expectations for styling and recognition value in international markets. As an innovative supplier of drivers seats, multi-functional armrests and displays, Grammer already possesses extensive experience and expertise in this field, which has been successfully applied to advance the cluster's work.