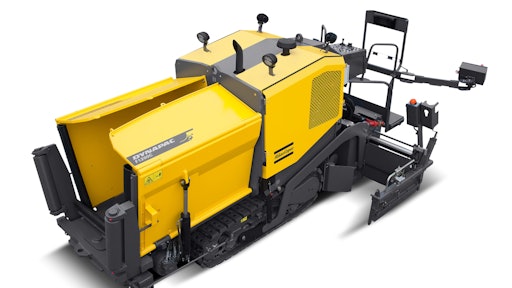 Atlas Copco's compact Dynapac F1200C asphalt paver excels on a wide range of paving projects — from cycle paths, sidewalks, repair work, parking garages and sports fields — due to its high flexibility. The F1200C offers road construction contractors this flexibility with interchangeable working widths ranging from 4-10 ft., high material filling capacity and a high paving capacity of 330 tons per hour. The paver's V-screed ensures excellent paving results with superior compaction and high quality asphalt mat.
The F1200C includes multiple features that maximize mat quality. Its exclusive Dynapac feed control system, for instance, eliminates material segregation and ensures continuous, uniform material flow through the paver with its four ultrasonic sensors and one of the industry's thinnest center chain box augers. The four sensors optimize both the auger and conveyor speed by measuring the material height and detecting gaps in the material.
The conveyor's 6-in. wide chain box—the thinnest in the industry—ensures continuous, uniform material flow to the center of the screed. The paver's center line drive auger includes 13-in. diameter flights to eliminate centerline segregation by providing optimal material flow. Its divided conveyor with its single drive system makes it possible to guide the material to either the left or right side of the screed for asymmetrical paving so operators can easily pave close to walls with optional reduction shoes.
Customers can choose between a Vibration or a Tamper & Vibration screed that is either electrically or gas heated for precise, easy operation. The gas-heated screed reduces costs, accelerates heat-up time and features a gas bottle holder making it easier to change the small bottles from the side for easy transport. The electric-heated screed offers contractors a quick setup since it heats quickly due to its high capacity generator. Operators can set the screed's required temperature using the dashboard's keypad. The temperature control minimizes energy waste and helps the screed achieve optimal temperature.
Atlas Copco designed the F1200C to achieve optimum pre-compaction and has included hydraulic motors for the tamper and vibration in the basic and hydraulic extendable screed sections. The unit's paving width ranges from 4-8 ft., and with screed extensions, it can achieve a 10-ft. paving width and pave up to 10 in. thick.
The F1200C is less than 15 ft. long and about 7 ft. wide, making it easy for paving in narrow areas. It can also operate in areas with minimal overhead clearance, such as parking ramps, since it is less than 7 ft. tall.
To maximize time between refilling, Atlas Copco incorporated a 5.5 ton hopper into the paver. This helps increase operator productivity, especially while working in cramped worksites where refilling can be challenging. Operators can raise the hopper for tight working areas, yet still buffer a significant amount of material.
Every Atlas Copco paver includes ergonomic features to enhance operator comfort and increase productivity. The F1200C features a backrest that includes a storage compartment. The stand floor is attached with a fixed connection to the tractor and has a non-slip profile for maximum safety and comfort. Operators improve visibility around the machine by extending slideable step extensions in the floor of the operator platform. This allows operators the confidence to see around the paver increasing safety.
Atlas Copco arranged the paver's toggle switches according to function group and operational frequency, so operators can focus on paving and their surroundings. With simple control navigation, operators can ensure they drive in a straight line and improve safety onsite. For example, regularly used functions, such as hopper, screed and joystick controls, are close to the driver for easy access.
The F1200C offers operators stability, flexibility and fast transport speed with long tracks and powerful hydraulic motors. The paver's hydraulics ensure that the power of the engine transmits through the tracks and directly to the ground, giving high traction force. The 66 hp hydraulic power pack allows operators to easily pave high quality asphalt mats even under difficult paving conditions like uneven surfaces. With its reliable hydraulic system and hydraulically driven fan, the F1200C offers outstanding fuel efficiency, reduced maintenance and long service intervals. The arrangement of the adjustable crawler rollers gives the machine an improved center of gravity and allows operators a comfortable ride.
Atlas Copco builds every paver with high-end components and high wear-resistant parts to give the machine a long service life. Its large side doors give technicians easy access to components and to complete maintenance. Also, its Tier 4 Final engine features a unique layout for easy access to all components to minimize servicing downtime.