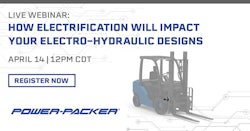 Electrification trends present a variety of challenges and opportunities, ones that can be hard to follow given the pace of innovation. This on-demand webinar discusses how the material handling and off-highway industries are adapting to this macrotrend and what are the implications in the future market, applications and technology.
A shift like this involves your entire team—from corporate management to product development and engineering to sales. Registrants in all roles will get something out of this event. Let's share ideas about:
Why focusing on electrification as an industry trend and how it paves the path to power on-demand and decentralized electro-hydraulics
What key user requirements for electrification exist and what they mean for the product specifications and new product development
Which technical concepts and considerations for smart electro-hydraulics will affect you from installation onward
How to integrate advanced technologies, such as remote systems monitoring and automated environments, and why it matters
Plus, we'll go over some next-gen integrated smart electro-hydraulics concepts. Elevating your understanding of electrification and electro-hydraulics will be critical to your business this year. Register now to get started.
View Webinar