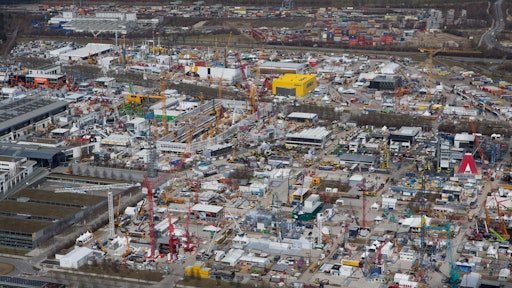 Alex Schelbert/Mess Munchen GmbH
Held once every 3 years, bauma 2019 will once again bring thousands of visitors to Munich, Germany. While there, they will have the opportunity to see the latest technologies dedicated to the construction, building material and mining industries.
Electrification and automation have gained significant traction in several industries, including construction and mining, and thus will be a major topic of interest during this year's bauma. "The important thing to note is that we won't only be showcasing the diverse range of possible applications of leading exhibitors' products but will also be providing a platform for discussing the aims, potential and sustainability of new technology," said Mareile Kästner, bauma 2019 Project Director, in a press release from show organizer Messe Munchen.

Digitization will also be a main focus at the show as more companies look to improve their performance and efficiency through digital products. Cloud-based infrastructures, digital services portfolios and security solutions are among the technologies transforming today's heavy-duty industries, and will be on display in April.
Sustainable Mining to be Topic of Interest at bauma 2019
Sustainability has become increasingly important for mining equipment design and development, as well as in the other heavy-duty equipment industries.
bauma 2019 will provide a platform for sustainable mining technologies and practices to demonstrate ways of optimizing the use of energy and resources. Introduction of alternative energies and new technologies will also be a major part of the initiative.
Liebherr DC5 Display Controller for Mobile Machinery

Liebherr-Component Technologies AG
Hall A4, Booth 326
Liebherr will introduce its next generation display, the DC5 family of high-resolution touchscreen displays which can be customized to customer's specific parameters.
Learn more at oemoffhighway.com/21035427.
Eberspaecher Exhibiting Broad Product Range
Hall A4, Booth 249
Eberspaecher and its newest subsidiary Eberspaecher Kalori (Hall A5, Booth 351) will present their comprehensive product portfolio of heating and cooling solutions for construction machinery. Among the technologies being displayed is the new Hydronic S3 Commercial engine-independent water heater featuring CANbus connection.
Learn more at oemoffhighway.com/21041389.
Volvo CE Launching Range of Electric Construction Equipment
Hall C6
Volvo Construction Equipment recently announced it will introduce a range of electric compact excavators and wheel loaders beginning in 2020. The company will unveil the first machines from this range at bauma 2019. While the company stresses that diesel combustion currently remains the most appropriate power source for its larger machines, electric propulsion and battery technology is proving to be particularly suited to Volvo's smaller equipment.
Learn more at oemoffhighway.com/21043326.
Bell Equipment

Bell B45E 4x4 to be Premiered at bauma 2019
Hall B5, Booth 148
With the launch of the new Bell B45E 4x4 at bauma, Bell Equipment will add a new model to its range of articulated 4x4 two-axle ADTs. Similar to the 60-tonne B60E and the smaller Bell B30E 4x4, the new truck is configured to provide a highly efficient and cost-effective transport solution for niche applications in the mining and construction industry.
Learn more at oemoffhighway.com/21045635.


Yanmar Develops New Industrial Gas Engines
Hall A4, Booth 425
Yanmar has developed gas-powered industrial engines that utilize LPG and meet U.S. EPA Tier 2, CARB Tier 4 and EU Stage V emissions regulations. The 4TN88G provides a maximum output of 45.0 kW and the 4TN98G an output of up to 63.0 kW.
Learn more at oemoffhighway.com/21045337.
SIKO SG61 and SG121 Wire-Actuated Encoders
Hall A2, Booth 415
SIKO will debut the SG61 and SG121 encoders, featuring measurement lengths up to 6 and 12 m, at bauma 2019.
Learn more at oemoffhighway.com/21045168.
Hidromek to Exhibit New Electric Excavator at bauma 2019
Hall C5, Booths 427 and 449
Hidromek's brand new electric excavator HMK 70 W will take center stage at bauma, and will join a lineup of other equipment being debuted including the new H4 series excavators, new wheel loader and soil compactors.
Learn more at oemoffhighway.com/21045014.
Read more about what to look forward to at this year's bauma at oemoffhighway.com/21044821.