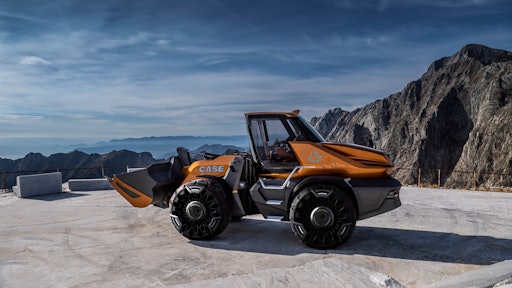 CASE Construction Equipment
The world's largest trade show, bauma 2019, has come to a close. With it came an array of new product launches from manufacturers big and small. For a first-time attendee such as myself, the hype regarding its size was anything but—not only was the show itself immense in size but so were the booths, machines on display and the excitement of attendees and companies at the show.
Can't get enough bauma 2019? Don't forget to visit our bauma channel where news is continually being added. Also, check out our media gallery for images from the showgrounds.
A post-show report said over 620,000 visitors from more than 200 countries attended the show; this was 40,000 more than attended the last edition of the show in 2016. This number of attendees is no surprise as walking around the show could almost be difficult at times with the crowds of people meandering the grounds eager to learn about the latest technologies available for the construction and mining industries.
With the vast number of companies and attendees at this year's show, it's evident the construction industry is still going strong, and will continue to be so for the foreseeable future. Many companies stated during press conferences at the show they believe the market will remain positive for the foreseeable future.
While it's hard to reflect on all of the news and product launches from bauma 2019, one thing that was evident was the increased emphasis in the industry on alternative energy—whether through hybridization, electrification or alternative fuel. Electrified or hybrid machines could be seen at many booths, including those of OEMs and component manufacturers.
One of the biggest draws for attendees was the unveiling of CASE Construction Equipment's wheel loader concept, ProjectTETRA, which runs on methane.
Designed to offer the same performance as its diesel powered 821 wheel loader, ProjectTETRA uses a methane engine from sister company FPT Industrial designed specifically for construction applications. It can operate using biomethane for a more sustainable, carbon neutral production cycle or natural gas. Using methane will offer efficiency improvements, emissions savings as well as noise reduction benefits, which are becoming ever more important when working in city centers and residential areas.
The wheel loader also features several advanced technologies including a 360-degree vision system, LED lighting, and new airless tires developed in partnership with Michelin.
Look for our upcoming April/May issue which will feature an article further detailing the wheel loader concept, as well as other post-show content.
Volvo Construction Equipment debuted the first of its electric compact equipment, the ECR25 excavator and L25 wheel loader. In place of the engine, both machines utilize lithium-ion batteries and electric motors for operation. Both are capable of working a full 8 hours, ensuring customers will not have to worry about unplanned downtime in order to re-charge the equipment. Onboard chargers enable overnight charging using a regular household plug, and a fast charging option will also be available.
Normet, the Finland-based underground mining equipment manufacturer, unveiled its new SmartDrive battery electric vehicle architecture. The machine utilizes industrial grade Lithium-Ion battery technology with fast charging capability and electric motors specifically designed for harsh operating environments. The technology is available for all of the company's mining and tunneling equipment.
Component manufacturers also unveiled new products aimed at helping OEMs transition to more efficient and environmentally friendly machines. AxleTech, for instance, introduced its AFE Series e-axle which features a new modular eCarrier System and integrated interchangeable water/glycol cooled motors, as well as single-speed, 2-speed or 4-speed gearbox. The electric powertrain system is designed to fit into existing vehicle configurations to ease installation for OEMs and takes the place of a traditional powertrain.
Meritor also debuted an electrified axle that is part of a full line of axles for material handling applications which the company announced during the show.
John Deere Power Systems introduced electric drivetrain components, as well. Designed specifically for off-highway applications, the products are capable of withstanding the harsh environments in which construction and other heavy-duty equipment operate. The line of products includes compact, high-speed motors controlled by power electronics from John Deere Electronic Solutions.
On the engine side of things, powertrains which pair the engine with motors, batteries and other electronics could be seen at many engine manufacturers' stands. Kubota Engine Europe showed the next generation of its hybrid engine in a forklift to demonstrate a potential application for its use.
FPT also showcased its hybrid concept consisting of an engine paired with an E-Flysheel and E-Turbocharger—both of which recover energy that can then be reused to power a piece of equipment. This helps to reduce fuel consumption, up to 8%, while improving transient response up to 50%.
These additional benefits are an important aspect of developing alternatively powered products as sustainability alone is not enough of a driver for customers. At some point in the future, perhaps, but for now—as with any machine or component—offering an array of features that help customers improve their operational costs and productivity will continue to be the most desired within the marketplace.
What technologies did you see at this year's bauma that interested you the most? What types of technologies do you hope to see more of in the coming years? Let us know at editor@oemoffhighway.com.