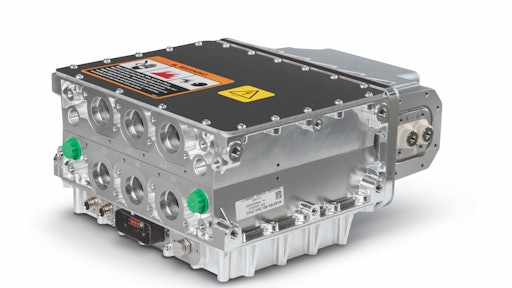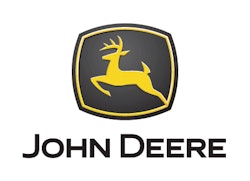 John Deere Power Systems (JDPS) debuts new electric drivetrain components at bauma 2019. These new solutions are designed specifically to meet the demands of the rugged off-highway market and to provide durability while giving OEM customers the flexibility they need to easily implement hybrid power in their equipment. 
John Deere 644K and 944K Hybrid Wheel Loaders recently surpassed 1 million operating hours in the field. Building upon the experience gained to achieve this significant milestone, the new electric drivetrain solutions can be optimized for a wide variety of off-road hybrid and electric vehicle applications. 
"We know what it takes to reliably power off-highway equipment — with diesel, electric or hybrid power — and we leveraged that expertise to create solutions to meet our customers' application and business needs," said Darrin Treptow, manager worldwide marketing support for John Deere Power Systems.
Scalable solutions for a new era
The new electric drivetrain components from John Deere feature compact, high-speed motors, controlled by power electronics from John Deere Electronic Solutions. These eMachine components are integrated in various John Deere pump drive and transmission solutions resulting in a flexible drivetrain portfolio for ease of OEM implementation.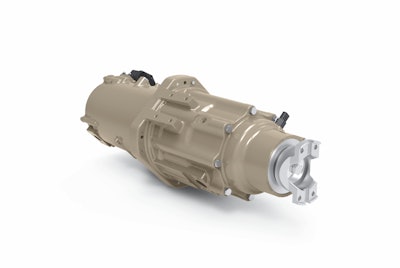 For OEM applications ranging from variable speed power generation to fully electric vehicle transmissions, the modular electric drivetrain component designs offer power generation and traction drive solutions up to 200 kW per unit. 
John Deere is a key system integration resource for OEMs, further streamlining the implementation process. As an added benefit, because the product offering includes both power generation and traction drive components managed through a John Deere inverter, a John Deere electric drivetrain solution ensures a balanced energy system. 
For selected vehicle applications, single-speed transmission and generator pump drive prototype opportunities are scheduled to begin by the end of this year. New three-speed transmission prototypes for select applications will be available in the following year.
Streamlined for Stage V
The new industrial Stage V lineup confirms John Deere's commitment to flexible integration. Depending on the engine model, John Deere OEM customers have experienced reductions in aftertreatment size and in canister weight compared to previous generations. These reductions offer significant space savings, an important factor when integrating new technologies into an existing machine design.
The new 13.6L engine from John Deere will be part of the Stage V line-up for industrial and generator set markets. The 13.6L is designed to meet the future needs of global markets by offering customers increased efficiency, installation flexibility and power in a more compact package. John Deere is also expanding its non-EGR engine generator drive lineup for Stage V with the addition of the 4.5L EWS engine, which serves both the 80 kVA and the 100 kVA markets. 
John Deere will also offer a lineup of Stage V-certified engines that will be EU Restriction of Hazardous Substances 2 (RoHS 2) (Directive 2011/65/EU) compliant for OEM applications in the EU market. This assists OEMs in preparing their machines to meet the RoHS 2 Directive.
Continued productivity and uptime
Streamlining the process of integrating new technologies is only the beginning. John Deere customers want equipment that does the job, when the job needs to be done. When OEMs choose a John Deere engine equipped with telematics from a John Deere dealer, their customers can experience John Deere Connected Support. The customer-focused solution combines connectivity, data, analytics and technology into an innovative digital tool to assist John Deere dealers in keeping end users' equipment running.
Whether it's engineering up front to improve product integration or providing services and expertise throughout a machine's lifetime, John Deere keeps OEM needs in mind. To learn more about its latest innovations, visit the John Deere booth at bauma 2019 in Munich, Germany — Hall A4, Stand 139.