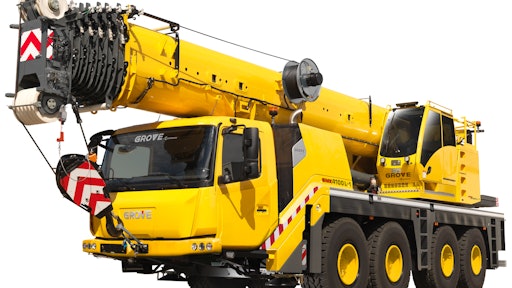 There are five Grove all-terrain cranes on the Manitowoc booth at bauma 2016, including the new GMK5150L which was launched at the show. Two others are recent introductions – the GMK5250L and the GMK4100L-1 – and are making their first appearance at a major international trade show. The remaining models are the GMK6400, one of the most popular six-axle cranes in the world, and the GMK3060, which was unveiled three years ago at bauma 2013. At bauma 2016, Grove will be emphasizing the taxi capabilities of its all-terrain cranes, demonstrating the superior transportation options the units offer in addition to class-leading capacity and reach.
Today's Grove cranes are most notable for their class-leading specifications and a host of unique capabilities. Features such as the pioneering use of a single-engine design with Fuel Saver function; the Megadrive hydrostatic drive; and the self-rigging, capacity-enhancing MegaWingLift have redefined standards of excellence in the industry.
Grove GMK3060
The Grove GMK3060 features a powerful 43 m boom on a three-axle carrier, making it highly versatile and ideal for a variety of general lifting and contractor duties in tight locations and at busy job sites. In addition to an improved load chart, the GMK3060 has a new operator cab. The GMK3060 was also one of the first Grove mobile cranes to feature CCS with its Boom Configurator Mode.
Read about the additional GMK cranes on display at bauma in Manitowoc's initial release for the show.