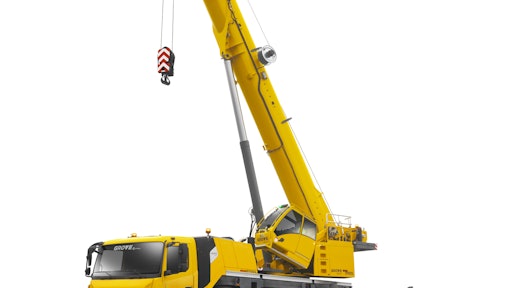 Manitowoc has launched two new Grove all-terrain cranes for the global market offering unique innovations and industry-leading capabilities. The five-axle Grove GMK5150 and GMK5150L cranes have the best load charts in their class, both when working in their taxi configuration - for the most convenient road travel - and when configured with their maximum counterweight for optimal capacity.
These 150 t capacity cranes have a compact design that will offer owners improved maneuverability and the GMK5150L, which is displayed at bauma 2016, features a 60 m boom while the GMK5150 has a 51 m boom. The GMK5150L replaces the GMK5130-2 and the GMK5150 replaces GMK5110-1 in the company's product line.
Maximum counterweight for the GMK5150 and GMK5150L is an impressive 45 t and helps the cranes achieve an overall load chart increase of 20% over the GMK5130-2. Up to 10.2 t of counterweight can be carried by the GMK5150 in its taxi setup (when configured with a Gross Vehicle Weight of less than 12 t per axle - a common axle load limit in many countries), while the GMK5150L can accommodate up to 7.9 t of counterweight in its taxi configuration.
With a capacity of 11.6 t with its boom fully extended to 60 m, the GMK5150L is ideal for tower crane assembly or other applications where strength at height is required. Boosting both cranes' overall reach is an 18 m bi-fold swing-away jib which can be extended with an 8 m boom extension and an 8 m jib extension for a total jib length of 34 m. The jib also offers an improved offset of 50 degrees.
Jens Ennen, Senior Vice President All-Terrain and Truck-Mounted Cranes at Manitowoc, says the GMK5150 and GMK5150L feature the mobility, reach and capacity that customers have come to expect of Grove introductions in recent times.
"For several years we've been launching all-terrain cranes out of our factory in Wilhelmshaven, Germany that have set new standards in the industry," he says. "With class-leading load charts and specifications, the new GMK5150L and the GMK5150 are highly mobile cranes that continue this tradition. These cranes will maximize return on investment for our customers through their superior reliability, ease of transportation and user friendliness."
The GMK5150L and GMK5150 are powered by a single engine, reducing their overall weight and allowing them to carry more counterweight. This in turn delivers superior lifting ability. The engine is a Tier IV Final/EUROMOT 4 Mercedes-Benz OM471LA 6-cylinder diesel engine with a 390 kW rating at 1,700 rpm and a maximum torque rating of 2,460 Nm at 1,300 rpm. With 16-in. tires and an overall width of 2.75 m, the compact five-axle cranes can be easily maneuvered on congested job sites.
Operator efficiency is maximized through the inclusion of Manitowoc's Crane Control System (CCS), a standardized and user-friendly interface whose components and operating software have been designed, developed and tested by Manitowoc to ensure the highest standards of reliability. It includes the highly intuitive Boom Configurator Mode which makes it quick and easy to select the optimum boom position for a specific lift. The operator simply inputs lift parameters such as radius, load or required distance the boom should be moved, and the system calculates the best configuration. Once the operator selects the preferred option, the boom automatically extends to the required length.
The aesthetics of the GMK5150 and GMK5150L cranes have also been improved with a facelift that includes a new ergonomic Mercedes carrier cab. As expected, trademark Grove features such as the Twin-Lock boom pinning system, Megaform boom shaping and Megatrak independent active suspension are all included. The cranes' booms also benefit from the laser-hybrid welding technology in place at the Wilhelmshaven plant, which increases welding precision and creates booms that both weigh less and perform better.
Deliveries of the new, class-leading GMK5150 and GMK5150L will start in the fourth quarter of 2016.