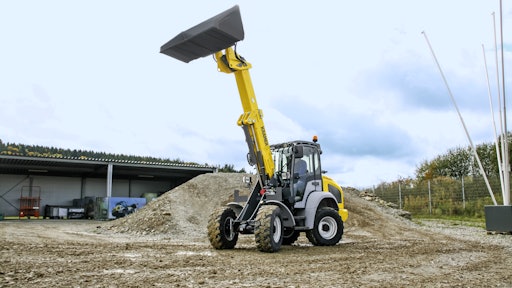 For the first time, Kramer has designed a small telescopic wheel loader in the 0.6 m³ class, and with this advanced development once again proves how quickly it reacts to customer requirements.
Telescopic wheel loaders are always used when customers need the traditional advantages of a wheel loader, such as the central high seat position, compactness or efficiency output, paired with the requirement for extra stacking height or reach. The new 5065T convinces with a bucket swivel point of up to 4.25 m with a maximum stacking payload of 1,600 kg. The new telescopic wheel loader is therefore ideal for filling high-sided transport vehicles and at the same time can transport a standard pallet of paving stones. Its very compact dimensions with a width of 1.60 m and a height of 2.45 m provide access even to tight construction sites and make transport easier.
Customer requirements were the impetus to the design and development the new loader with the telescoping loader unit. "Many customers of the mini loader 5065 have approached us, because they are very satisfied with the performance and quality of the product, but want extra dumping height for some applications. We then implemented two solutions. The customer can now choose between an extended standard load arm and a telescoping loader unit," reports Karl Friedrich Hauri, Director of Kramer-Werke GmbH.
The 5065T is ideal for industrial operations with internal handling operations, recycling operations with bale handling, or gardening and landscaping businesses.
If the machine is also equipped with the optionally available Powerflow auxiliary hydraulics, this expands the application range of the small powerhouse even further when paired with the mounting of attachments, such as snowblower, an asphalt milling unit or a mulcher.