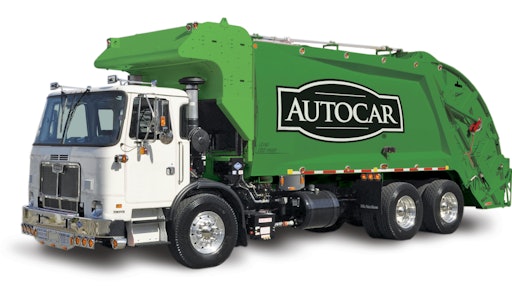 Autocar LLC, Hagerstown, IN, designs and manufactures low cab forward (LCF) Class 8 trucks, offering severe service alternative fuel vehicles, primarily using natural gas. The company offers its Xpeditor line of trucks for the refuse market with features ranging from improved cab ergonomics and integrated controls to body-chassis interface.
It showcased its Xpeditor E3 hybrid refuse truck equipped with a series hydrostatic drive system at WasteExpo 2009 in Las Vegas, NV. The Xpeditor E3 hydraulic hybrid was jointly developed with Parker Hannifin Corp. and features Parker's RunWise hybrid-drive technology. The truck stores energy from braking to supplement the power of the diesel engine.
The hybrid has been designed from the ground-up as a complete drive system. The conventional transmission was removed from the drivetrain and replaced with an integrated two-speed hydrostatic drive for collection speeds, combined with a direct drive capability for higher speeds.
The Autocar E3 hybrid refuse truck uses up to 50% less fuel, and produces more torque at the wheels which will give improved initial propulsion (startability). In normal braking conditions, the E3 will not use the mechanical brakes until the unit slows to 3 mph, offering reduced brake wear.
The RunWise hydrostatic technology performed well in South Florida field trials, which motivated communities in Hialeah, Miami-Dade County, and the City of Miami to purchase 11 Autocar E3 trucks. "The orders build on our ongoing development and commercialization of our hydraulic hybrid technology platform and demonstrate [its] adaptability to different vehicle classes," says Jeff Cullman, group president - hydraulics, Parker Hannifin.
During a full month of testing in South Florida, the RunWise system registered a 72% improvement in fuel efficiency. Per year, the technology reduces each truck's carbon footprint by an estimated 28 tons along routes with frequent stops. It extends the brake maintenance period for each truck from every 6 months to 24 months, and depending on the duty cycle can extend to 30 months.
Working together
Beyond Autocar's work with Parker Hannifin, the company selected Bendix Commercial Vehicle Systems LLC of Elyria, OH, as a provider for complete cab assemblies for its Xpeditor models in October 2008. Bendix recently rolled the 1,000th Autocar cab off of its assembly line at its Bendix Huntington Module Center 2 in Huntington, IN.
Bendix begins each Autocar cab assembly process with a basic shell and transforms it into a fully-trimmed, operational cab module. It is the company's most complex modules project to date, incorporating 1,000 components from over 100 suppliers.
Last summer, Autocar and Balqon Corp., Harbor City, CA, a developer of heavy-duty zero emission electric trucks and tractors, formed a partnership to ensure the Xpeditor and Autocar Xspotter yard tractor customers have "all electric", or zero emissions propulsion as a viable option. Autocar brings its base products and severe service truck expertise to the partnership, and Balqon brings its propulsion technology.
Balqon's propulsion technology, along with its lithium ion battery systems, should work well for Autocar customers in short heavy haul applications like aircraft refuelers and other aircraft services, plus short haul pick up and delivery trucks.
---
Hydrogen technology
New Holland's goal with its "Energy Independent Farm" concept is to make it possible for customers to create, store and use their own power. Believing hydrogen is one path to independent energy, last year it introduced an experimental hydrogen-powered NH2 tractor.
Based on the New Holland T6000 Series tractor, the NH2 replaces the traditional engine with hydrogen fuel cells to generate electricity. Compressed hydrogen drawn from a tank reacts in the fuel cell with oxygen, drawn from the air, to produce water and electrons. The electrons are harnessed in the form of an electric current, which drives electric motors to power the tractor's drivetrain and auxiliary systems.
The NH2 tractor is a 106 hp working prototype able to perform all the tasks of a T6000 tractor, while operating virtually silently and emitting only heat, vapor and water.
Companies in this article