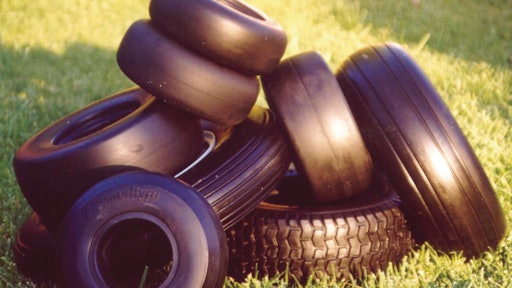 There's a quiet company in Boulder City, NV, that may just revolutionize the tire industry.
Amerityre Corp. has been engaged in the research and development of technologies related to manufacturing tire products since 1995. According to Elliott N. Taylor, executive vice president and general counsel, "We have invented materials and manufacturing processes for producing tires from polyurethane. Recently, we've begun the process of commercializing our technologies."
Air, but no inner tube
Amerityre currently manufactures several lines of closed-cell polyurethane foam tires for lawn and garden products as well as bicycles and wheelchairs. They are sold to OEMs, distributors and retail stores.
"Our closed-cell polyurethane foam products are multi-density," Taylor explains. "Their specially formulated polyurethanes create a closed-cell foam construction which effectively reproduces the ride quality of a pneumatic tire. This construction, a key component of our technology, features millions of closed cells containing compressed air."
The company's polyurethane material technology is based on two key proprietary formulations:
"Closed-cell" polyurethane foam, which is a lightweight material with high load-bearing capabilities for low-duty-cycle applications;
Polyurethane elastomer the company named Elastothane, which is a high-performing material with high load-bearing capabilities for high-duty-cycle applications.
Ameritye calls its products Flatfree — they have no inner tube, do not require inflation and will not go flat even if punctured. The closed cell infrastructure also allows the tire to maintain its stability.
Off- and on-road applications
Amerityre is developing a compound and manufacturing process for retreading medium-size commercial truck and off-the-road (OTR) tires with an Elastothane tread compound.
"We believe our retreading process has broad application for the medium commercial truck tire market as well as the larger OTR tires used in the mining industry," Taylor says.
"While the retreading process has the most immediate application in the OTR market, there is no reason why a total polyurethane pneumatic or non-pneumatic tire could not be developed for that market," Taylor says. "Our polyurethane compounds have shown high heat tolerances that would be beneficial in off-road applications."
Taylor points out that field testing of its polyurethane retread material has shown very good resistance to cutting and puncture. "If the material were used in a total tire (i.e., casing and tread), we think the off-highway OEM would be able to produce a superior product."
Since 2002, the company has been developing polyurethane elastomer tires for highway use based on its proprietary technologies and various methods and processes relating to the manufacturing of those tires from Elastothane. "We believe that these technologies are significant. They present a method to produce tires quickly and less expensively than traditional rubber pneumatic tires, while meeting or exceeding those tires' performance," he says.
Amerityre has produced a limited number of prototype polyurethane car tires and conducted independent laboratory testing to demonstrate that they comply with existing Federal Motor Vehicle Safety Standards (FMVSS) for new pneumatic tires, FMVSS No. 109, and the proposed revisions to that standard, FMVSS No.139, which takes effect in July 2007. This compliance is necessary to commercially market pneumatic car tires within the United States.
"We have been testing prototype polyurethane pneumatic tires for passenger car vehicles for approximately two years," Taylor says, "prototype polyurethane non-pneumatic tires for approximately one year, and prototype polyurethane retreads for approximately eight months."
Amerityre's prototype passenger car tires have passed FMVSS No. 109 standards and are currently testing under FMVSS No. 139. The non-pneumatic tire has passed FMVSS No. 129, the standard for non-pneumatic tires at multiple load ratings. "To the best of our knowledge, this is the first- ever non-pneumatic tire to pass the FMVSS No. 129 standard," Taylor says. "Our polyurethane retreads are currently being tested in multiple applications, with initial results showing good adhesion, wear and rolling-resistance.
Longer wear possible
Amerityre has investigated various wear conditions to see if its tires can outlast traditional rubber-based tires.
For heat aging tests on the polyurethane material used to produce prototype tires, the company follows ASTM D573, a test designed to show the effects of heat at 100 C for 70 hours.
"This test has shown a nominal change in the durometer of the material," Taylor says. "As a result, we expect that polyurethane will not deteriorate under UV. We have also done ozone exposure (ASTM D1149) testing that has shown no cracking."
While the pneumatic tire the company has developed can go flat, it has the capability to run for more than 100 miles without air. The non-pneumatic tire is only intended for "temporary" use on a passenger car or similar vehicle.
However, "it does have other commercial/industrial applications for forklifts, skid steers and more," Taylor notes. "As to tire life, we believe that we can formulate the polyurethane material to provide improved wear based on the desired durometer of the tire material (e.g., 65 Shore A hardness to 85 Shore A hardness).
A new production process
To make a pneumatic tire out of a liquid, Amerityre had to develop the method for suspending the reinforcement materials, such as beads, belts and plies, within a mold so that it could pour the liquid polyurethane around those materials.
Amerityre hopes to license its manufacturing process to tire manufacturers.
"We believe that the polyurethane materials will be comparably priced with rubber," Taylor says. "We believe, however, that our manufacturing process provides cost savings in labor and energy. Of course, the initial capital equipment costs would add to the product cost. Therefore, we expect a polyurethane tire to be priced at or below current tire pricing, based on the specific tire application."