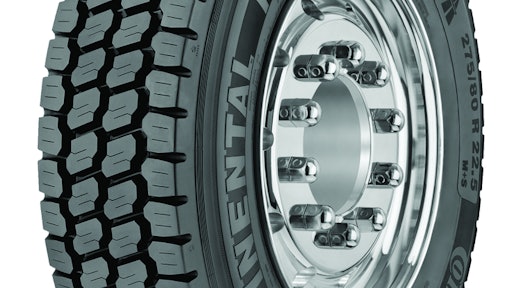 The SmartWay program by the U.S. Environmental Protection Agency (EPA) is a way to brand products and services that reduce transportation related emissions. Addressing this challenge, the Commercial Tire Div. of Continental Tire the Americas, LLC (CTA) introduced one of the few open shoulder drive tires to be verified by the EPA for low rolling resistance, the HDR1 Eco Plus tire.
The HDR1 Eco Plus (Heavy Drive Regional) will benefit local pickup and delivery fleets that require a true open shoulder design for optimal traction, yet need the on-highway fuel efficiency of a low rolling resistance truck tire, predicts Clif Armstrong, CTA's director of marketing for commercial vehicle tires.
"We're proud to offer this unique drive tire that meets the strict requirements of the U.S. EPA's SmartWay Transport Partnership," Armstrong says. "Continental is committed to bringing innovative solutions to trucking fleets throughout the Americas, and this tire is no exception. With its advanced fuel-efficient compounding, regional fleets will find that this tire lowers their driving costs, mile after mile, and has the traction features they want."
Designed and produced at Continental's plant and research center in Mt. Vernon, IL, the HDR1 Eco Plus maintains the same open shoulder design and reduced stone retention as the original HDR1 model, introduced in 2009.
Continental's truck tire engineers also included an innovative lug angle that resists irregular wear over the extended lifetime of the tire, a high endurance tread design with grooves that reduce stone retention, and advanced fuel-efficient tread compounding. The HDR1 Eco Plus is available in load ranges G and H, size 275/80R22.5.
The compounding advancements allowed the HDR1 Eco Plus to become verified for low rolling resistance by the U.S. EPA SmartWay Transport Partnership, joining an elite list of tires that can help reduce emissions and fuel consumption for line-haul, class 8 trucks.
While many manufacturers' SmartWay-verified drive tires feature tie bars between the grooves for a partially open shoulder, the HDR1 Eco Plus is an open shoulder for the tire's entire lifetime, explains Roger Stansbie, Continental's director of commercial vehicle tire technology for the Americas. This ensures that the truck operator has the security of traction in inclement weather that is typically not found in closed shoulder designs, Stansbie says.
"Our engineers in Mt. Vernon have balanced the major needs of the on-highway regional fleet—traction, durability and fuel economy," Stansbie says. The tire also offers a 19% improvement in rolling resistance over the original HDR1.
The fuel-saving capabilities of the HDR1 Eco Plus are particularly beneficial for regional fleets that have been following the proposals of the U.S. EPA and the National Highway Traffic Safety Administration. Regulations proposed in late October aim to further regulate greenhouse gas and fuel economy standards for vehicles ranging from heavy-duty pickups to commercial trucks, starting in 2014 and 2018. Since regional fleets may be affected by these regulations, they've been awaiting a low rolling resistance drive tire to meet their needs, Armstrong explains.
"We recently conducted a demonstration of our regional tire capabilities to fleets at the Continental Proving Grounds in Uvalde, Texas," Armstrong says, "and they were thrilled to see how the combination of the HSR2 Eco Plus steer tire and this new HDR1 Eco Plus drive tire performed.
"Fleets saw more than 5% fuel savings with our tires on the track at Uvalde," says Armstrong. "The HDR1 Eco Plus is now available to help them meet not only government standards for fuel savings, but to also deliver the durability and grip they need in diverse driving conditions," he concludes.