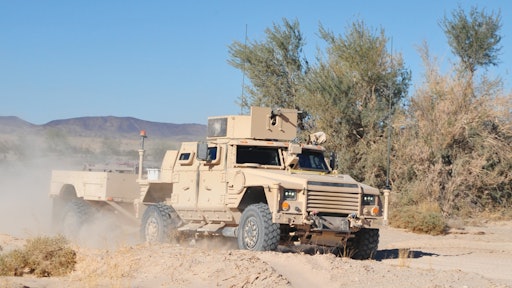 The Joint Light Tactical Vehicle (JLTV) program was designed to first complement and then ultimately replace the High Mobility Multipurpose Wheeled Vehicle (HMMWV, or humvee) currently fielded by the United States Marine Corps and Army. The program is 'joint' because the vehicle design program solution is intended to benefit and meet performance requirements for the two separate military branches. The vehicles have to be able to function anywhere in the world, whether it's a desert environment like the Middle East, at high altitudes such as in Afghanistan or the frigid temperatures of the Arctic.
Currently there are three remaining OEMs competing for the JLTV contract: Oshkosh Defense, AM General and Lockheed Martin. The first phase of the JLTV program was the Technology Development (TD) phase. Participants were expected to deliver 10 prototype vehicles to the government for performance and durability testing. From the results of the testing, the government was able to reform and refine its vehicle requirements for the second phase, the Engineering and Manufacturing Development (EMD) phase. When the three program competitors submit their 22 prototype vehicles to the government in August of this year, the vehicles will be taken through yet another series of performance and durability tests.
The end goal is to be selected as the Army-Marine Corps program's single vendor and move into Low Rate Initial Production (LRIP) by 2015. Three years of LRIP will be followed by an additional five years of full-rate production, with a total program requirement of 50,000 JLTVs for the Army and 5,500 for the Marine Corps.
AM General (company information, 10914251) offered two solutions to the JLTV program during the TD phase. "Our first proposal, the Blast Resistant Vehicle Off-Road (BRV-O), leveraged the company's own investments in research, development and testing for the next-generation light tactical military vehicle," says AM General's Vice President of Business Development and Program Management, Christopher Vanslager. "The BRV-O represents more than 11 years of technology development and rigorous testing... [and] has accumulated more than 300,000 operational test miles. The second proposal, the Eagle, was submitted with our General Tactical Vehicles joint venture partner, General Dynamics Land Systems. The BRV-O was selected for the EMD phase and is currently being built on the company's production line."
"With our primary teammate, BAE Systems (company information, 10314740), we had the luxury of starting with a blank sheet of paper and designing our JLTV vehicle around the war-fighter's needs," says Kathryn Hasse, JLTV Program Director, Lockheed Martin (company information, 10847647), Bethesda, MD. "The Army wants a high level of force protection, particularly blast protection. The other primary user of the vehicle, the Marine Corps, is very concerned with the vehicle's overall weight as it relates to mobility and especially transportability, as it wants to be able to transport the JLTV externally via helicopter and on its ships. In many respects, a high level of force protection and a weight restriction are competing requirements," she says.
Lockheed Martin was able to take the dueling requirements into account when designing its vehicle, and was able to log over 120,000 test miles by the end of Phase 1 and now has over 160,000 combined test miles. "We are not yet in a situation where the government is expecting us to use our full production processes, however Lockheed Martin has already built some of its JLTVs on its high volume assembly line. Like a commercial automotive company, we've designed our vehicles with not only performance in mind, but with an eye on manufacturing efficiency at any volume expectation the government may have," she continues.
Oshkosh Defense (company information, 10727187), Oshkosh, WI, is no stranger to military vehicle design and development. According to Oshkosh's Vice President and General Manager of Joint and Marine Corps Programs, John Bryant, the company is continually monitoring how the modern battlefield has evolved. "Threats are much more dangerous and less predictable, operating environments are extremely rugged, the need to integrate command control equipment into the vehicles is greater than ever and the need for fuel efficiency is more important than ever before," he asserts. "Oshkosh has over a decade of operational experience in Iraq and Afghanistan to leverage with our medium-, heavy- and M-ATV vehicle fleets. By directly leveraging that experience, we've been able to package a protected mobility solution that takes the current state-of-the-art technology to the next level."
Oshkosh has sold more than 9,500 of its M-ATV (MRAP All-Terrain Vehicle) solution, which provides extreme off-road mobility with MRAP levels of protection, specifically engineered for treacherous environments. Its design was directly leveraged into a lighter-weight platform with greater off-road mobility to meet the Marine Corps' transportability needs with Oshkosh's Light-Combat Tactical All-Terrain Vehicle (L-ATV) solution for the JLTV program (read more on the L-ATV, 10881541, 10765105). "The MRAPs were designed for specific in-theater operational needs; but the JLTV, and Oshkosh's L-ATV, is designed for a wider range of missions with protected mobility in a more transportable package," Bryant says.
"At the high level, we are able to leverage our experience in survivability techniques and technologies from real-world in-theater combat," he continues. "Our L-ATV program leverages a whole-systems approach to survivability. When Oshkosh engineers developed the L-ATV, every single component was designed with consideration to its contribution to soldier survivability with respect to its behavior in blast events and threats."
JLTV program participants have observed the combat field evolve significantly over the years. Now, convoys of trucks performing logistics missions are subject to IEDs (improvised explosive devices) and direct-fire threat events that did not exist in previous conflicts. In the past, the front lines were well-defined, whereas now those lines have been blurred; and what is required of a tactical vehicle has changed along with it. The requirements that used to be associated with combat vehicles and tanks now apply to tactical wheeled vehicles, and in essence have brought tactical vehicles into the combat zone.
Technology solutions
With the seemingly conflicting performance parameters of higher protection and lower weight, OEMs must evaluate every system to find areas of opportunity to provide survivability and durability without adding unnecessary pounds. Oshkosh utilizes a Duramax engine system and Allison transmission in its JLTV design.
Within Lockheed Martin's JLTV design, the company is maximizing the use of commercial automotive components such as a standard Allison 2500 SP transmission and a Cummins engine. "Our design philosophy is to use commercially available automotive components whenever possible," says Hasse. "We have about 90% commonality between our two primary JLTV variants, the general purpose variant with an enclosed cab that seats a driver plus three passengers, and our utility variant vehicle with a two-person cab. There is a tremendous amount of flexibility in terms of how the vehicle can be set to facilitate mobility under a variety of different operating conditions. We've taken an approach that simplifies the vehicle settings into some common configurations to make it easy for the soldier or Marine to be able to set the vehicle to the optimum settings for the terrain," Hasse says.
AM General offers an in-house produced engine, the Optimizer 3200—a 300 hp, six-cylinder, light-weight, twin turbocharged diesel engine—which allows the company to control the engine and powertrain configurations to avoid future costs. "We looked at other powertrain options to satisfy the requirements, [and] took into account not only the initial procurement but also the operations and maintenance costs," Vanslager says. "If we need to make changes, we will do it in such a way as to minimize the impact to the overall design, thus lowering any downstream effects from costs or schedule delays."
All three competing JLTV vehicles utilize a central tire inflation system (CTIS) by Dana (product information, 10812820). Dana's Spicer CTIS technology maximizes vehicle mobility by allowing operators, from inside the cab, to adjust tire pressure to the optimum footprint on any terrain. The system also allows vehicles to effectively operate with extremely low tire pressures and makes it possible to free a stuck vehicle or take on grades and other extreme conditions, transporting soldiers to safety in the most strenuous environments.
Put a little spring in your step
Developed from battlefield feedback, AM General's Semi-Active Suspension (SAS) is a proven integrated suspension solution that is scalable and tunable for increased tactical wheeled vehicle survivability, mobility and performance. Utilizing an autonomous, electronically controlled fluid strut damping system, the SAS system instantly responds to changing terrain and load conditions. The SAS system, the same system used during the JLTV TD Phase, has successfully completed more than 300,000 miles of durability testing at government and independent testing facilities. At the conclusion of durability testing, both Yuma and Aberdeen Proving Grounds test results reported zero mission failures.
AM General's SAS system provides dynamic ride height control for increased survivability and transportability, regardless of payload, while an active suspension control system optimizes vehicle stability during driver induced cornering and braking, among several other benefits.
Oshkosh Corp. has leveraged its proven TAK-4 independent suspension system and increased its off-road mobility capabilities with the updated TAK-4i intelligent independent suspension system. "While the M-ATV vehicle's original TAK-4 suspension provides about 16 inches of wheel travel, the TAK-4i suspension provides 20 inches of independent wheel travel on a smaller vehicle," says Bryant. The increased wheel travel combined with other suspension upgrades allows the L-ATV to provide 70% greater off-road speeds across the same terrain as the current M-ATV benchmark.
Oshkosh developed the TAK-4i intelligent system after studying military vehicles in action and calculating requirements for optimal speed, mobility and reliability on the battlefield. The TAK-4i system is scalable for use on light-, medium- and heavy-tactical wheeled vehicles. With TAK-4i, a vehicle's height can be adjusted to maximize transportability and reduce the time and effort it takes to field vehicles. The suspension system also provides better spring rates and damping capabilities to allow higher speeds.
Oshkosh harnessed its internal suspension development capabilities, allowing it to continually improve upon its design. "The TAK-4i was a natural evolution from the TAK-4," Bryant says. "We heard what the customer was dealing with in theater and the demand for improved mobility. When you have vertical integration like we do at Oshkosh, and you have an industry-leading suspension development team, it removes the constraints of optimizing a design. We don't have to design around somebody's existing suspension. We can design a suspension that matches perfectly with our frame solution and powertrain because it can be designed in conjunction with the other systems."
Conversely, Lockheed Martin leverages military suspension expert Meritor Inc. (company information, 10093464), Troy, MI, who began development of its independent suspension system solution in 2005 as part of the Combat Tactical Vehicle Technology Demonstrator Program with the Nevada Automotive Test Center. From that program came the platform for the ProTec Series suspension systems, after which Meritor partnered with Lockheed to complete its independent suspension drivetrain system for the JLTV Technology Development phase.
Meritor leaves the interpretation of government specified performance requirements to the OEM, then uses its industry knowledge to help guide the design process and finalize the system specifications. "Typically we have to customize and optimize our design to integrate it with other subsystems chosen by the OEM customer: Their armored capsule, engine, frame design—then there is the collaborative effort to make it all fit in one package," says Dave Damian, Director of Sales and Business Development, Meritor Defense.
The ProTec Series 30's modular architecture allows users to enhance the performance of a broad range of suspension platforms (product information, 10452940). With 21 inches of total independent wheel travel for enhanced mobility and lightweight materials to maximize payload capacity and allow for added armor protection, the Series 30 is an example of a system solution for both the Army survivability and Marine Corps transportability requirements.
Continued evolutions
"One big area where the requirements have evolved is blast protection," claims Lockheed's Hasse. When the program first started, the level of blast protection that participating OEMs were being asked to provide in the JLTV vehicle was substantially less than what it is now, which has been driven by the OEMs' experience in the various combat environments. "At this point, we're providing blast protection similar to Mine-Resistant Ambush Protected (MRAP) vehicles in vehicles that weigh about 60% less."
Oshkosh's Bryant sees increasing needs for integration of electronics and C4iSR (command control communications computers intelligence surveillance and reconnaissance), which includes the radios and other equipment on the vehicle that provides soldiers and vehicle operators with the situational awareness systems they need. "The number of computer systems and jamming systems that are carried on tactical vehicles, as well as the desire for higher levels of protection in a smaller package will increase as customers move away from the current operations in theater and begin to focus on worldwide commitments of transportability," he says.
Fuel efficiency, as with other off- and on-road equipment, is an area of continued concern for the customer, especially because of the high cost to deliver a gallon of fuel into a combat environment. As part of Lockheed Martin's JLTV design, it's focused heavily on fuel efficiency. "We've already proven in government tests that we can deliver 10 mpg, which may not sound great, but you have to keep in mind that the size of the JLTV fully laden with armor and payload is going to be around 22,000 pounds. That's very good fuel efficiency for a vehicle at that weight category that's expected to be able to operate not just on-road but also off-road terrain and cross-country terrain for a significant portion of the vehicle's operational profile," says Hasse.
The powertrain is a major component of fuel efficiency, but other aspects in design such as the aerodynamics of the vehicle contribute to the overall result. "We have a minimum range requirement of 300 miles, so this isn't just for short distances," Hasse says.
Oshkosh is delivering fuel efficiency in the L-ATV that exceeds the government's expectations, and has developed, proven and matured its ProPulse hybrid diesel-electric powertrain (product information, 10166467) as an option for the vehicle. "It maximizes the system's efficiency with improved fuel economy and allows for exportable power both while stationary and on the move," says Bryant. The ProPulse powertrain can be set up to export between 30 and 70 kW of military-grade power based on mission requirements. "We see a need for increased exportable power from our vehicles, and we have matured a system that is ready now to provide as an option on our JLTV solution," Bryant concludes.
As the landscape of combat continues to evolve, and conflicting demands for more protection at lighter weights continue to arise, military OEM design teams will be kept busy devising new ways to achieve survivability for the troops to protect them when in harm's way and enhanced mobility to get them out of danger. With experts such as AM General, Lockheed Martin and Oshkosh Defense working tirelessly to stay ahead of maturing threats, program vehicle solutions will be readily available for soldiers and marines when the time comes, with all government requirements met.
Companies in this article