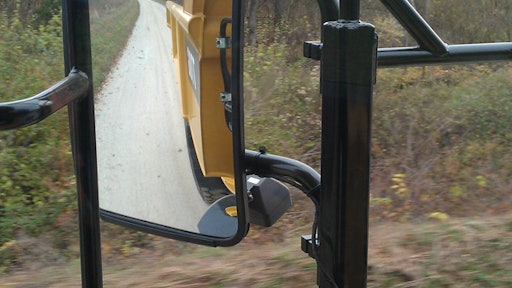 During CONEXPO-CON/AGG 2014 (event information, 10207294), Caterpillar Inc. (company information, 10055175), Peoria, IL, exhibited its new C Series Articulated Trucks and G Series Off-Highway Trucks.
While both series of trucks received engine and aftertreatment updates to meet Tier 4 Final emissions regulations—which went into effect on January 1, 2014 for 174 to 751 hp engines—Caterpillar chose to use emissions compliance upgrades as an opportunity to make additional improvements to its vehicles, as well. Enhancements were made at almost every level, from engine systems to the body structure; even accessibility to the operator cab was taken into consideration during the redesigns.
C Series Articulated Trucks
Updates made to Caterpillar's new 730C, 725C and 730C ejector body (EJ) articulated trucks (learn more, 11231641) came about not only from the need for emissions compliance but also customers asking for more performance and productivity.
To help meet the power requirement, Caterpillar is using a C13 engine (product information, 10093640) in the 730C and 730C EJ trucks. Compared to Tier 3 models, this engine features a 16% improvement in horsepower and 41% increase in torque for a power-to-weight ratio increase of 14%. According to Scott Thomas, Product Application Specialist for Articulated Trucks at Caterpillar, these power increases have enabled the trucks to provide a 16% improvement in productivity and 6% better fuel efficiency.
Meanwhile, the 725C uses a C9 engine with a 5% increase in horsepower and 21% increase in torque for a power-to-weight ratio improvement of 4.1%. Both engines are Tier 4 Final compliant and feature increased response, acceleration and altitude performance.
Upgrades to the drivetrain
On the 730C and 730C EJ trucks, Thomas says Caterpillar is using the new CX31 transmission, while the 725C features the existing Cat TH31 transmission. Larger in size than previous iterations, the new CX31 transmission includes larger planetary gears, higher capacity clutches and roller thrust bearings to provide durability at the power range in which the trucks operate. Despite its larger size, the CX31 is actually 570 pounds lighter than the previous aluminum transmission case which contributes to improved acceleration, rim pull and fuel consumption, as does the use of a higher absorbing torque converter and reduced parasitic losses.
Drivability is also improved through the inclusion of the Caterpillar Advanced Productivity Electronic Control Strategy (APECS) on both the CX31 and TH31 transmissions. With APECS, shifting is made smoother, helping provide a more comfortable ride for operators (see sidebar, pg. xx).
A new Automatic Traction Control (ATC) system on the 730C and 730C EJ ensures proper traction over various types of terrain. Based on an existing traction system in Caterpillar's B Series, ATC controls torque transmission through differential clutches located on the truck's three axles and inter-axle differential. The system automatically controls the torque as is appropriate for the underfoot and grade conditions. And because the system is active under all operating conditions, Thomas says machine performance is optimized during propulsion, braking and retarding. Additionally, ATC automatically controls engine torque in very slick conditions. "If conditions are such that the wheels continue to spin up—even after all the differential clutches are engaged—then the engine torque is automatically reduced to minimize wheel spin," explains Thomas. This ability to maintain control can be especially helpful in artic operations, as well as protect tires.
Thomas says the system is beneficial for both novice and skilled operators. Novice drivers will not have to worry about pressing additional buttons or pedals to maintain traction when first learning how to drive the vehicle. Able to individually and proportionally modulate clutches, ACT does a better job with mobility and maneuverability than even the most skilled operator. "Normally when differential clutches are manually engaged on an [articulated truck], there is a negative impact on maneuverability," says Thomas.
And because the system is fully automatic, there is no need for operator intervention. "We have completely removed one of the operator's previously manual tasks – thus improving ease of operation by reducing the operator's work load, both physically and mentally," says Thomas. Instead of worrying about vehicle traction, operators can focus on the task at hand—driving the truck.
Safer downhill driving
With the implementation of the C13 engine on the 730C and 730C EJ, Caterpillar was able to utilize an engine compression brake. Thomas says the company has seen a 60% increase in retarding power due to the use of the compression brake, especially in mid-range engine speed operation. The increased retarding power provides safer control of downhill speed, even with the trucks' full payload of 31 tons. It can also help extend brake life.
The compression brake helps slow vehicles by opening exhaust valves in the brake's cylinders once the brake is activated. Thomas says a four position switch is included on the brake—Off, Low (using two cylinders), Medium (four cylinders) and High (six cylinders).
The 725C, on the other hand, has a transmission hydraulic retarder which uses the viscous drag forces between dynamic and static vanes in a fluid-filled chamber to achieve retardation. Though both systems provide control of downhill speeds, Thomas says the compression brake better matches the machine size and performance of the 730C while the hydraulic retarder suits the smaller payload capabilities (26 tons) of the 725C.
G Series Off-Highway Trucks
When developing the new 770G and 772G off-highway trucks (learn more, 11230675), Caterpillar decided to use an active regeneration system to meet Tier 4 Final emissions requirements instead of the passive system used in previous G Series trucks. Dave Ellington, Product Application Specialist for Off-Highway Trucks at Caterpillar Inc., says the chosen emissions platform is based on gross horsepower of the engine. "One is not 'better' than the other," he says. "Rather, the engine power dictates which emission system will be used to meet the emission regulations."
Because both trucks operate under 750 hp (560 kW), the active regeneration system was chosen for emissions compliance. Passive regeneration, on the other hand, is better suited for engines over 750 hp.
Completely transparent to the operator, the active regeneration system determines when the best time is to complete the regeneration process. A manual override is included; however, Ellington notes the company recommends the system be left in automatic to ensure compliance.
Improving fuel efficiency
Ensuring fuel efficiency was also an important factor for Caterpillar when designing the new trucks. Inclusion of engine idle shut down helps save fuel, as well as ensures compliance with California Air Resources Board (CARB) regulations which stipulate that engines in off-highway equipment do not idle for more than 5 minutes. Using an automatic timer that can be set anywhere between 3 and 50 minutes by an operator, the engine is automatically turned off if the accelerator or brake is not touched within the set period of time.
In addition, an Auto Neutral Idle feature uses software to determine if the truck is in forward gear and has been stationary for 15 seconds. If so, the transmission will automatically go into a neutral state to prevent the torque converter from stalling, which can cause more fuel to be consumed. Once the operator applies the accelerator or lets off the brake, the transmission automatically goes back into gear.
With the G Series trucks, operators have the choice between three operating modes—Standard, Economy and Adaptive Economy—which can also contribute to fuel savings. Economy Mode was originally introduced in the F Series trucks and drove a straight derate of the engine at a set percentage. Ellington says the set percentage of derate worked well for some customers, but not others, and varied fuel savings due to the various applications and underfoot conditions in which the vehicles were being used.
In the G Series trucks, operators are able to set the derate percentage between 0.5 and 15%. "This newest version of Economy Mode will allow customers to balance their job site and/or production needs with fuel savings," says Ellington. If a worksite is having a slow period, Ellington says a larger derate percentage may be appropriate because it is not necessary for the truck to be continuously working at full power. Instead, fuel savings can be the goal. During high production, high profit periods a lower derate percentage—or none at all—is best to achieve the more important productivity goals.
Adaptive Economy Mode, on the other hand, utilizes on-board sensors, electronic control modules and engine torque curves to look for opportunities for derating based on current versus steady-state speed conditions. "Adaptive Economy Mode will vary the engine derate on loaded uphill hauls and then conversely seek out different derate/fuel saving opportunities on downhill or flat hauls," explains Ellington. "The [amount of] derate depends totally on where steady-state speed can be supported at a lower power setting."
In Adaptive Economy Mode, operators must set two parameters:
Fuel Savings to Speed Loss Ratio, stipulating how much speed reduction is acceptable to achieve a certain percentage of fuel savings.
Maximum Speed Loss, determining the acceptable maximum percentage of speed reduction.
Drivetrain enhancements
A new traction control system (TCS) on the G Series uses the truck's hydraulically actuated service brake to activate the system sooner and at slower speeds. While previous versions of the system only controlled one set of wheels, the new TCS is able to modulate both sets of wheels to regain traction more quickly. In addition, position sensing cylinders in the steering system enable the TCS to better differentiate between wheels that are turning and those that are slipping for further performance enhancements. "This new TCS will benefit tire life, fuel use and component wear, and it will help cycle times in slippery underfoot conditions," says Ellington.
For improved tire life and performance, Caterpillar has included a Ton Mile Per Hour (TMPH)/Tonne Kilometer Per Hour (TKPH) system as a standard feature on the trucks. The system notifies operators with a warning when the manufacturer tire capacity is being exceeded, which can cause premature tire wear or failure issues due to the tire overheating. "Any rubber-tired hauling system can be susceptible to TMPH/TKPH issues depending on how much heat is generated in the tire," says Ellington. "TMPH/TKPH is more likely to be an issue in an overloaded vehicle in a warm climate on a poorly maintained haul road than an under-loaded vehicle in a cold climate on a well maintained haul road."
Ellington adds that if TMPH/TKPH is being exceeded, operators should reduce their payload or slow down in order to prevent tire failure or premature wear.
Though Tier 4 Final emissions compliance was the main driver for the new C and G Series trucks, Caterpillar's choice to implement additional upgrades ensured it would provide customers with completely new and improved machines.
Companies in this article